If you're just starting to dabble in DIY, I've got your back. After all, I'm all about showing others how easy it can be to customize anything and everything. And while it might be easier to just head to the store and shell out some cash, there's something special about getting crafty. It proves that we aren't limited to what is in front of us. It's a unique form of personalization that I'll always adore.
During my time as a TA at Workshop SF, I noticed a recurring theme with first-time crafters. Everyone was always, always, always nervous about creating something that isn't perfect. Either that or they were terrified of messing up. Here's how I look at it. What's the worse that can happen if you do mess up? You'll have to either start over or fix the problem. But this is exactly how you'll learn. Trust me, I've made a bajillion mistakes in my time – and I still do.
So, whether you're looking for a new hobby or want some inspiration, this list is for you. I handpicked these 35 easy DIY projects from my crazy 7-year archive. Some were posted on this blog, while others were shared around the web. One thing's for sure, though: you can totally make them.
1.Patch Party Jacket

Just collect, iron, and wear. It's like a scrapbook for your body. (Wild Amor)
2. Gemstone Graphic Top

Spruce up any graphic tee with rhinestone buttons. (Wild Amor)
3. Embellished Backpack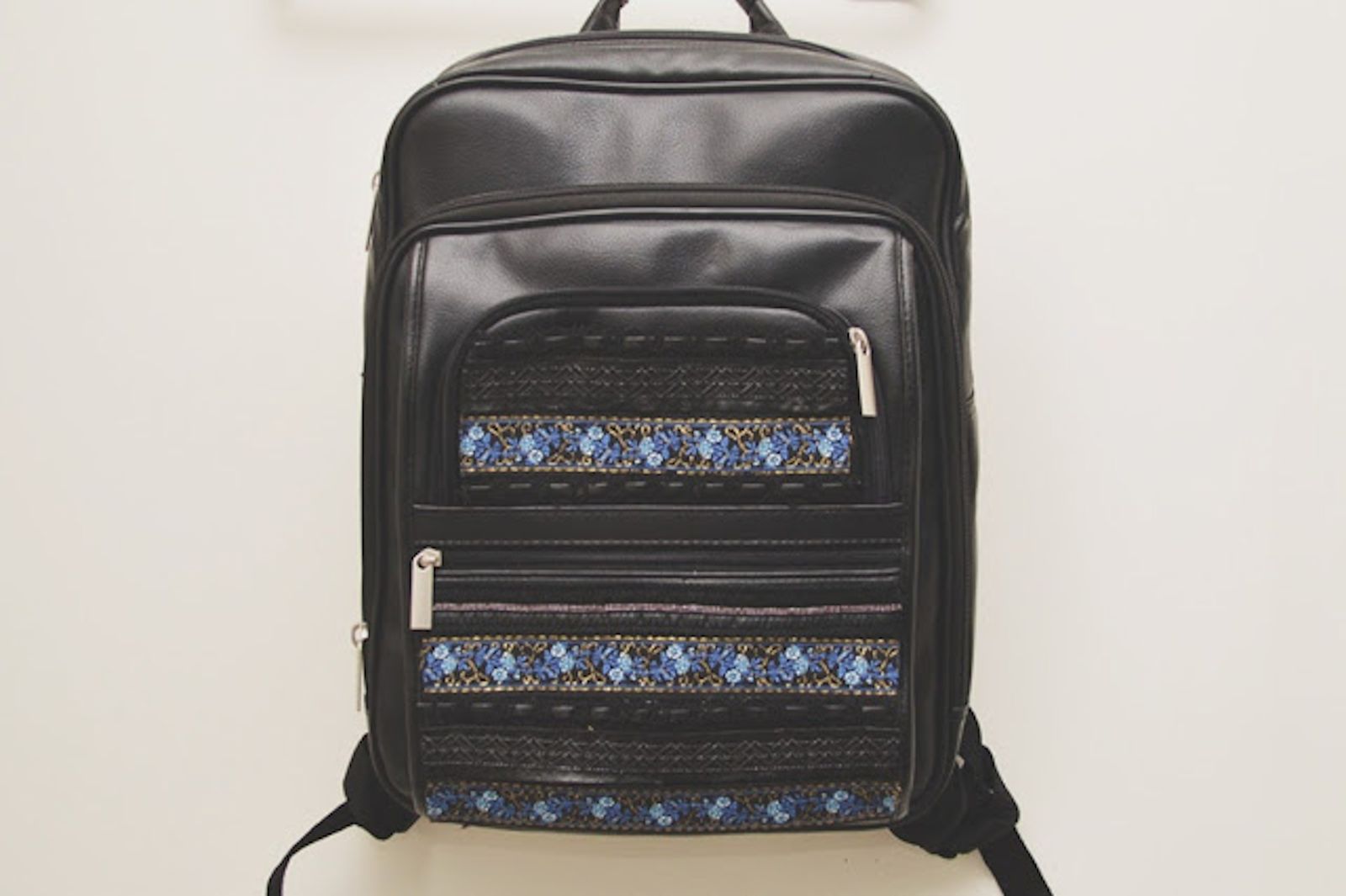 If you can cut and glue ribbons and trimmings, you can totally make this. (Wild Amor)
4. Plaid Patchwork Jeans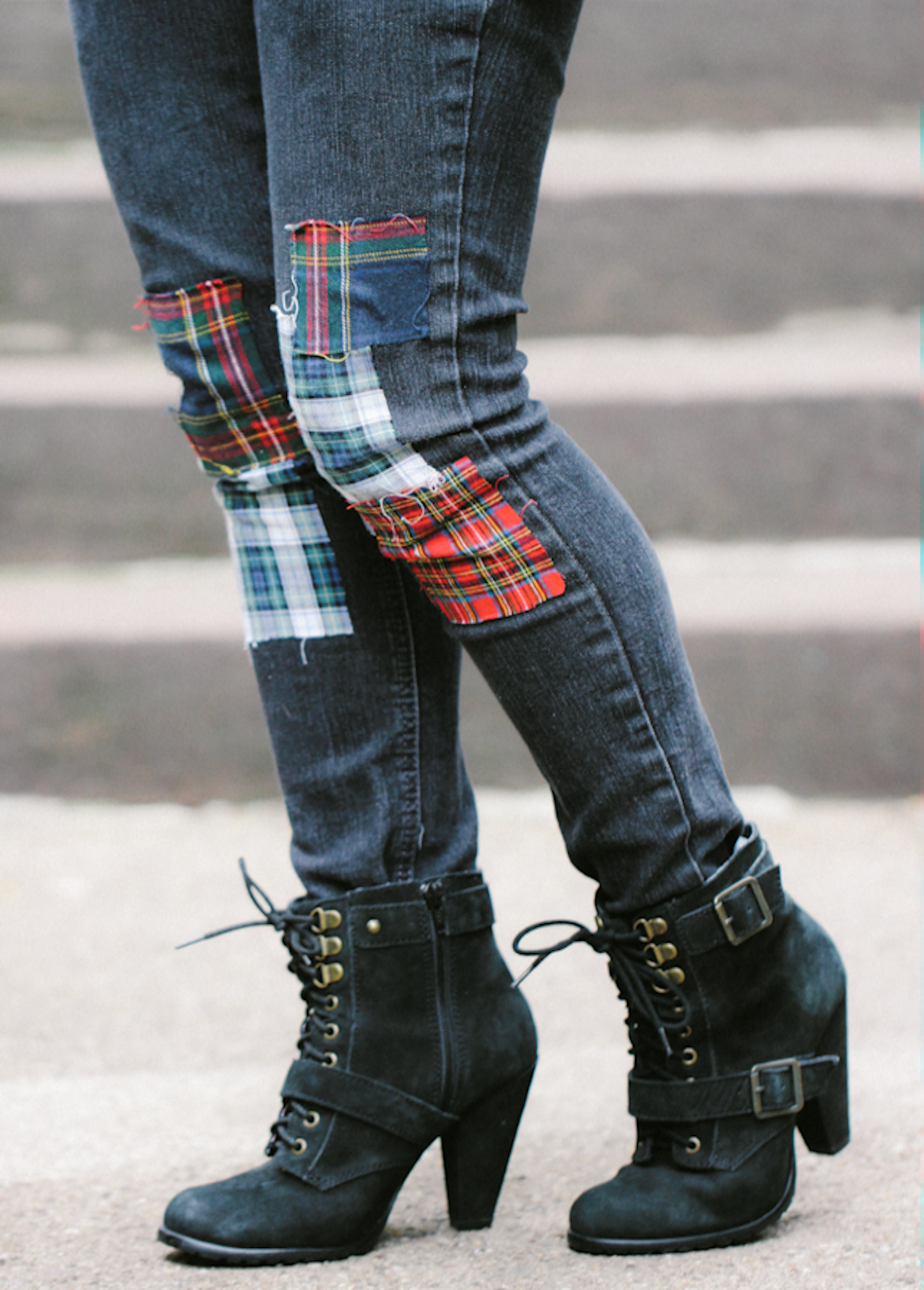 This no-sew, no-fuss plaid patchwork jean project is the epitome of easy. (Wild Amor)
5. Color Blocked Metal Necklace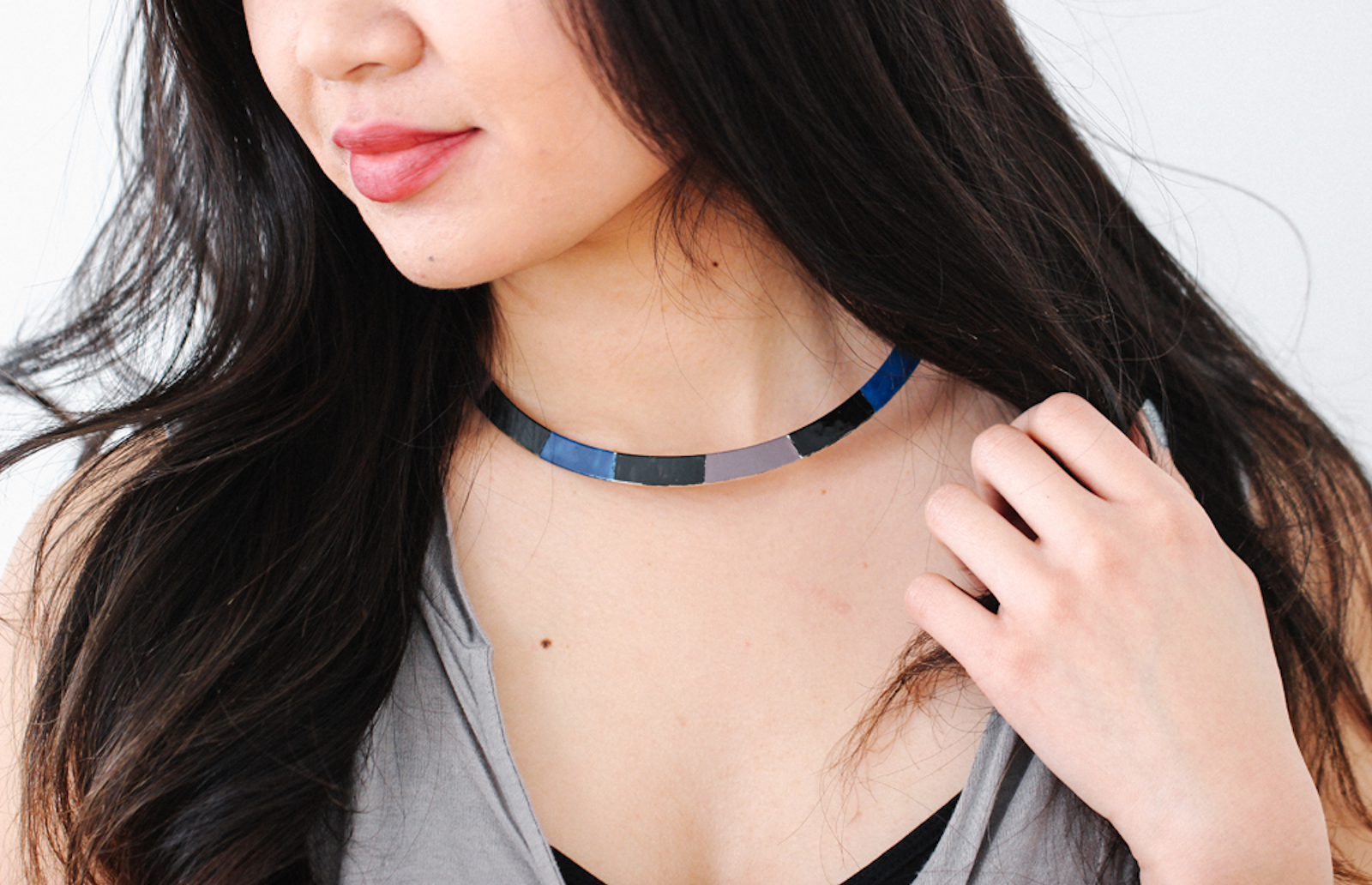 Got some old nail polish laying around? Use it to spruce up a plain metal choker. (We Heart This)
6. Fingerless Pearl Studded Gloves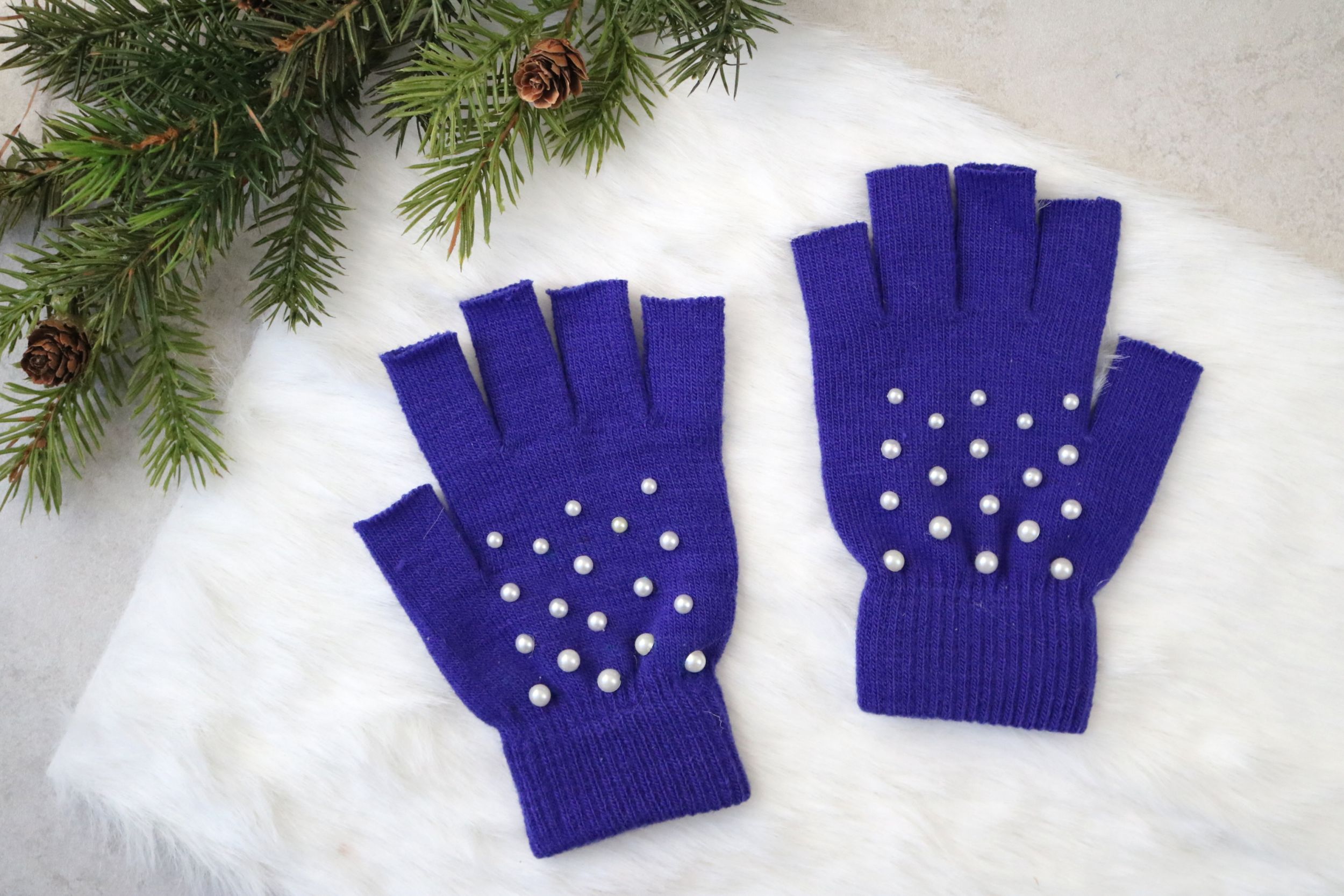 All you need is glue and flat back pearls to make these fancy gloves. (MORE)
7. Dip-Dyed Flannel Shirt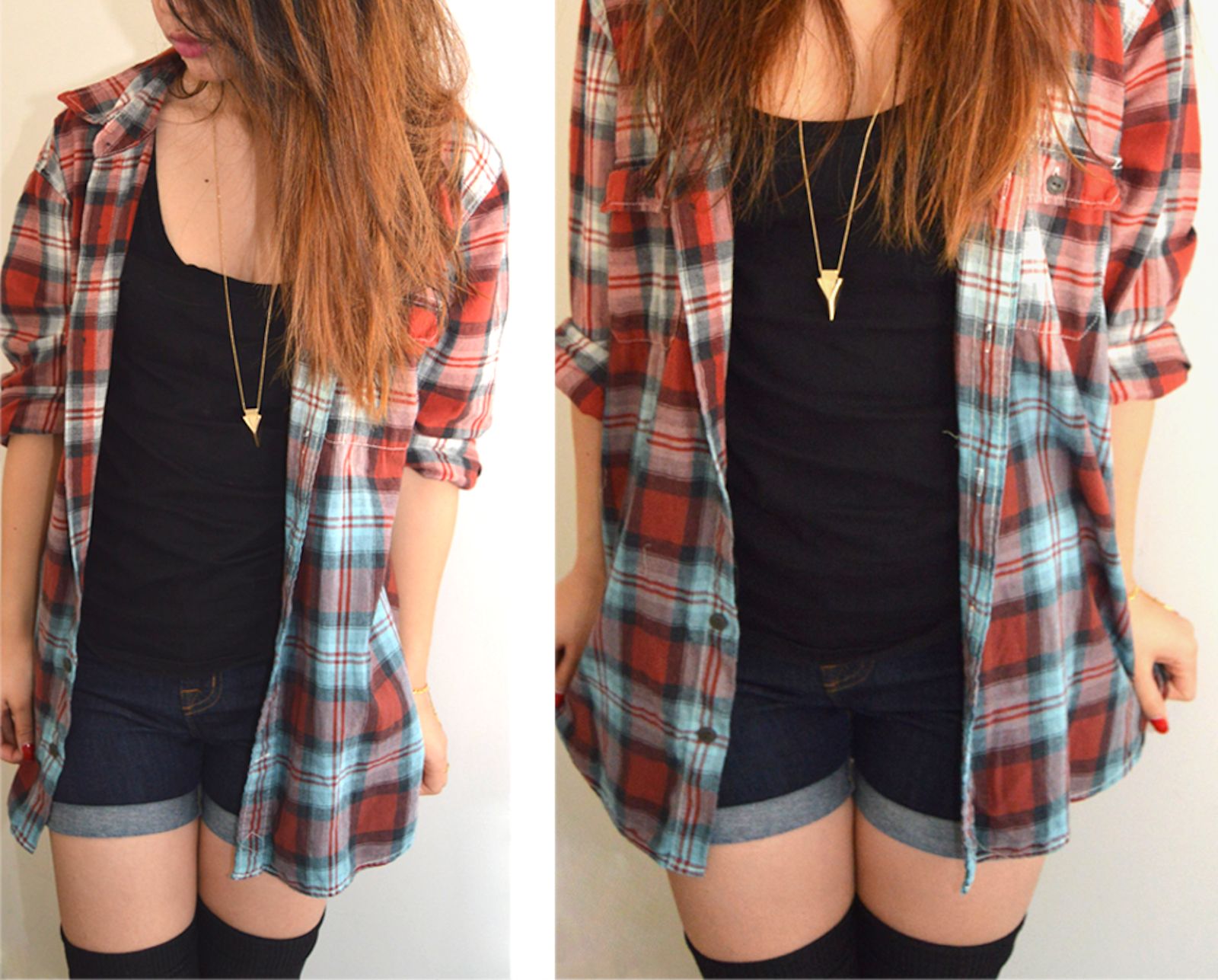 There's no right or wrong way to dip dye, making this project the perfect beginner DIY. (Wild Amor)
8. Watercolor Blazer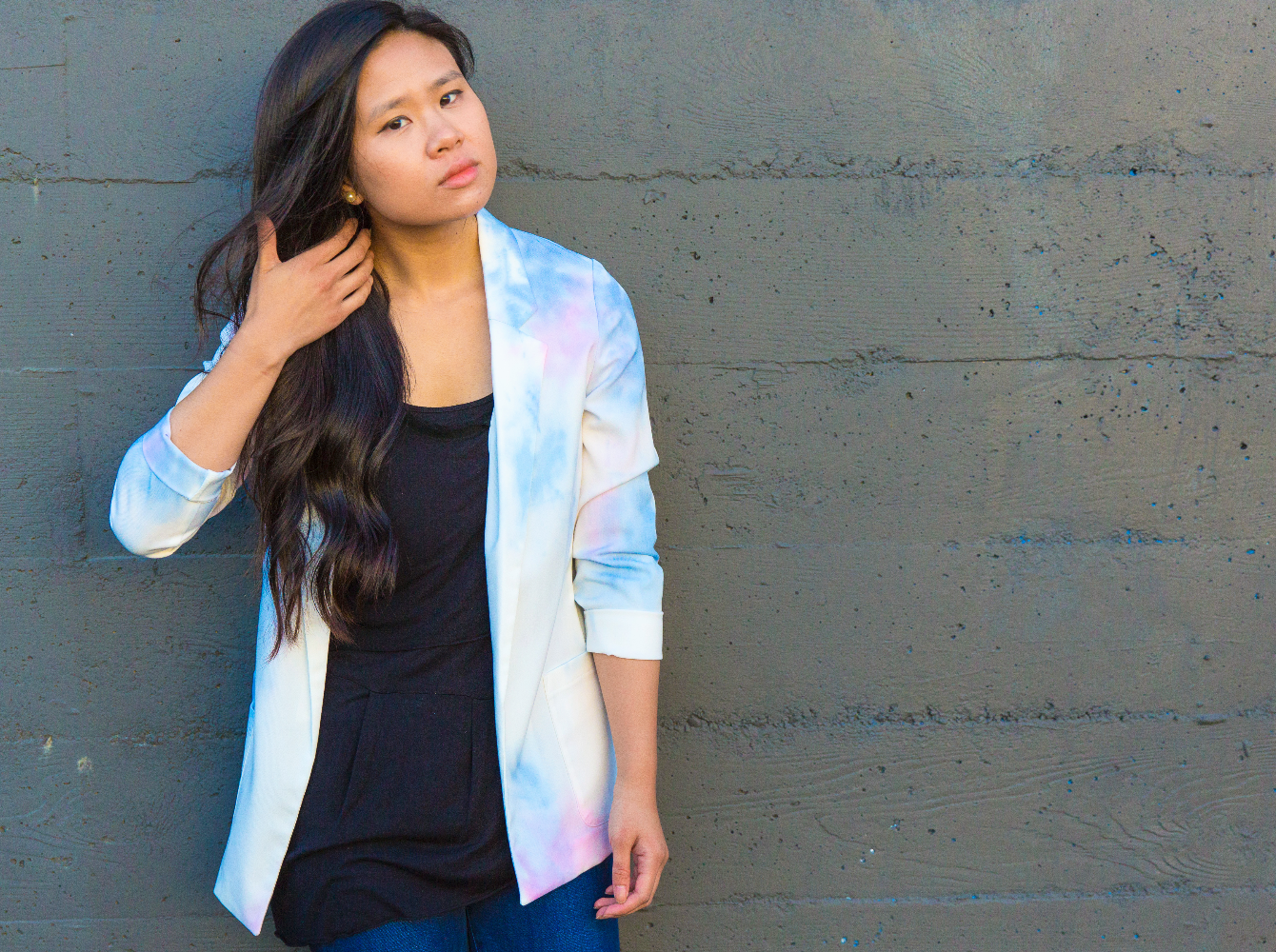 Again… there's no right or wrong way here. Just have fun with it. (Wild Amor)
9. Embellished Barrette Bag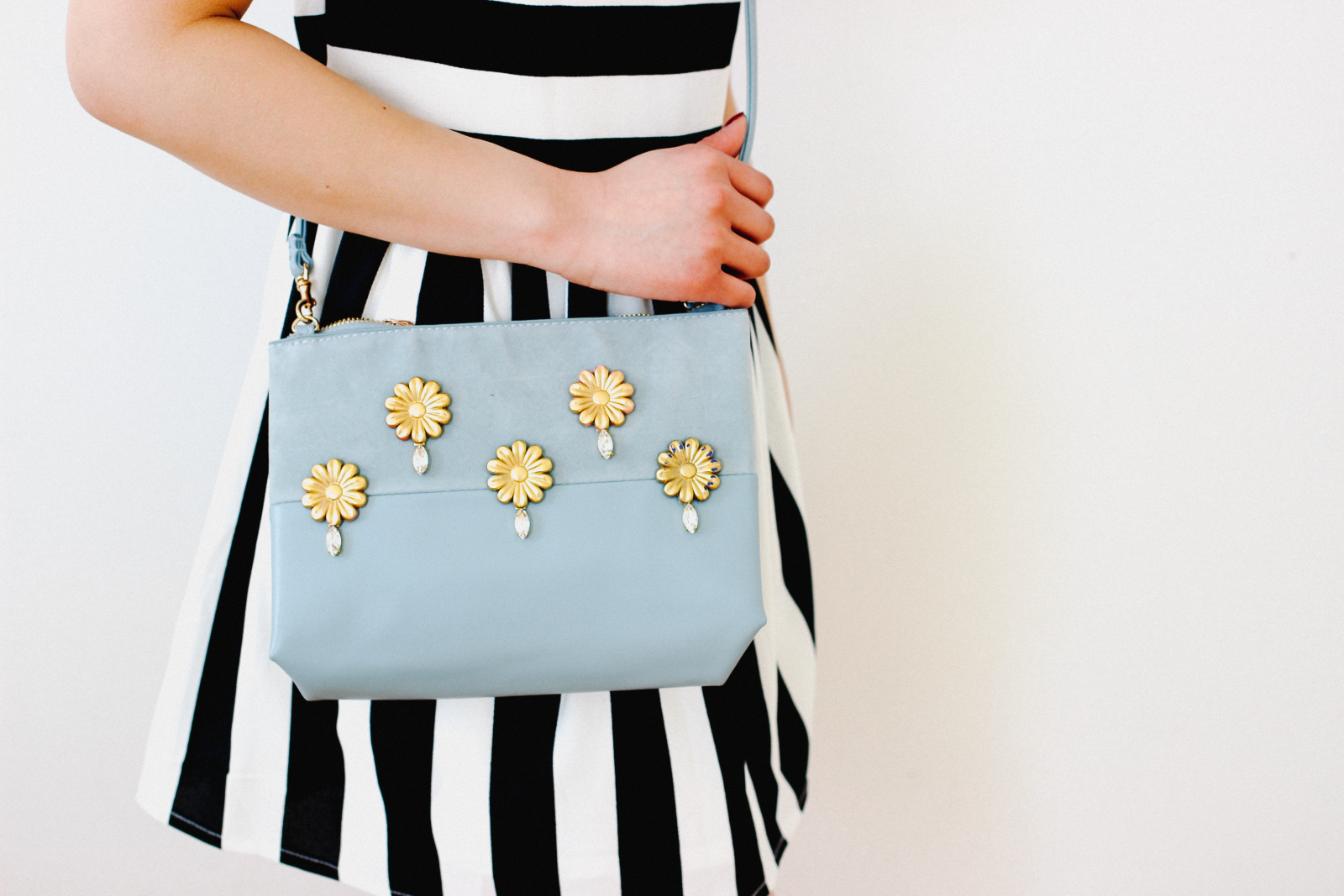 Turn kids' plastic barrettes into embellishments with spray paint and glue. (Wild Amor)
10. Sequin Ankle Strap Heels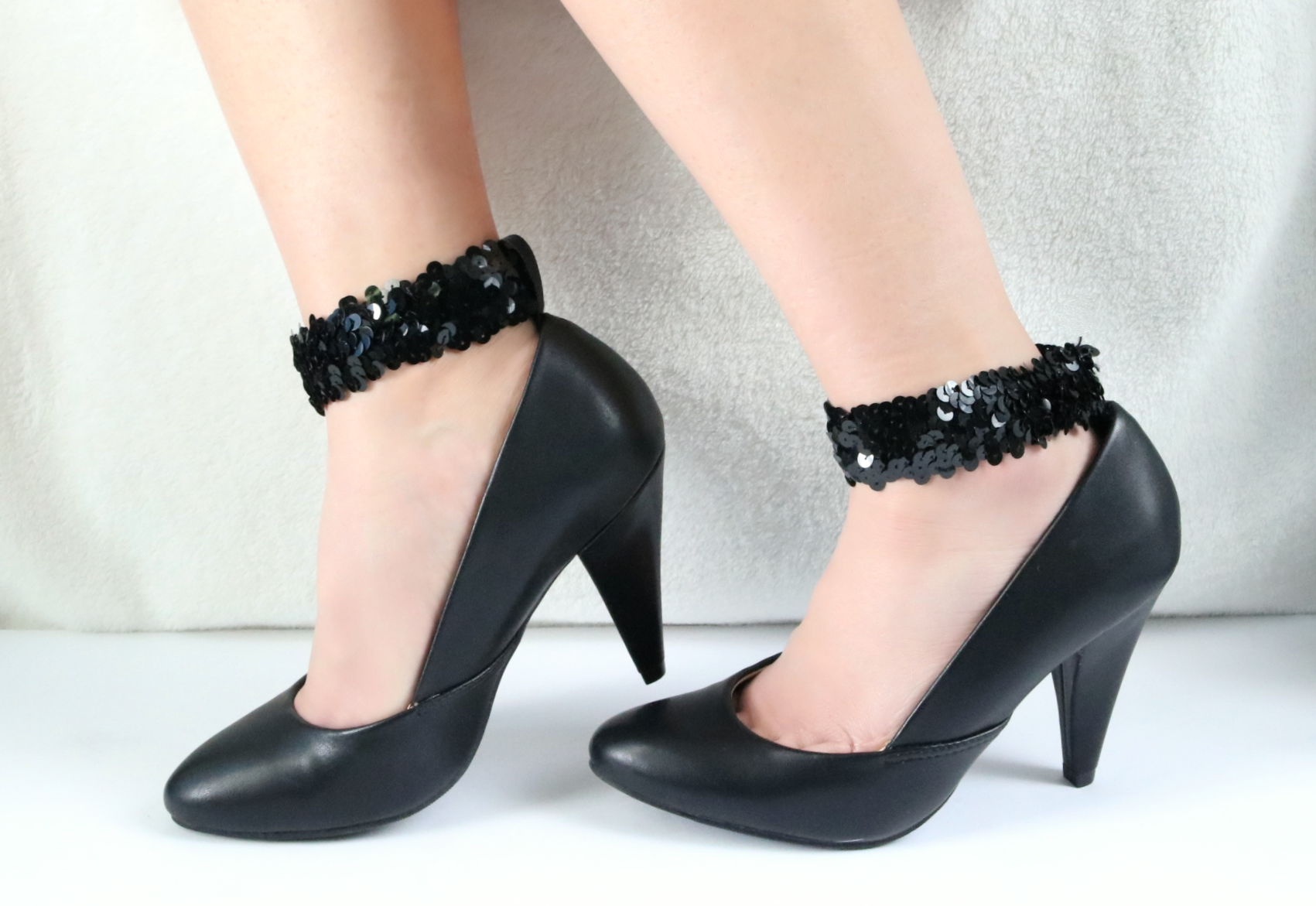 Hot glue is all you need to turn sequin trim into glamorous ankle straps. (MORE)
11. Fleece Faux Fur Panel Scarf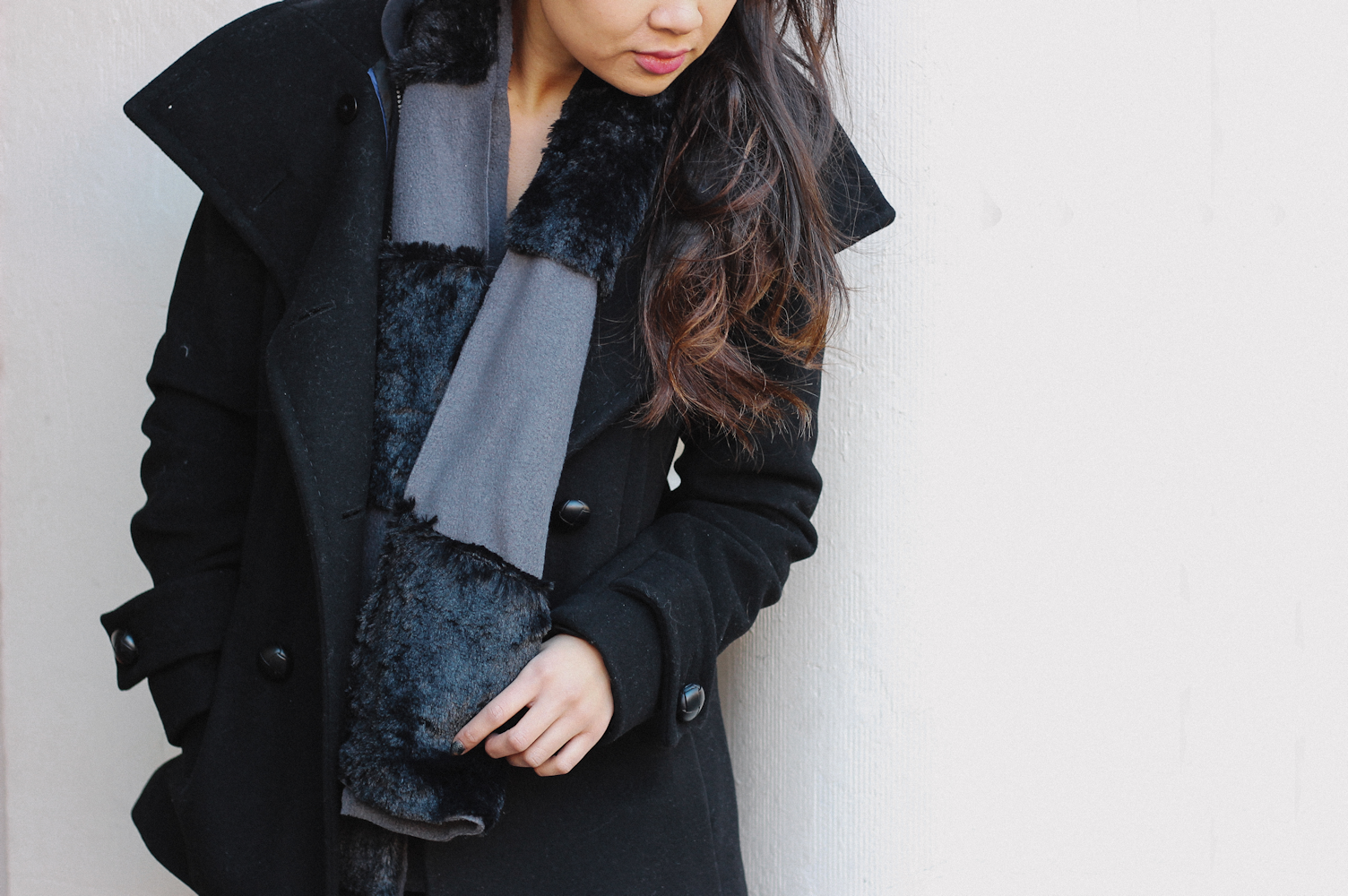 Sewing is totally optional for this one; you can get away with using fabric glue. (Wild Amor)
12. Pearl Bar Earrings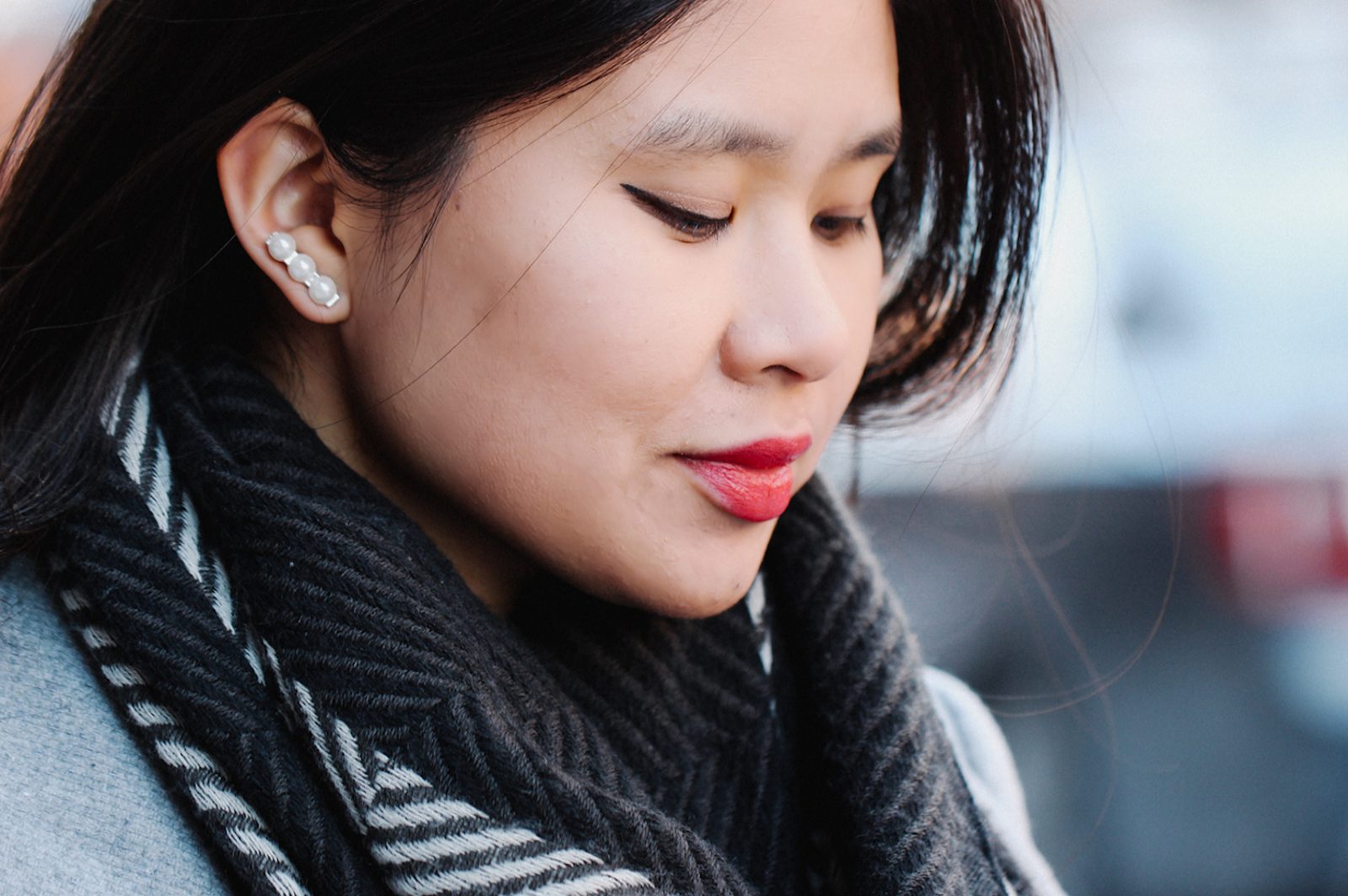 With the right supplies, climber earrings are ridiculously easy to make. (Wild Amor)
13. Watercolor Hi-Tops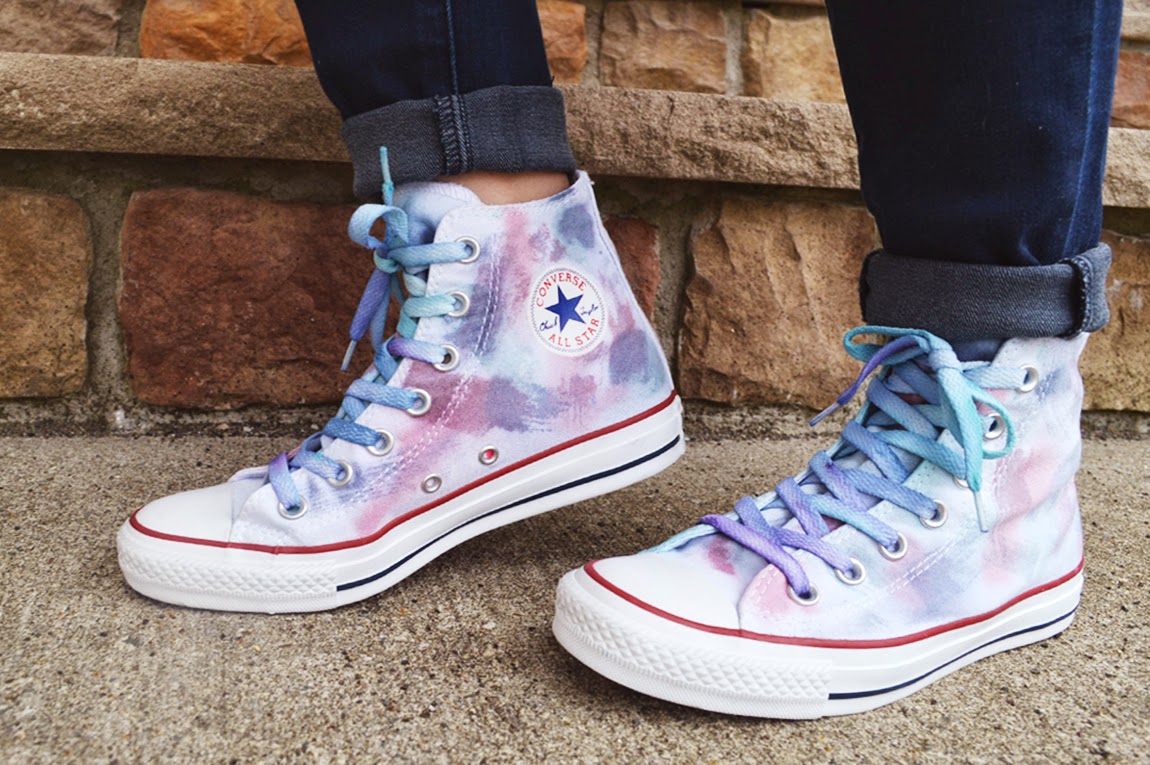 The messier, the better. One of my favorite Converse DIY projects. (Wild Amor)
14. Pearl Beanie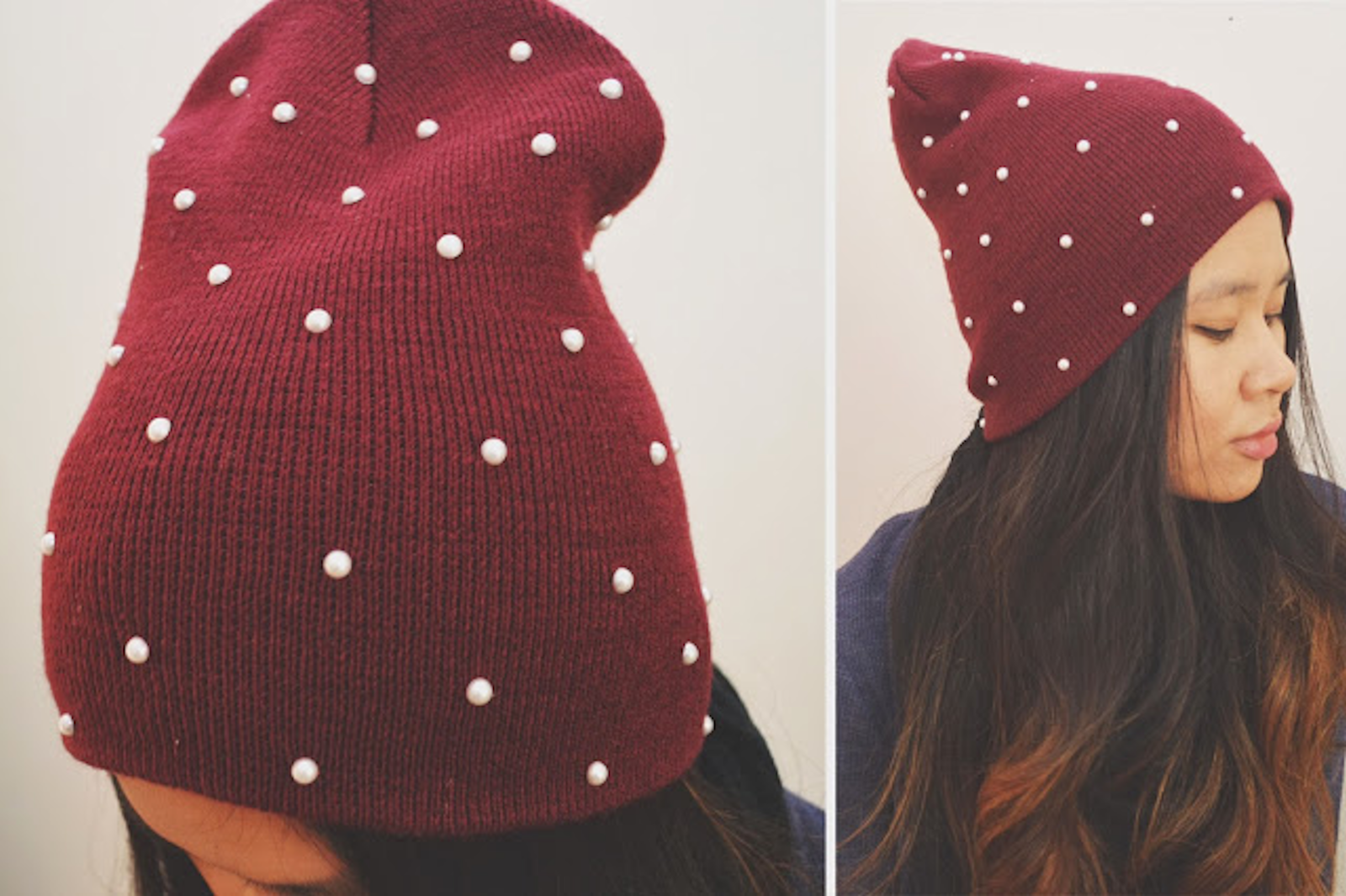 Like the gloves, all you need to do is glue and let dry. (Wild Amor)
15. Lace-Up Plaid Shirt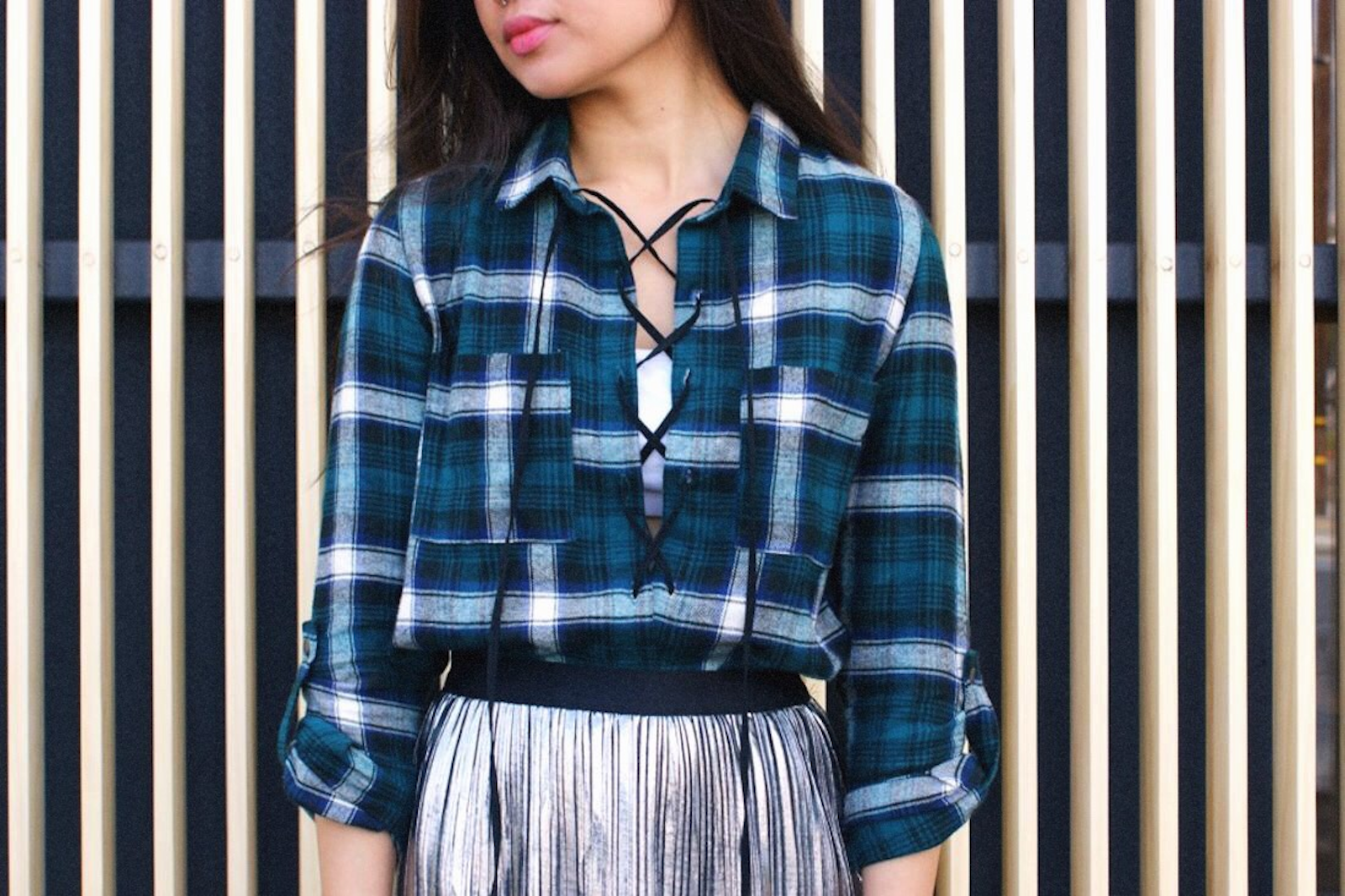 Another no-sew project! This is a rad way to transform a flannel shirt. (Wild Amor)
16. Polka Dot Plaid Shirt
Who knew a pencil eraser would make a great stamp? (Brit + Co)
17. Alphabet Shoes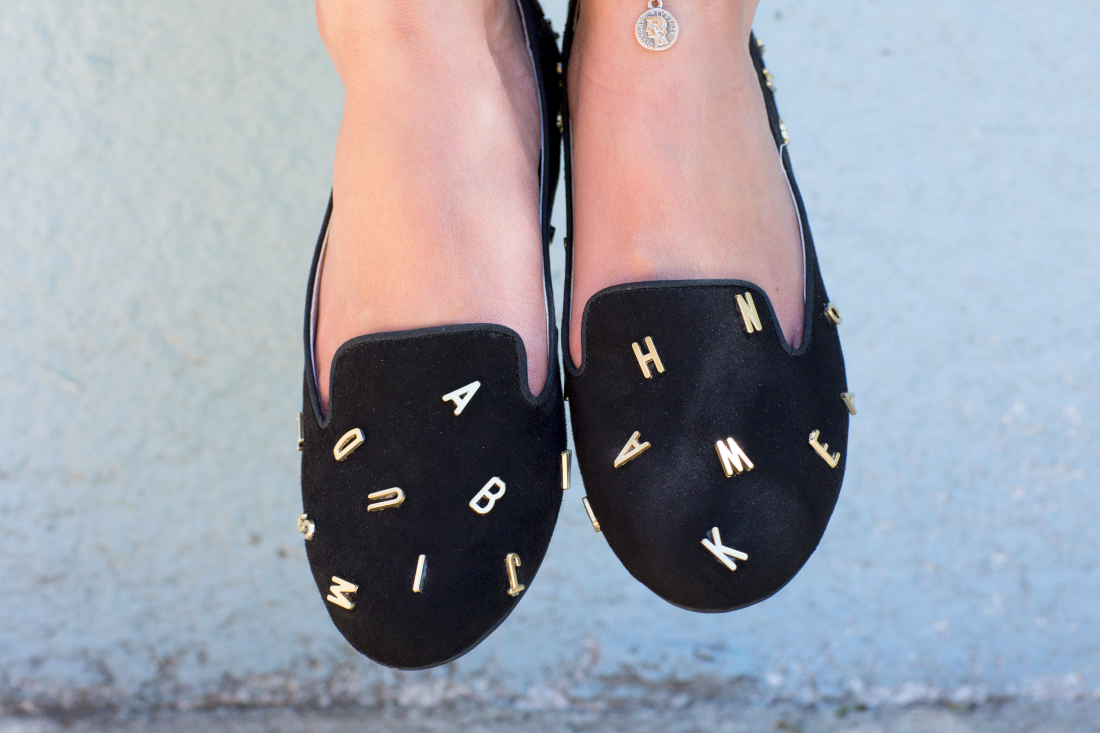 This Jeffrey Campbell-inspired DIY uses plastic charms, spray paint, and glue. (Wild Amor)
18. Artsy Canvas Pouch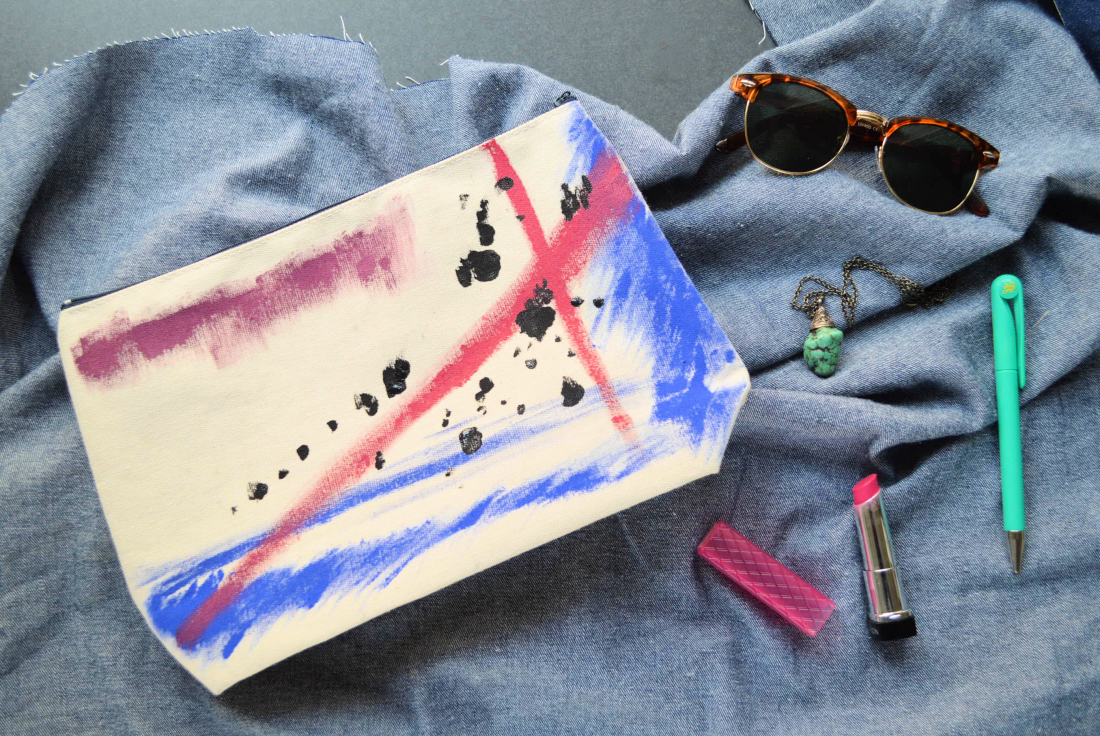 Here's another project that embraces creative messiness. (eHow)
19. Feather Trim Floppy Hat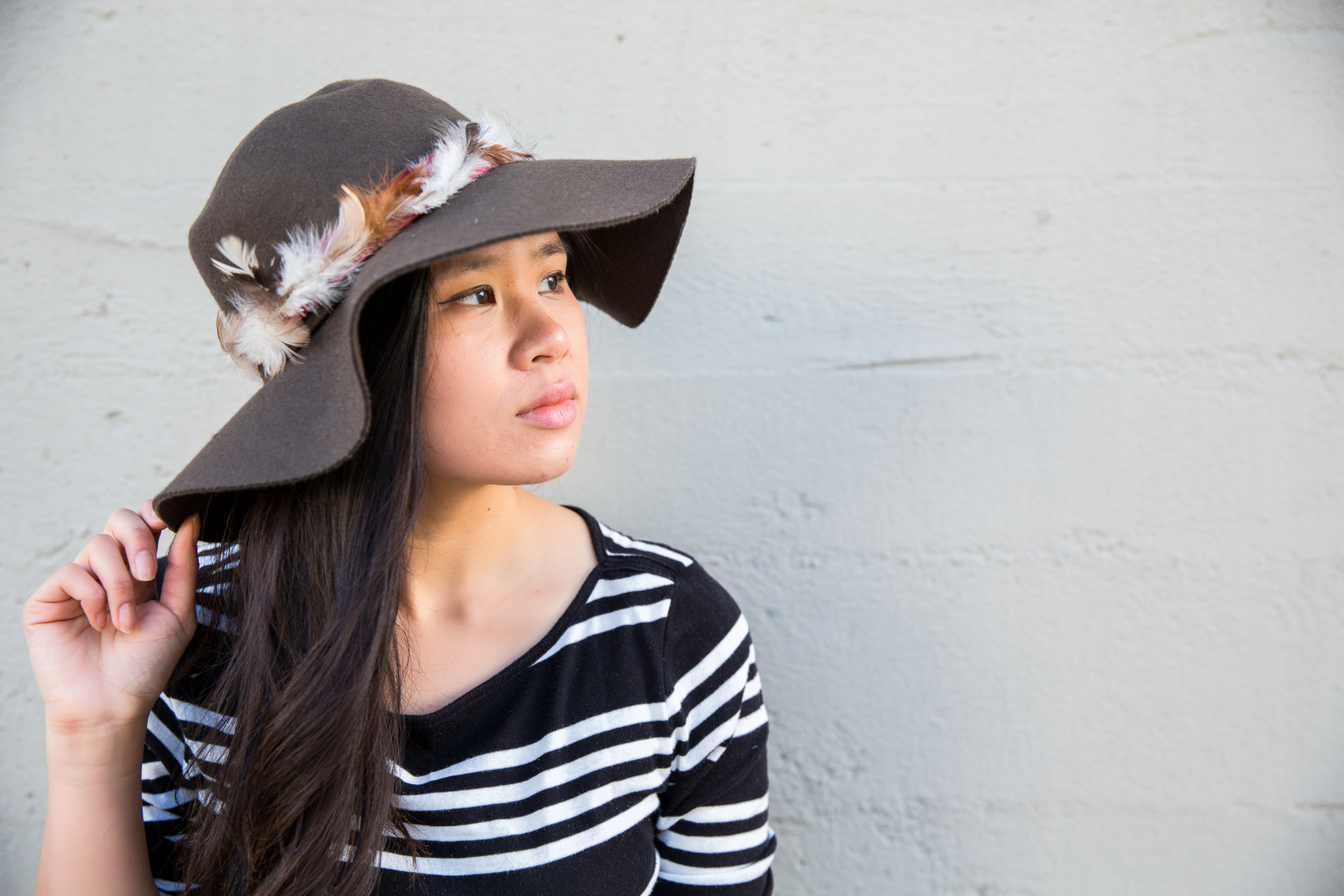 Just glue feathers on to strand of ribbon and wrap it around a hat. Easy. (eHow)
20. Studded Wood Earrings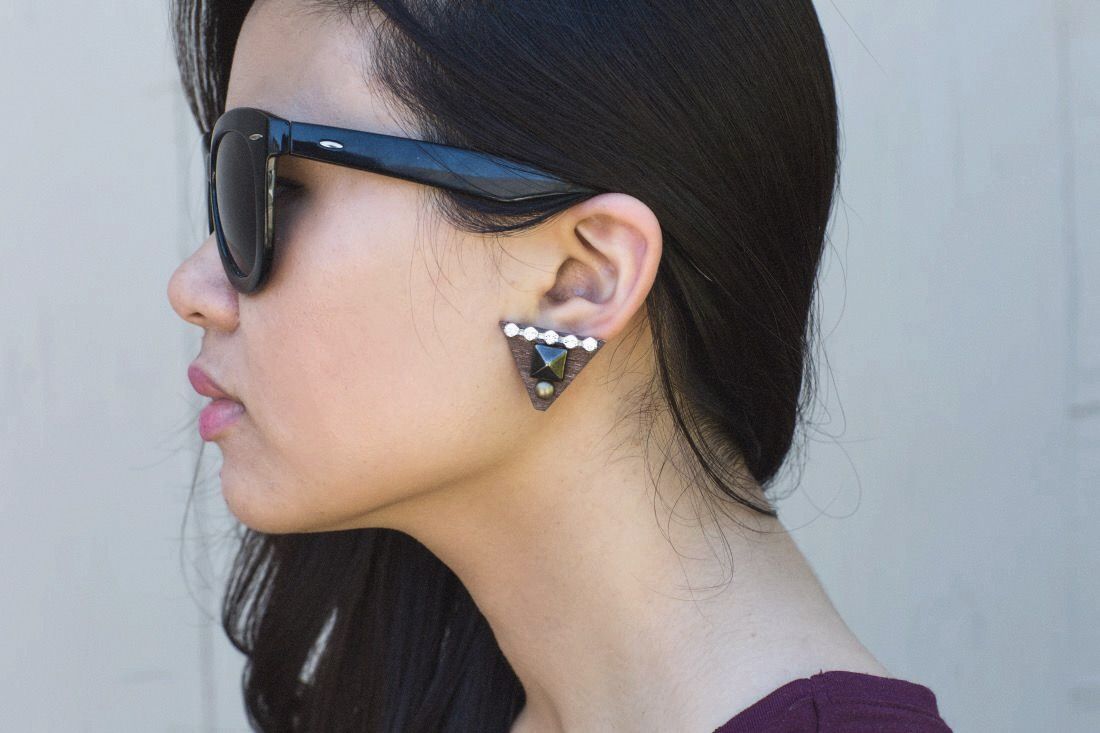 You don't need to be a woodworker to make these earrings. (Wild Amor)
21. Color Blocked Thread-Wrapped Belt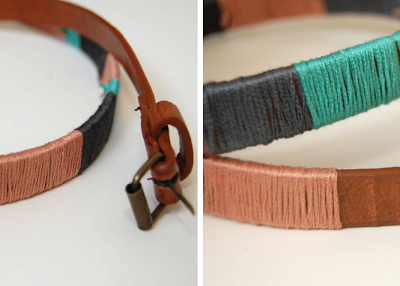 Instantly transform a belt by wrapping it with embroidery thread. (Wild Amor)
22. Polka Dot Sunglasses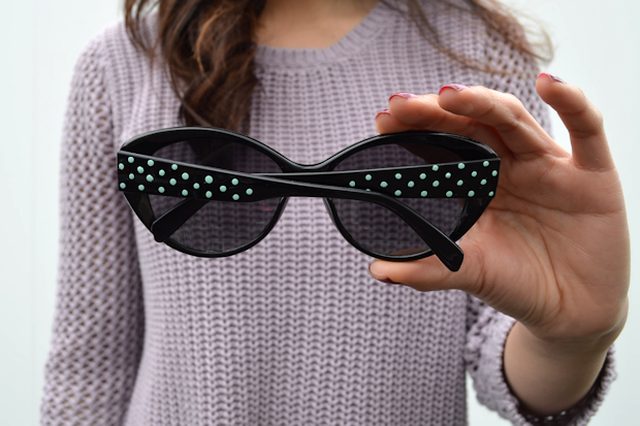 A toothpick and nail polish is all you need for this DIY. (eHow)
23. Faux Stud Pocket Tee
Iron-on studs are my favorite. (Wild Amor)
24. Chain-Wrapped Wool Hat
Practice your basic jewelry skills with this floppy hat wrap. (Wild Amor)
25. Graffiti Converse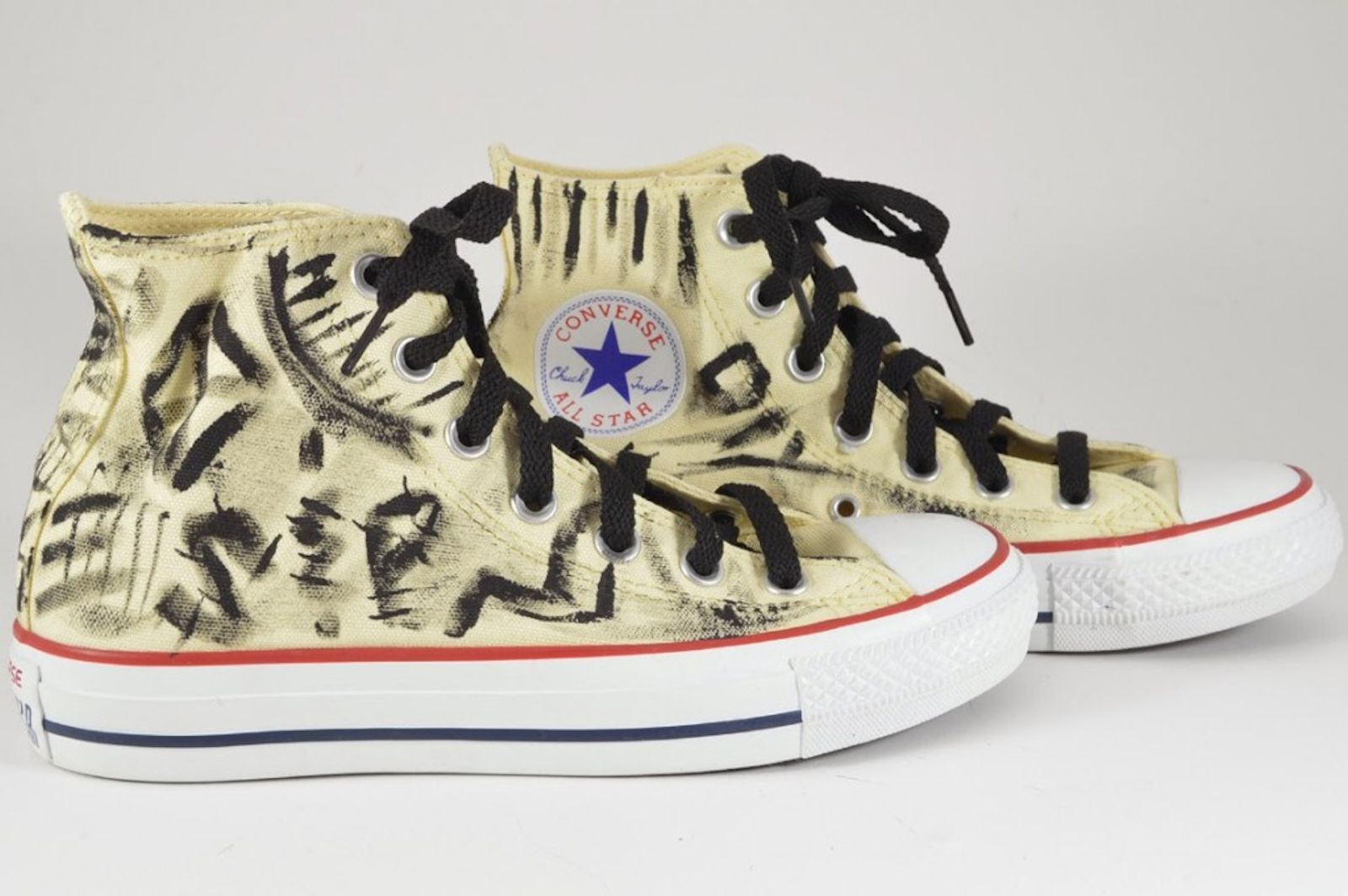 It's not possible to mess this one up. (Wild Amor)
26. Reusable Shoe Clips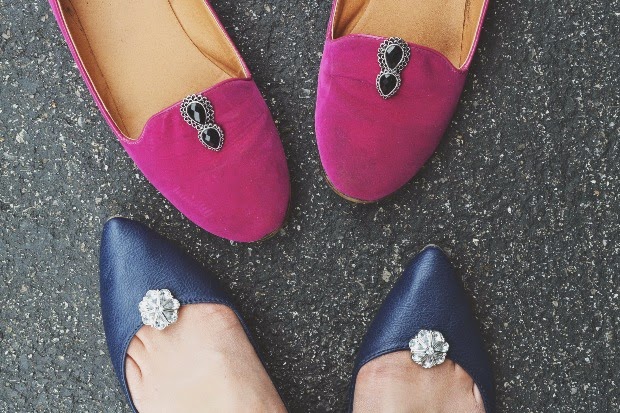 Simply glue pendants to blank shoe clips and you're done. (eHow)
27. Painted Twig Necklace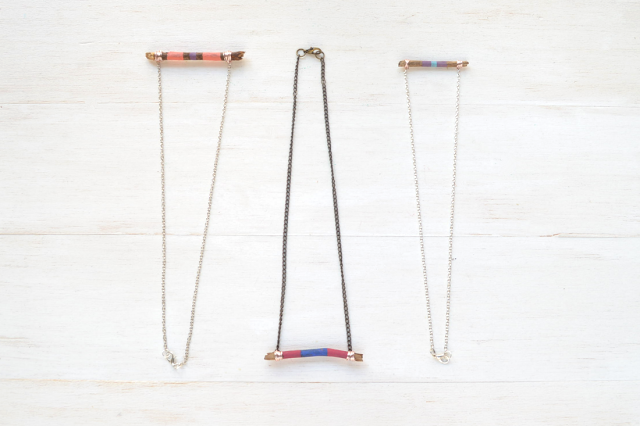 The best way to hold on to those hiking memories. (Brit + Co)
28. Candy Button Purse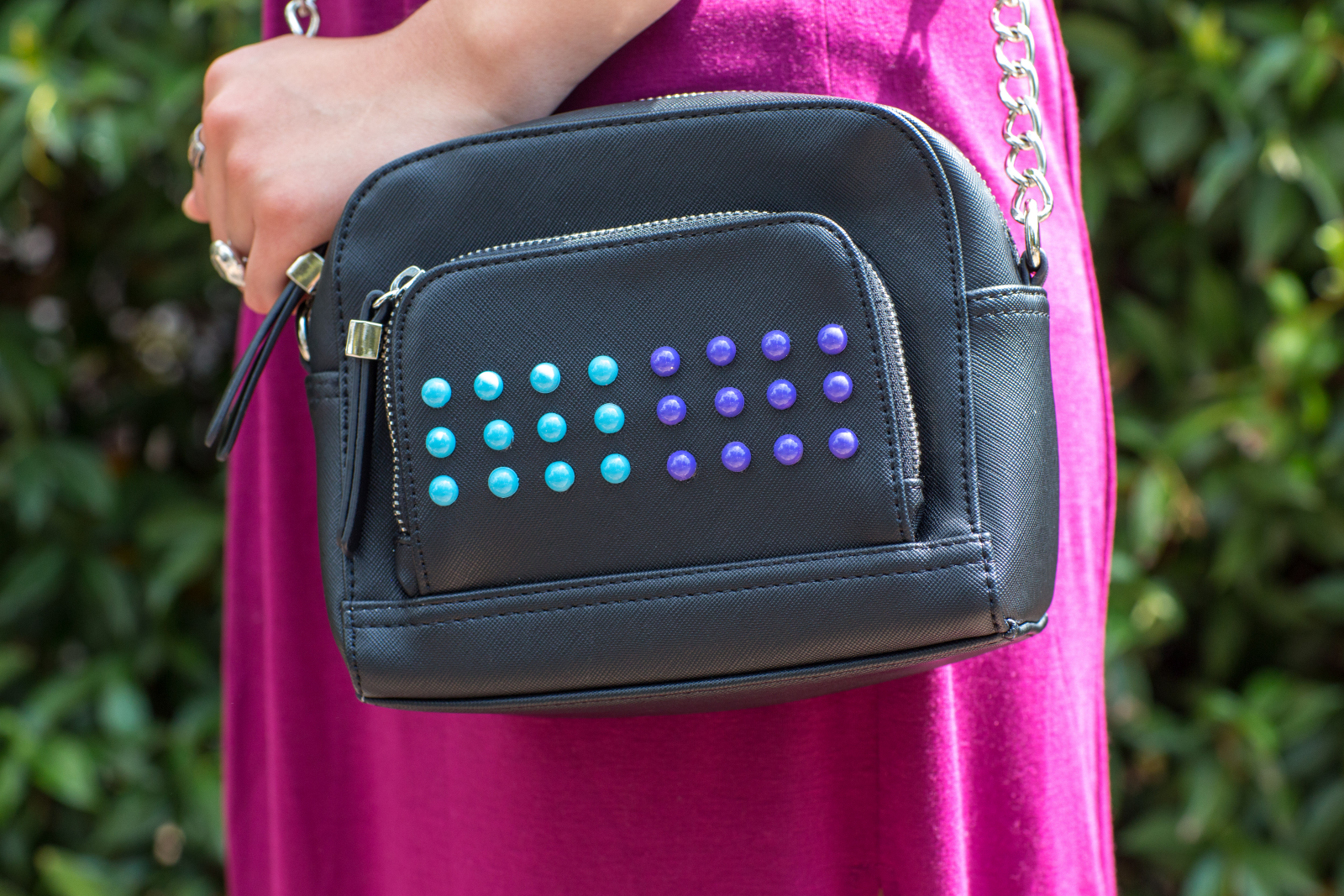 All you need to do is spray paint flat back dome studs and you're good to go. (Brit + Co)
29. Fringe Fleece Scarf
I adore fleece because it's warm, inexpensive, and doesn't fray. No sewing is needed for this scarf DIY. (eHow)
30. Embellished Faux Fur Jacket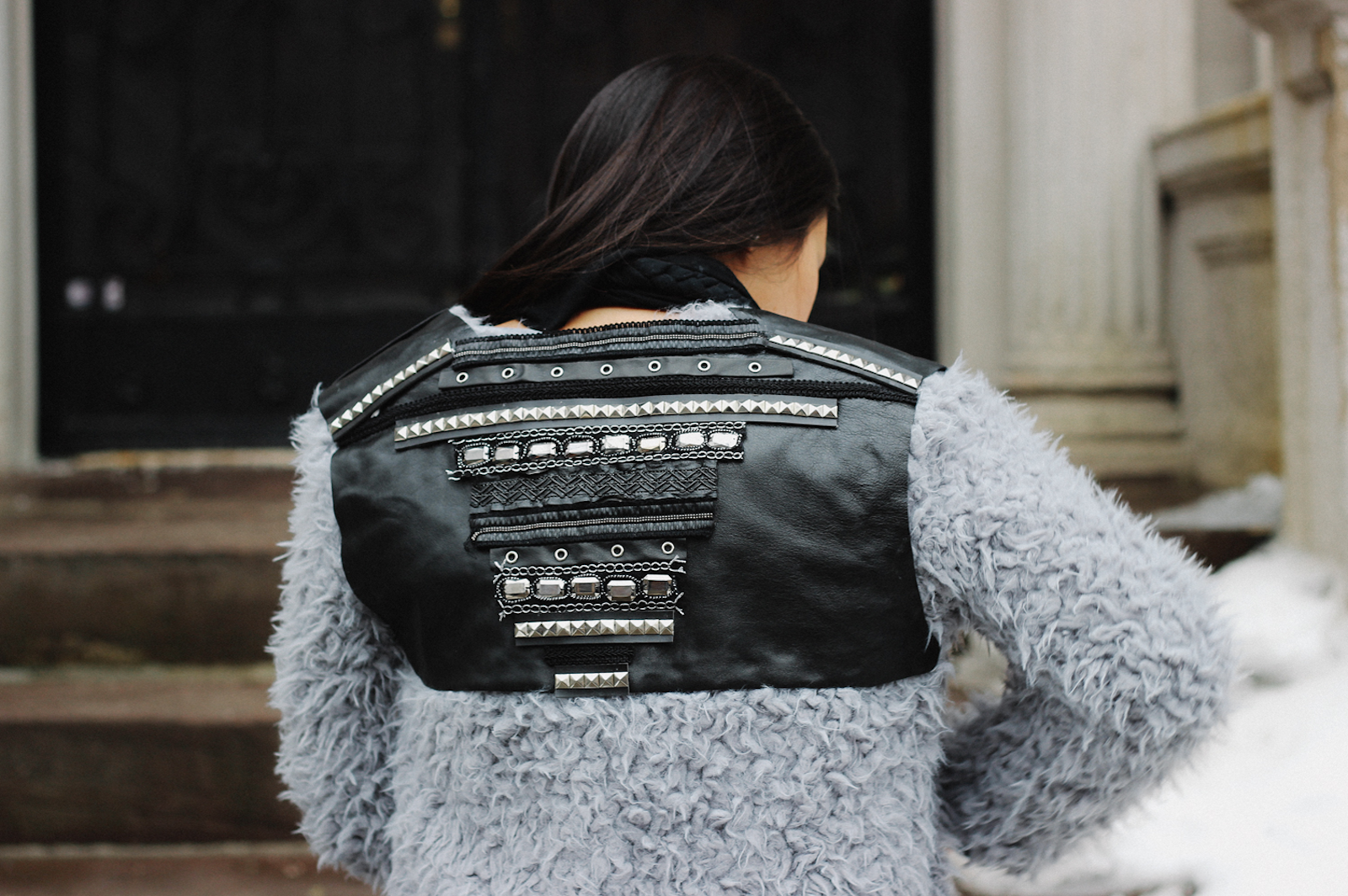 Much like the backpack project on this list, this DIY calls for just cutting and gluing. (Wild Amor)
31.  No-Sew Plaid Patchwork Sweatshirt

Thank goodness for fabric glue. This one is a no-sew DIY, too. (We Heart This)
32. Infinity Necklace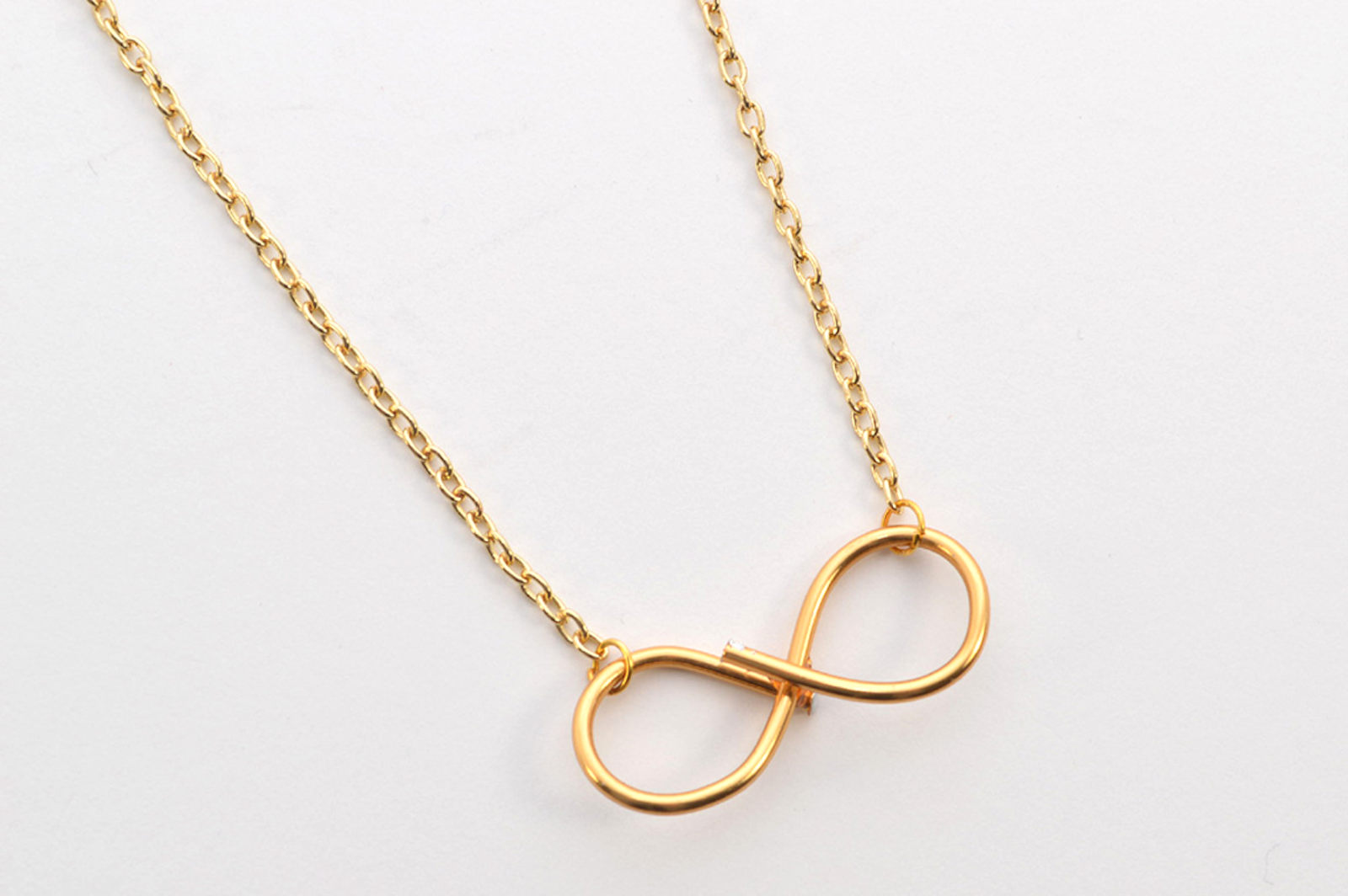 Need to brush up on your jewelry making skills? Make this easy infinity necklace. (Wild Amor)
33. Beaded Bracelet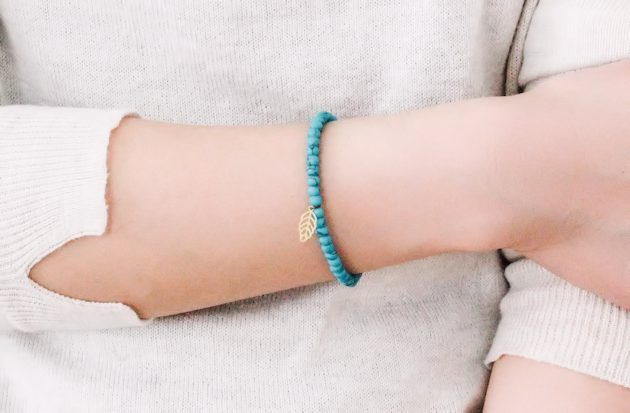 If you're just starting out, this beaded bracelet DIY will give you awesome practice. (eHow)
34. Bandanna Metal Necklace
Stitch a necklace to a bandanna for an instant Free People-inspired piece. (Wild Amor)
35. Stenciled Leather Jacket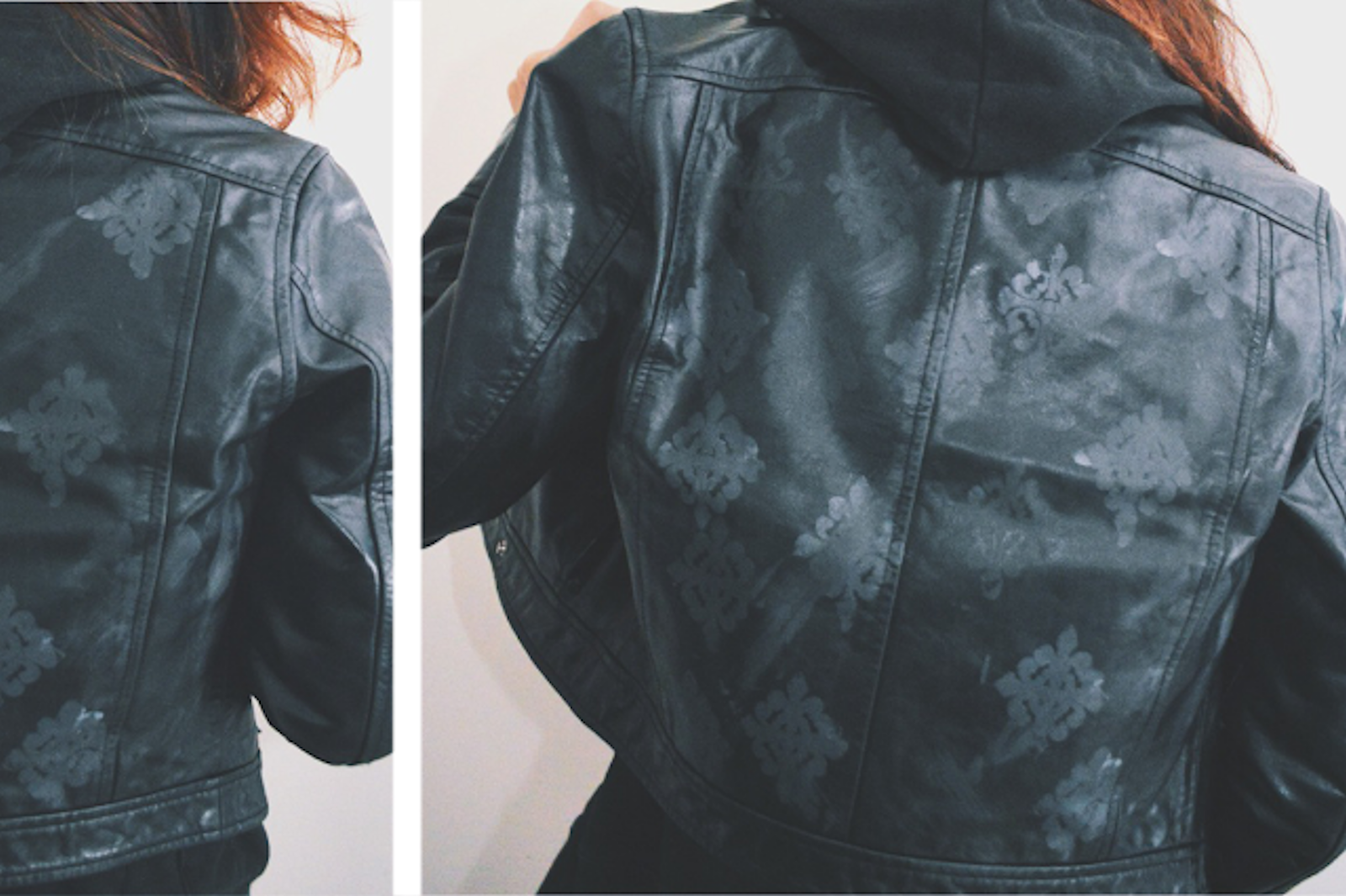 Give a leather jacket a makeover with stencils and paint. (Wild Amor)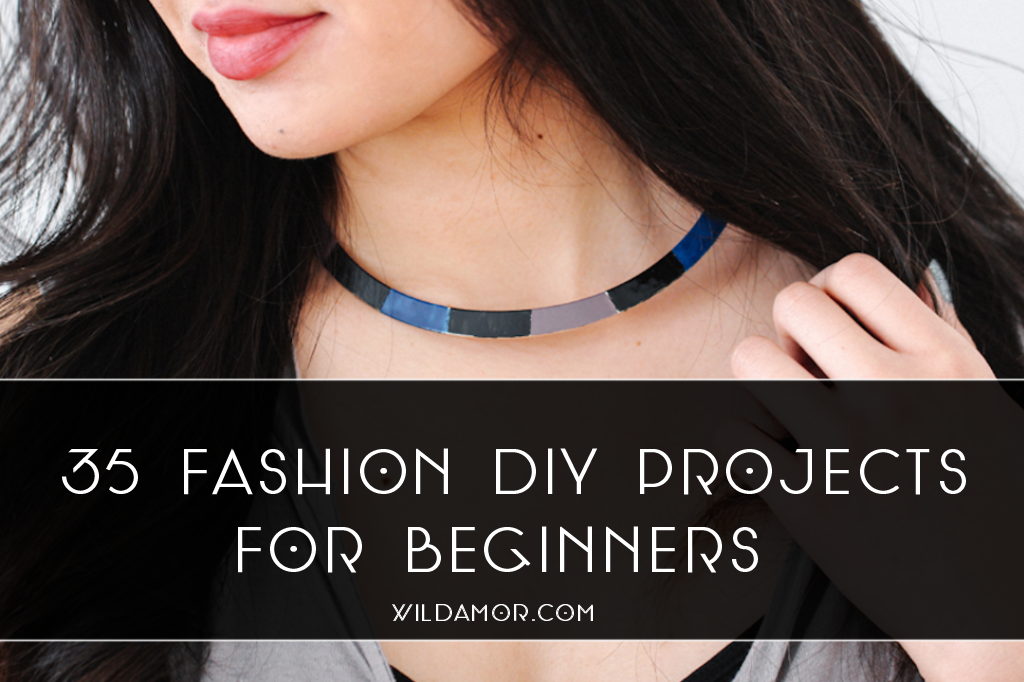 Phew. How's that for a list?
Remember, take your time reading the directions and don't be afraid to experiment. Most importantly, don't focus on trying to make an exact replica of what you see in the tutorial… it's just not possible. Besides, the point of DIY is to make it your own. It's going to be different, but that's exactly what will make it awesome.
Happy crafting!
xx K