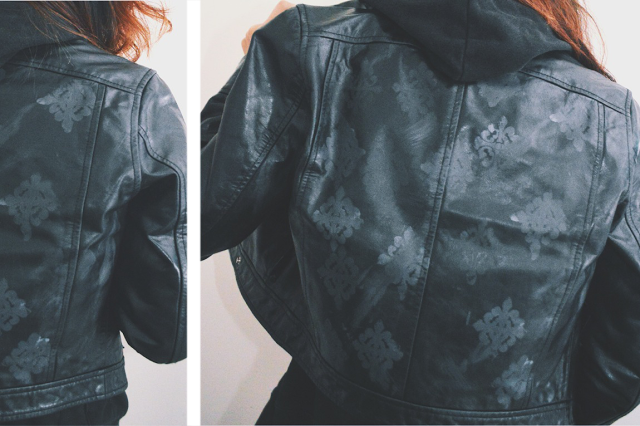 A few months ago, I was wandering around Williamsburg with my good friend Abby. We stopped by Buffalo Exchange and I scored a Club Monaco leather jacket (and she found practically new Banana Republic jeans!). I have yet to start using it, mainly because I felt like it could use that extra something. I decided to bring in some paint and a stencil. Along with the distressed vibe and the subtle aspect of the pattern, I'm really liking how this turned out! It's super simple and can give some life to any leather jacket.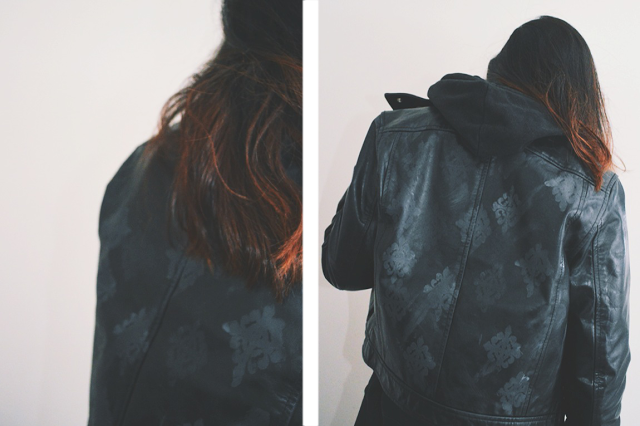 See how I made it, below!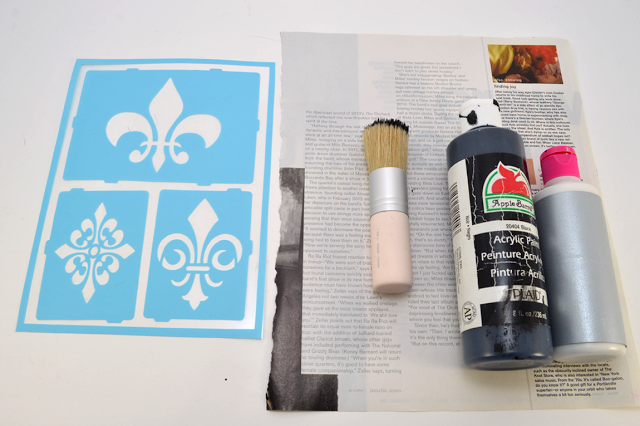 Supplies:
Leather jacket
Adhesive stencil (typically used for glass surfaces; the sticky backing will help the stencil adhere to the leather)*
Stencil brush or large flat foam brush
Acrylic and/or fabric paint (white and the color of your jacket) **
Scrap Magazine Paper/Paint Palette
* This stencil is by Americana and can be purchased at Michael's. The particular stencils used in this project were gifted c/o of Americana.
** In my case, black. I used a mix of both fabric & acrylic paints.
Before Starting:
You can take a sand paper block or sheet and distress the jacket a bit. I find the little extra grit helps the paint adhere better, plus I love the slightly stressed look way more!
1) Apply the stencil to the jacket.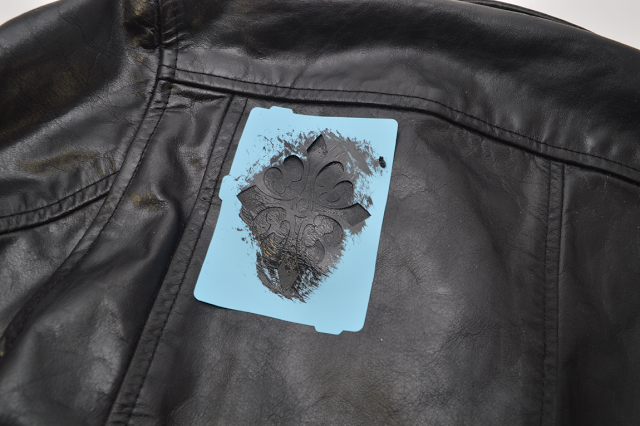 2) Mix up your paint so that it consists of MOSTLY the same color as your jacket. This will give a subtle dimensional look that we are going for. Apply with the brush. Don't be too concerned about being neat and exact – the messier, the better!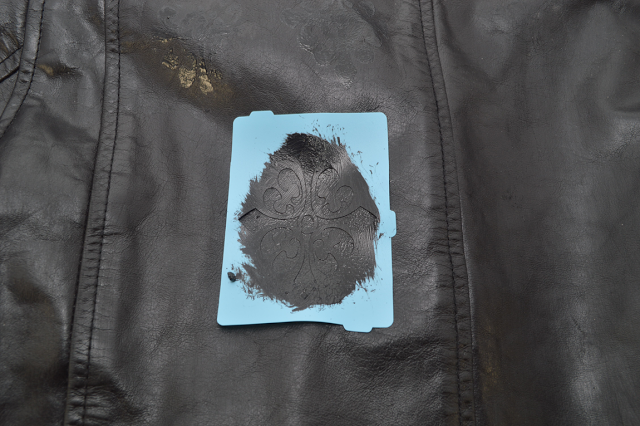 3) Randomly continue across the back panel of your jacket.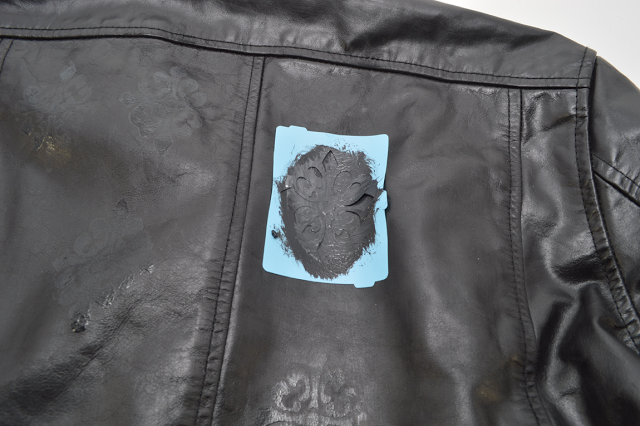 4) Whenever you feel like it, mix up some more paint. Add a little more white this time. This will help the pattern stand out a bit more, but still be fairly subtle.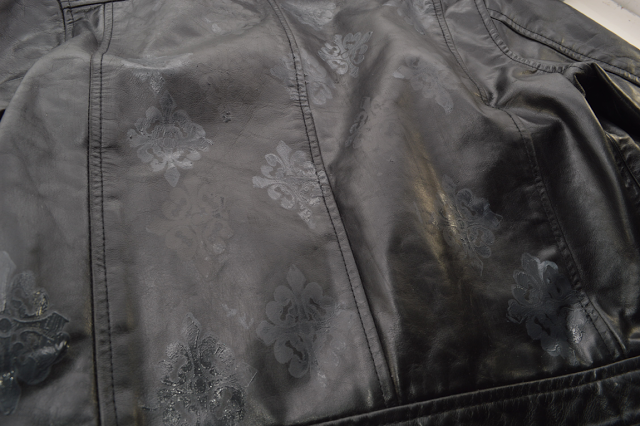 5) Continue randomly adding patterns.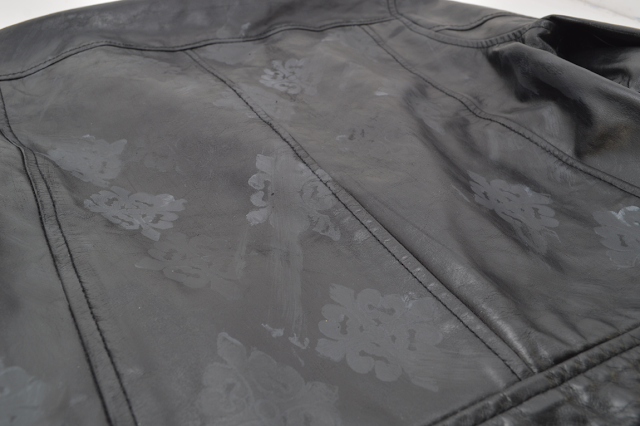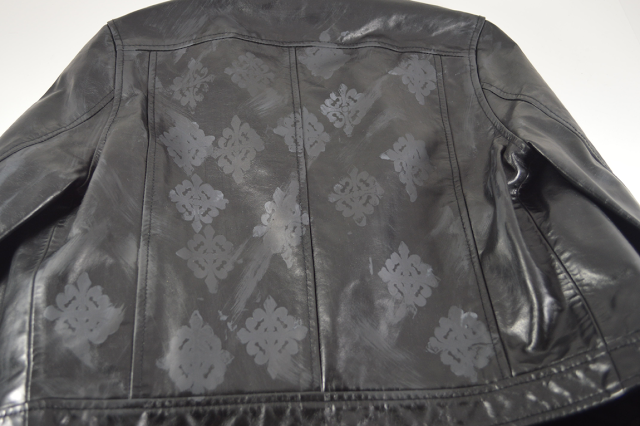 When you're finished, you can take the semi-dry brush and sporadically take it across the jacket, purposely smearing the pattern before it dries. This will create an interesting rugged look.
In other words: Don't think about it too much. Just go for it!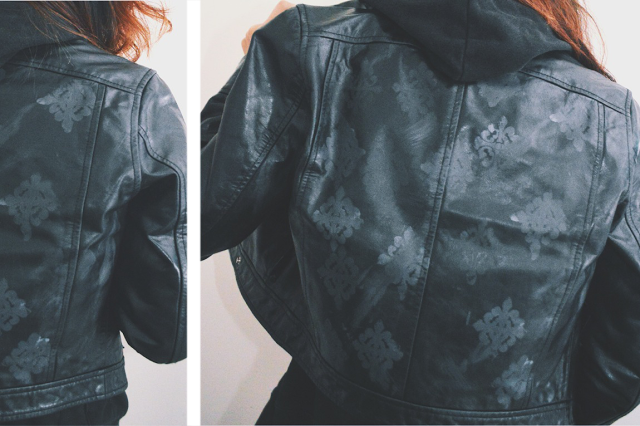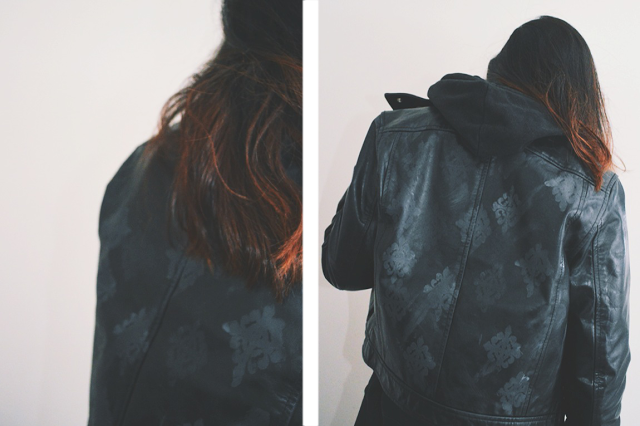 Can't wait to layer this throughout winter, spring and next fall. Enjoy!
xx K