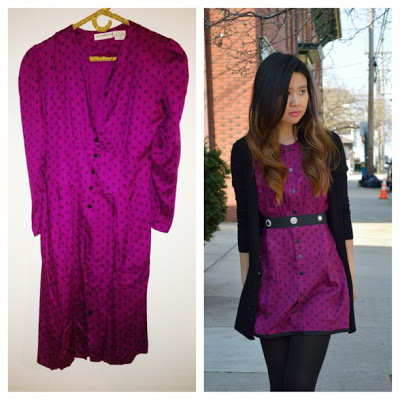 If you follow me on Instagram (@
kirsten_nunez
), you might have seen this before and after picture I posted of a dress reconstruction I recently did. I found a vintage Liz Clairborne dress at Goodwill for about $6, shoulder pads and all. I took the pads out, cut off the sleeves, and chopped off about 6 inches from the bottom. I then took black double fold bias tape and sewed it to all the raw edges (arm holes and bottom). With a waist belt, it looks way updated and super cute!
As long as you know how to sew in a straight line, you can easily make a similar reconstruction with a vintage dress. It really wasn't too difficult at all, and didn't take long either. Once the shoulder pads were out and the dress was shortened, it looked like an entirely different dress. I would have kept the sleeves if they weren't so puffed up from the shoulder pads.
Hope this gave you an idea or two for the next dress you find at the thrift store! To follow me on Instagram and keep up to date with my other projects outside of the blog, click here.