I can't be the only one who has her mind set on growing up to be a crafty badass grandma. You know… life goals and what not. 
Obviously, buttons aren't just for grandmas. But when most craft projects feature said buttons in cutesy, traditional ways, it can be difficult to find new ways to use those little guys. Until now, at least.
Recently, I found some button inspiration within the Gucci Fall 2016 Menswear runway show. Random, right? The 70s-inspired collection featured tons of quirky elements, including this heart and sword patch made of buttons. Swoon.
And with Valentine's Day well on its way (already?! HOW??), I thought it would make the perfect designer-inspired tutorial. Not only can you use up those leftover buttons, but you can start your crafty-badass-grandma-wardrobe. Again… life goals.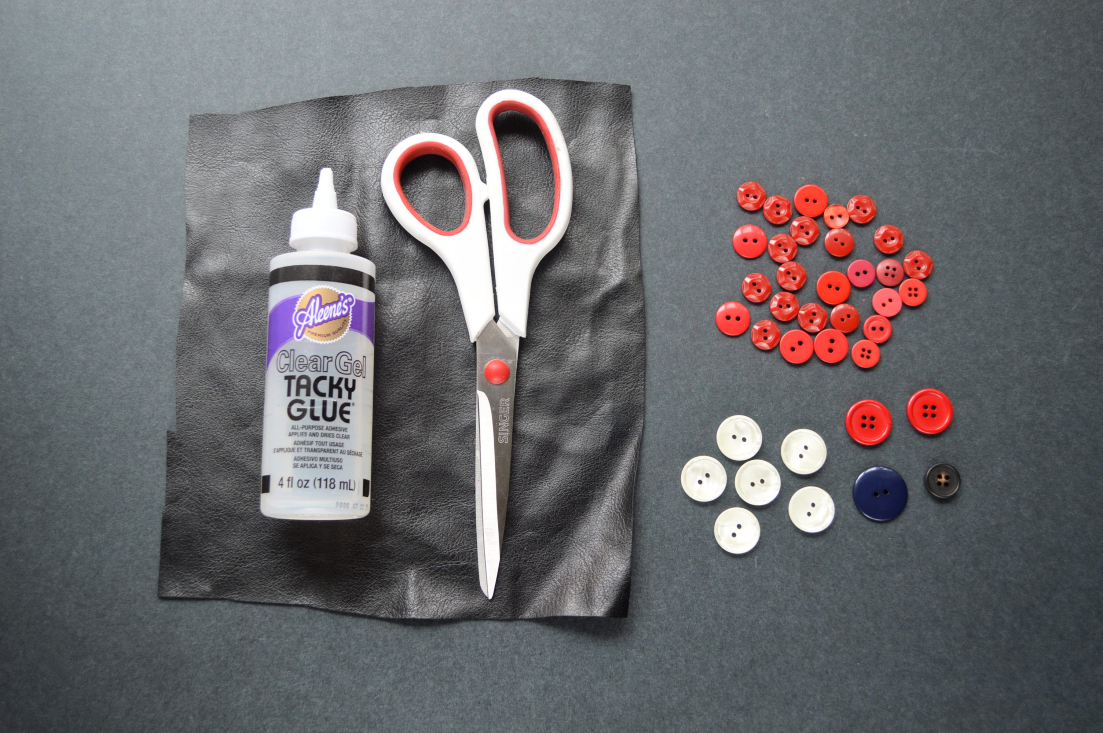 Supplies:
Faux leather, felt or denim (any sturdy fabric works)

Craft glue

Fabric scissors

Small red buttons (at least 26)

Medium white buttons (4-5)

Medium red buttons (2)

Large navy blue button (1)

Small black button (1)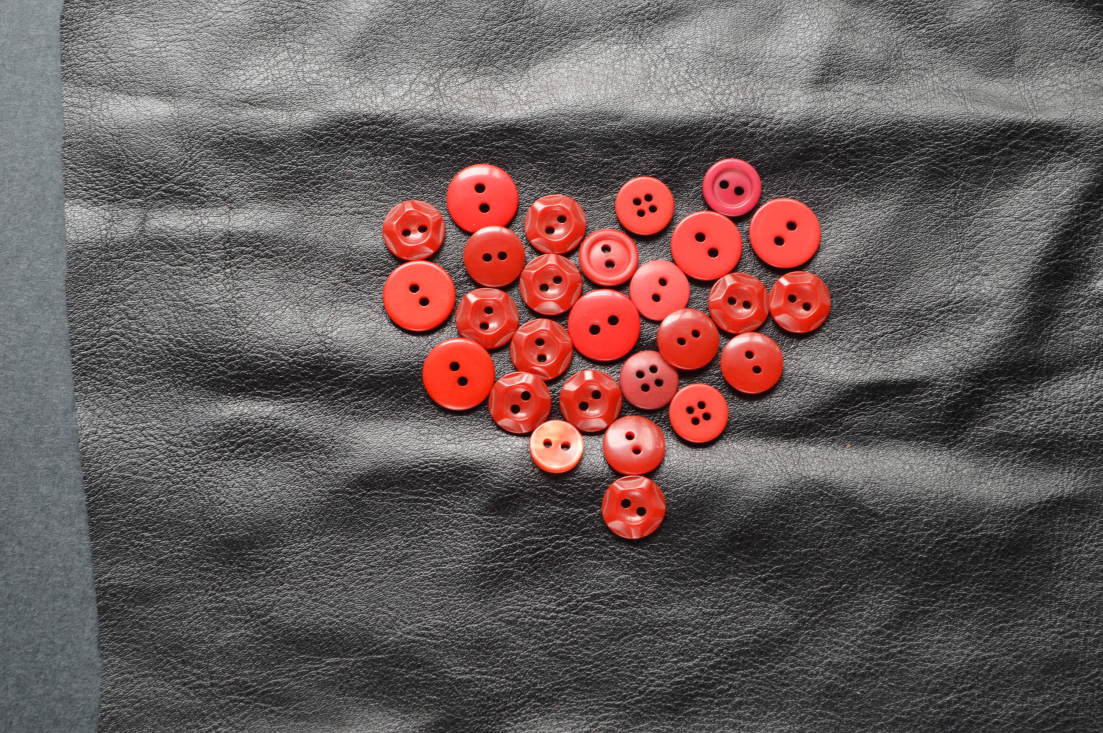 1. On the faux leather, lay out the small red buttons in a heart shape. This is essential for planning out the placement of each button.
I used exactly 26 buttons in slightly varying styles and sizes. Wondering how I got 26? I counted the number of buttons in the original Gucci inspiration! Of course, you may need more or less buttons depending on the specific sizes.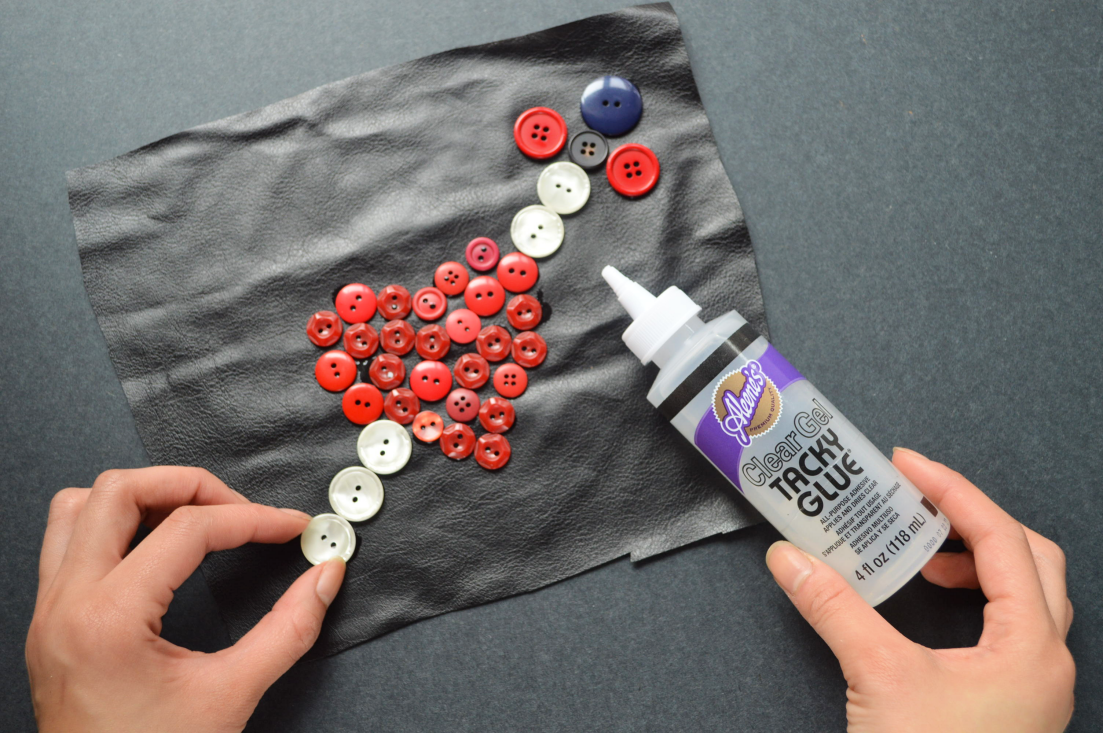 2. Glue the small red buttons to the faux leather. Bring in the white medium-sized buttons for the "sword" (two on the top right, three on the bottom left). Next, add a small black button next to the top most white button. 
Add two medium red buttons on either side and finish it off with one large navy button.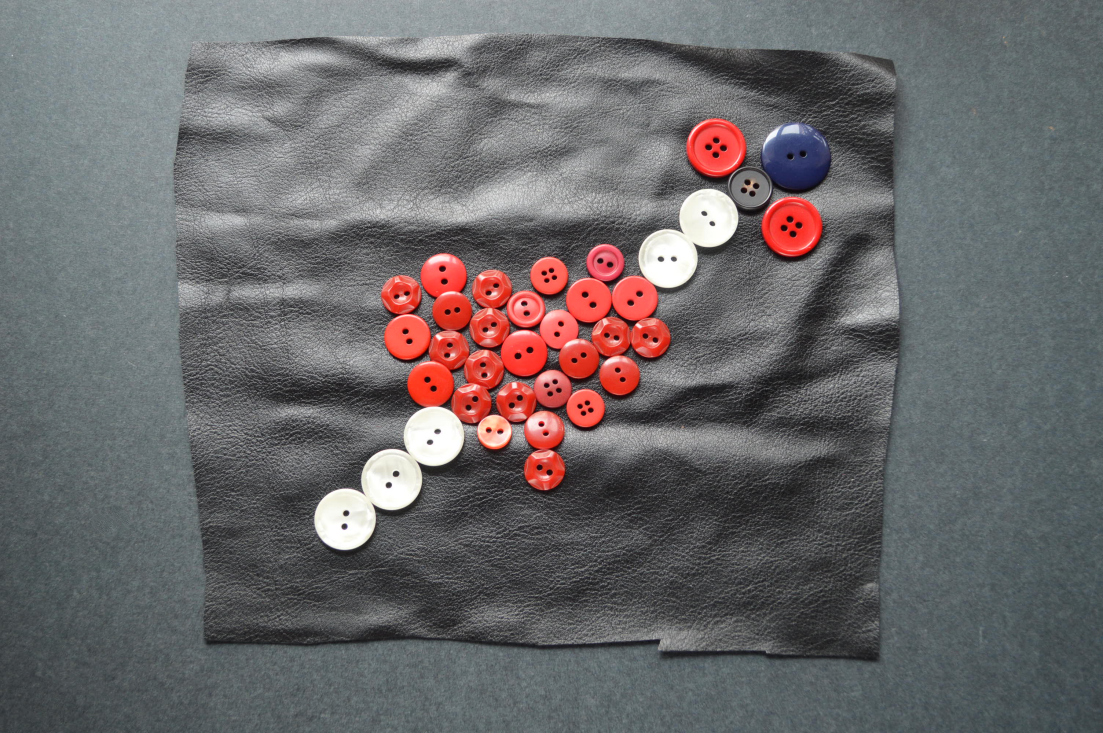 3. Leave to dry completely.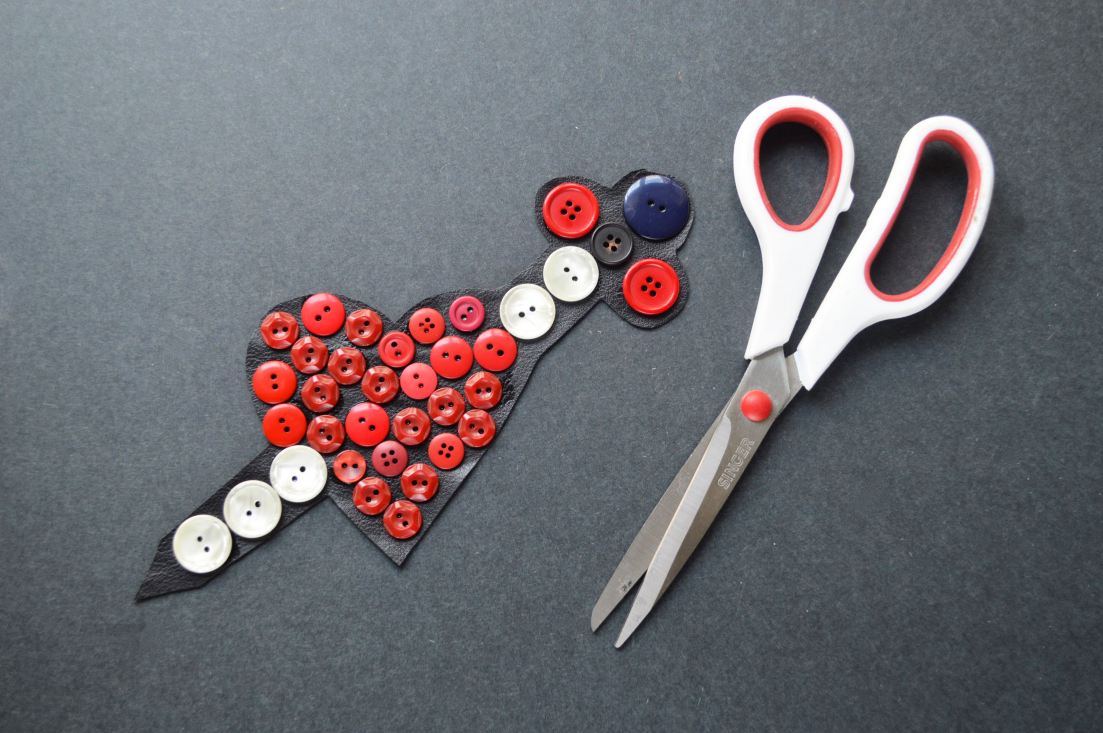 4. Once dry, carefully cut around the heart and sword. Don't forget to cut out a triangular end next to the bottom left white button.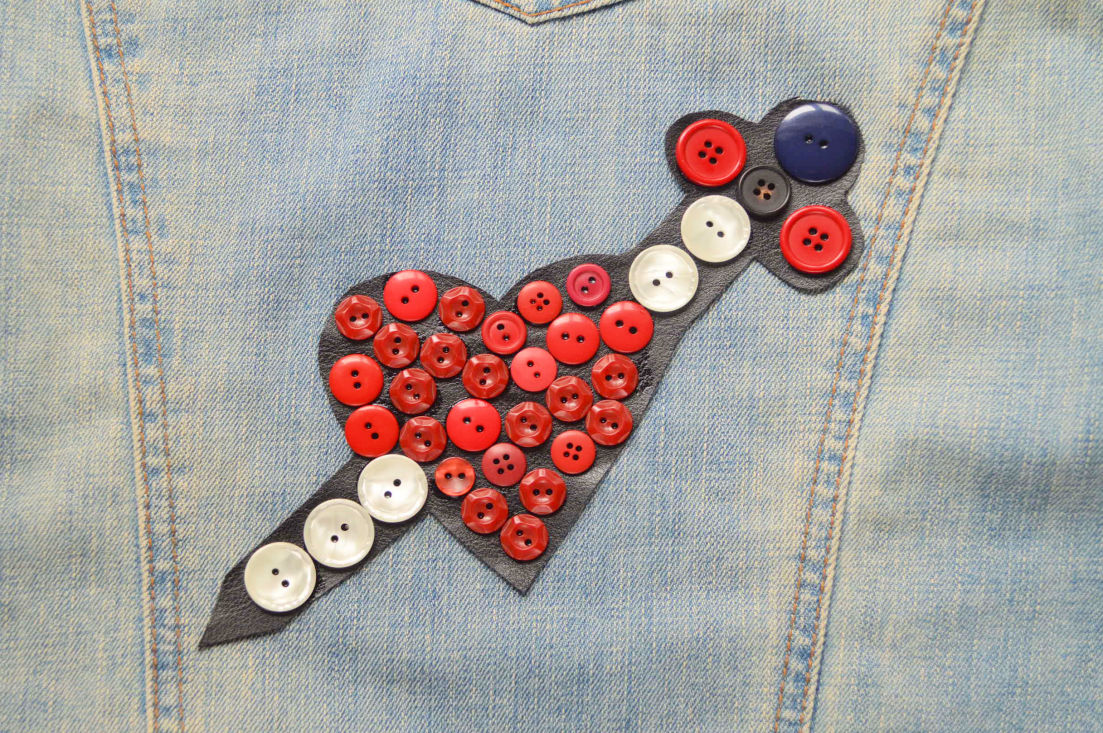 And that's it! You can stitch your new sweet patch on the back of a denim jacket or vest. A little fabric glue may also help, too.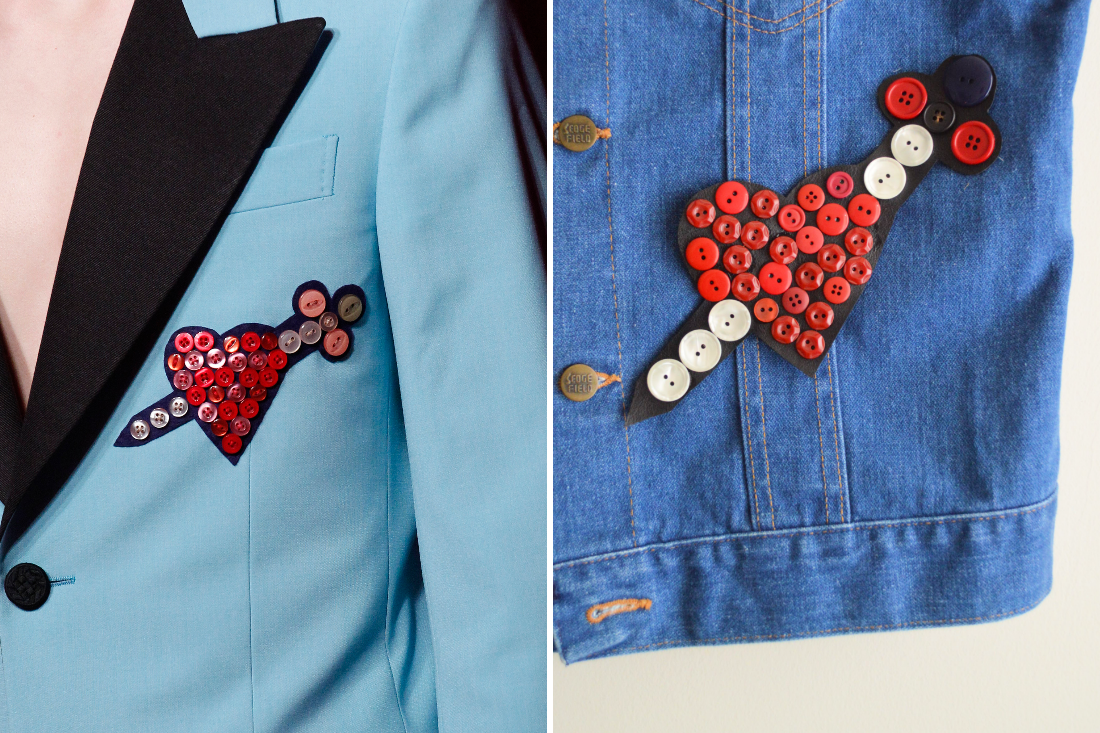 Or, you can adhere it to the front of a jacket or vest, just like the real thing. I love the simplicity and old school crafty feel of this one. 
Looking for more designer-inspired projects? Check out these past tutorials!
xx K 
Image Credit: Vogue.com (Gucci Fall 2016 Menswear, left)