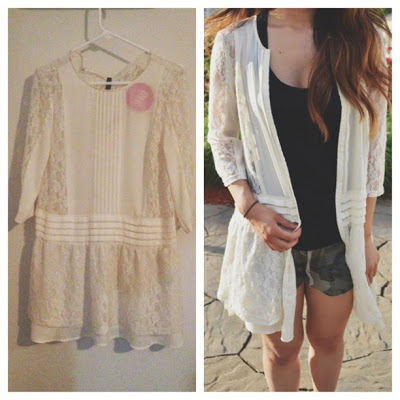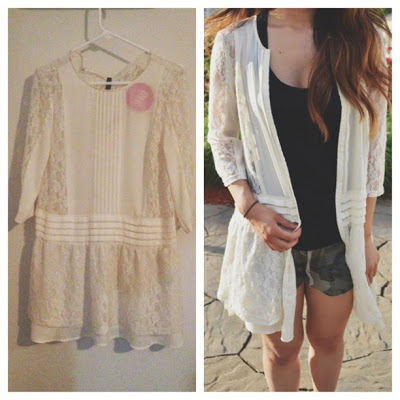 If you follow me on Instagram, you've probably seen this side project – but I thought I'd share it here! Back in June I made a long lace cardigan from an H&M dress that was on sale for just $7. It was an ironic find, because I had been on the hunt for a long, lightweight cardigan for months (literally). Everything I found was usually way overpriced or too short.
While walking through H&M one day, I saw the clearance section and realized that a lace dress could be turned into a cardigan with a little sewing. I decided to dig in and sure enough, I found this $7 lace dress (originally $30+). It's a couple sizes bigger than what I normally wear, but I actually like this for the fit of a cardigan.
Here's how I did it: I cut straight down the middle (it helps to vertically fold the dress in half, shoulder to shoulder) with fabric scissors. I pinned matching bias tape along the raw edges, and sewed right down. The bottom half was a bit tricky, because of the ruffles and layers of thin fabric. It helped to have the seam ripper on hand, so that I could give it another go.
Hope this inspired you somehow! The next time you see a dress, try to picture it differently – whether it's cut down the middle or without sleeves. There can be a lot of potential :o)