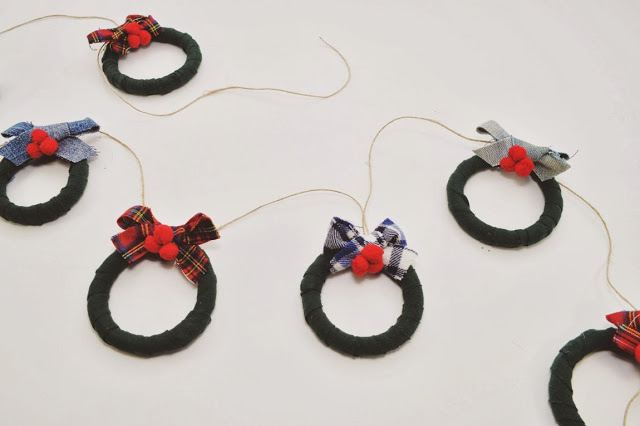 – 3/8″ Clear PVC Vinyl Tubing
– Optional/Not Shown:  Red pom poms…for berries!
1) Cut an 8 inch strand of the thicker tubing, and a .75 inch strand of the thinner tubing.
2) Use the shorter piece to connect the ends of the long tube, creating a ring.
3) Repeat! I created a total of 9 rings, but you can make as little or as many as you'd like.
4) Cut the green fabric into 1 inch wide strips.
5) Hot glue a fabric strip to a ring.
6) Snugly wrap around the ring.
7) Continue until the entire ring is covered, adding additional strips of fabric if necessary.
8) Repeat until all of the rings are covered.
9) Take a long strand of hemp and tie on the rings. I folded the hemp in half, added the first ring to the center and tied a knot. This would act as the center wreath, so I could add additional wreaths to either side accordingly.
10) Take the fabric remnants and tie bows. I find it easier to create bows if the strip of fabric is fairly long, about 12 inches (and .75-1 inch wide). You can always trim it down once the bow is made.
Hot glue the bows directly onto the wreaths, right where the hemp knots are located.
11) If you'd like, glue clusters of 3 mini red pom poms to each bow.
At just a few inches wide, these mini wreaths are too cute! And I can bet you that no one will ever believe you that they were made with vinyl tubing from the hardware store. For most crafty ladies, the fabric is probably already something you'll have on hand. Since the vinyl tubing is fairly inexpensive, this project is an affordable way to decorate your home for the holidays.
Try using this tutorial to make ornaments! Instead of tying the wreaths onto hemp or twine, add a loop of string to each one.
Xo, Kirsten