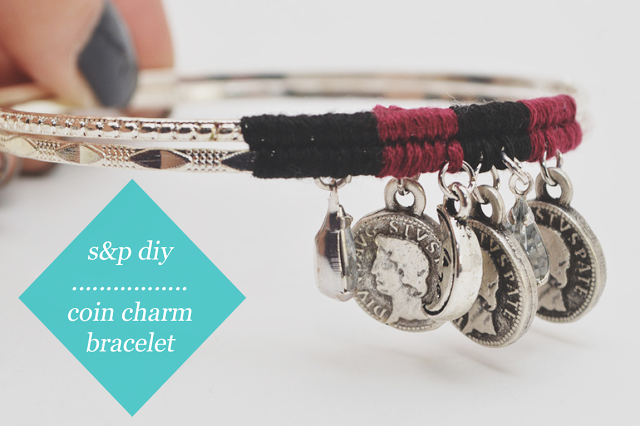 Earlier in the week, I shared
this week's DIY inspiration: coin charms
. As I stated in the original post, I adore the cultural, bohemian vibe of coin charms. This project is actually a play off of a past studs & pearls project, the
Faux Braided Bangle Bracelet
. Creating a similar tutorial actually wasn't the initial plan of action, but as I was making this particular piece, I realized that the embroidery thread would make an awesome alternative to the ribbon used in that project. I really love the braided look of the thread, paired with the interesting coin charms. The steps are right after the cut! >>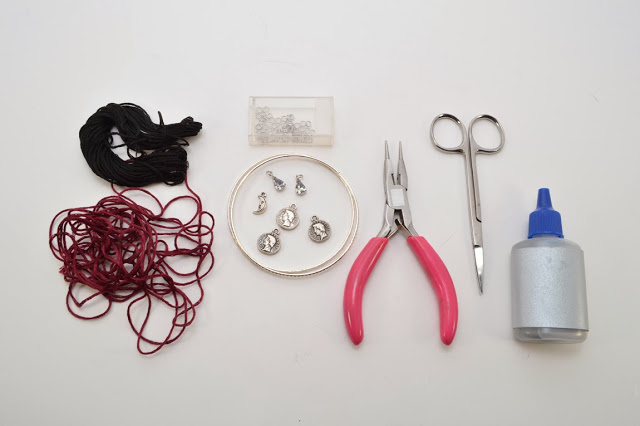 Supplies:
– Embroidery Thread
– 2 Thin Metal Bangles
– 4mm Jump Rings
– Coin Charms, 3 or more
(Purchased at M&J Trimming)
– Miscellaneous Charms, 3 or more
– 3-in-1 Jewelry Pliers
– Scissors
– Liquid seam sealant (such as Fray Check) or Clear Nail Polish
– Scotch Tape (not shown)
1) Prep the charms by attaching them to jump rings. I would recommend sliding the ends of the jump rings past each other, for extra security.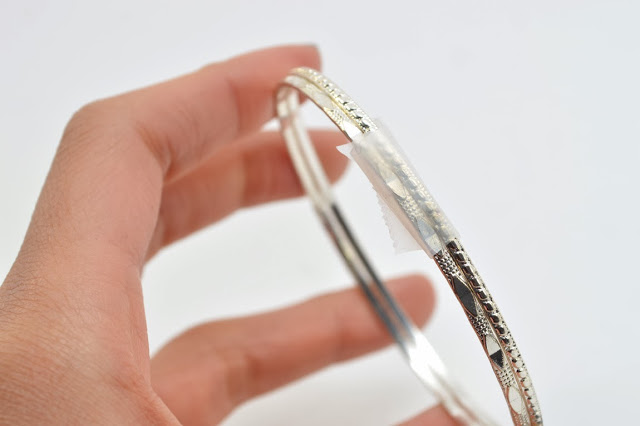 2) Loosely tape the two bangles together.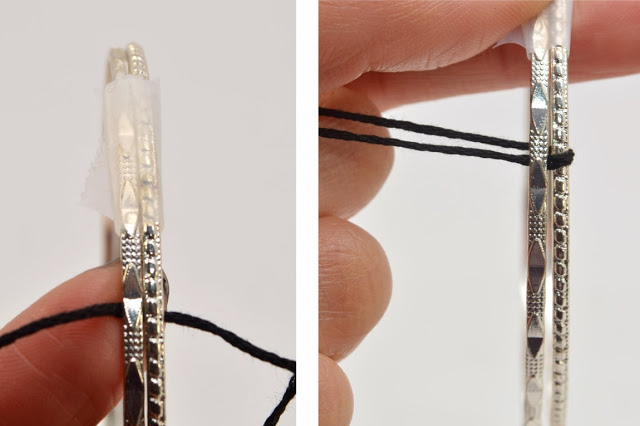 3) Take a long strand (about 20 inches or so) of thread and insert through the bangles. Place the bracelets in the center of the strand.
Take the thread on the right side and bring it over the right bangle, and under the left bangle. Both sides of the thread should be on the left side, as shown in the second photo above.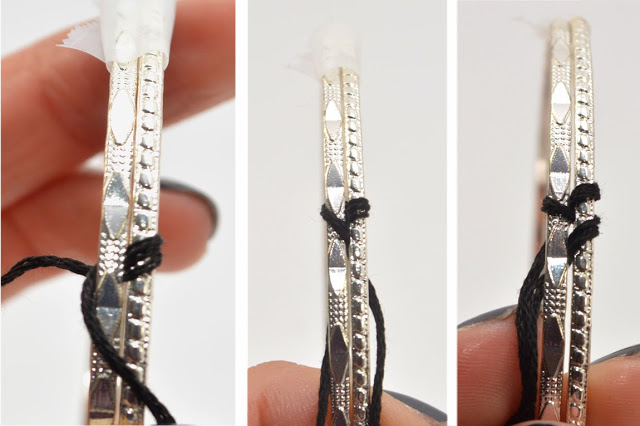 4) Take the strand of thread that was originally on the left side when you started. Bring it over the left bangle (first photo), and under the right bangle (second photo).
Continue with this sequence. Bring the "new" right side thread over the right bangle and under the left bangle (third photo).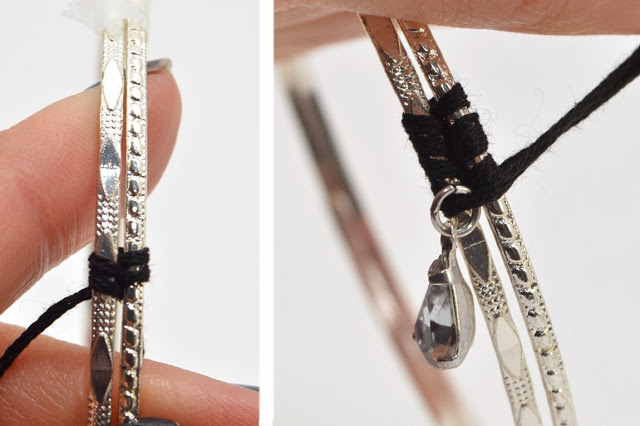 5) Pull tightly (but not too tight!) and you'll see the braid that is beginning to form.
Continue along the bangle, threading on a charm every so often.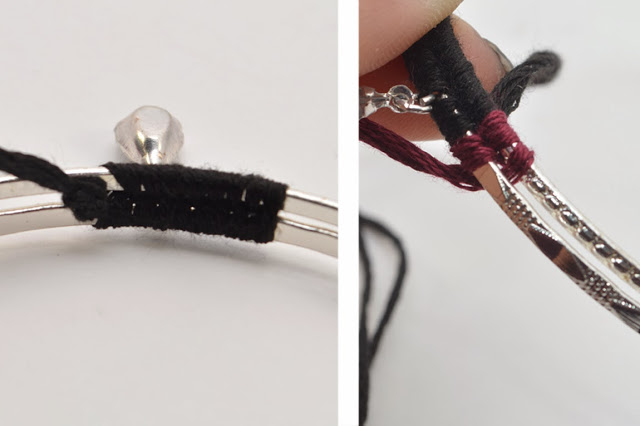 5) Double or triple knot the thread to secure.
Continue with steps 3-5 with the next color!
6) Add more charms as you move along. I alternated between the black and maroon thread.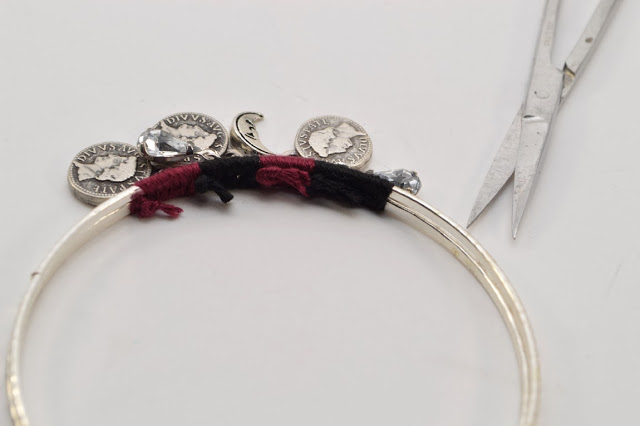 7) Cut away the excess thread. Secure each knot with a dot of liquid seam sealant or clear nail polish.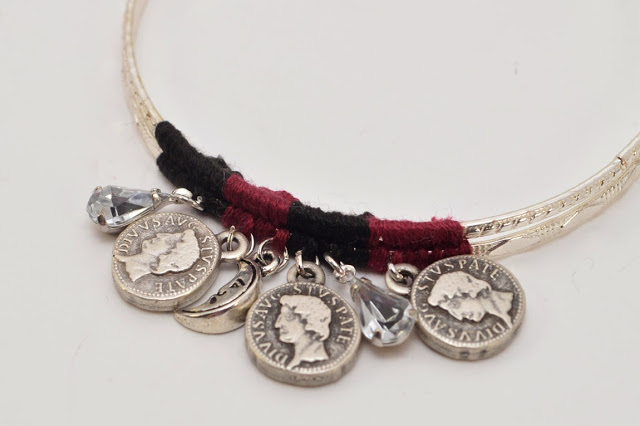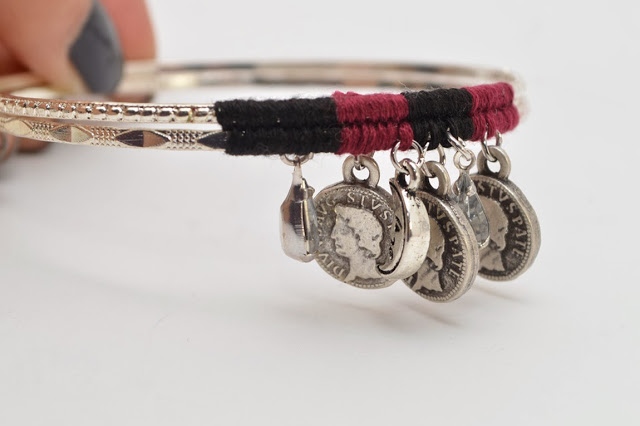 Loving the end result. The rhinestone tear drops adds a nice little bling to the finished piece. Enjoy!
Xo, Kirsten