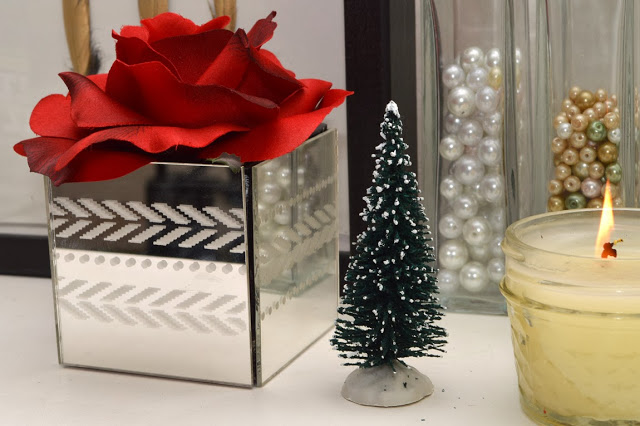 Recently,
Martha Stewart Crafts
sent over some amazing supplies for me to check out and whip up a holiday project with. One of my favorite Martha Stewart Crafts supplies is Glass Etching Cream, which has really opened up an entire bucket of possibilities for me. For this holiday DIY, I decided to etch some mirrors I've had for quite some time – I haven't figured out what to do with them just yet, and this was the perfect opportunity! This vase/glass holder was inspired by cozy holiday sweaters – one of my favorite things during this time of the year.
What I Used:
– 3×3″ square mirrors (4)
– 3 inch square glass vase
– Martha Stewart Adhesive Stencil (33273 Condensed Sans Alphabet)
– Martha Stewart Glass Etching Cream
– Martha Stewart Stencil Brush, 1/2″
– Strong glue such as E6000
– Paper towels and running water!
Note: Work in a well-ventilated area.
Before Starting:Prior to beginning this project, I wiped each of the mirrors clean with rubbing alcohol.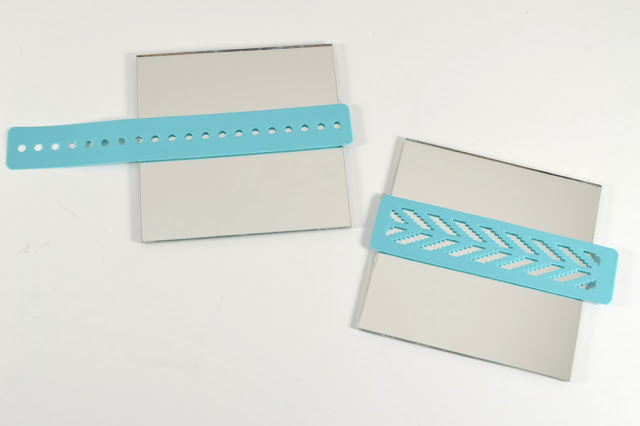 1) I used the chevron and dots stencils. At first, I was going to just leave them as they are shown above, but I decided to alternate them in order to create the sweater vibe. (However, since there is only one stencil of each style, you'll have to do them one at a time anyway!)
2) I applied the etching cream on the stencils. Next, I let the cream sit for 5 minutes before rinsing off with warm water, wiping off any leftover cream from the stencils and mirrors. Don't forget to wash your hands thoroughly, too.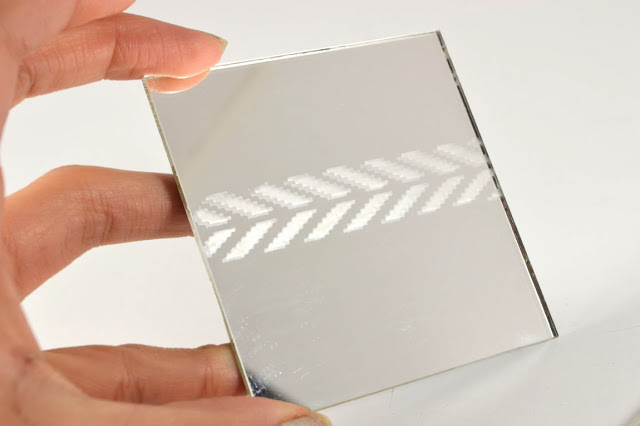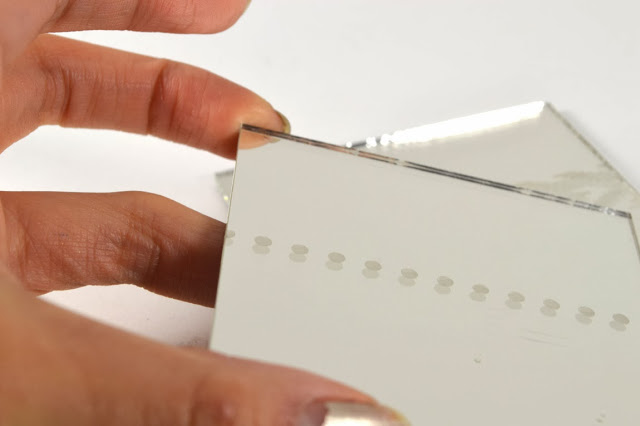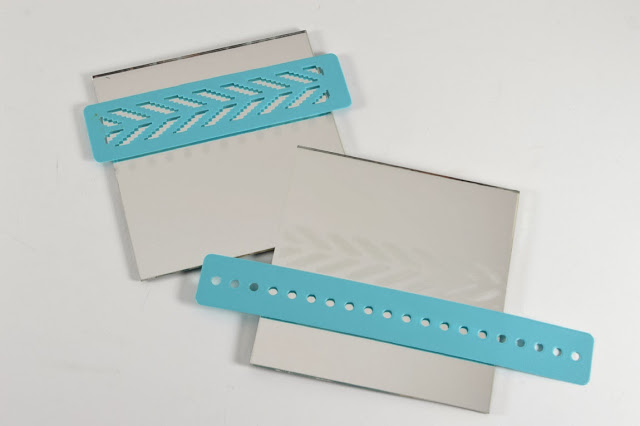 3) Repeat, alternating the dots and chevron. I
I did three rows on each mirror, but you can always add more if you wish to do so.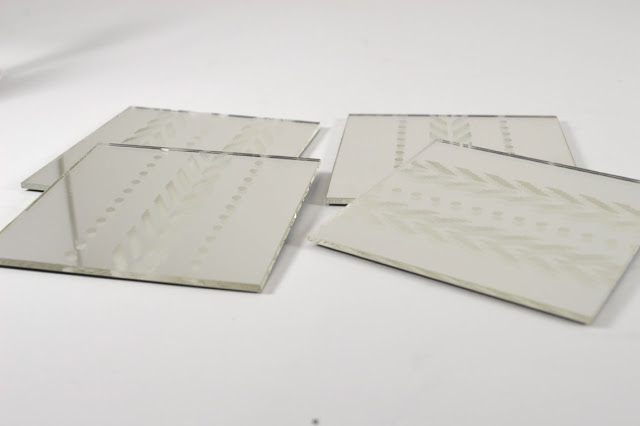 4) I repeated until all of the mirrors were etched. It certainly took some patience, but it was well worth it!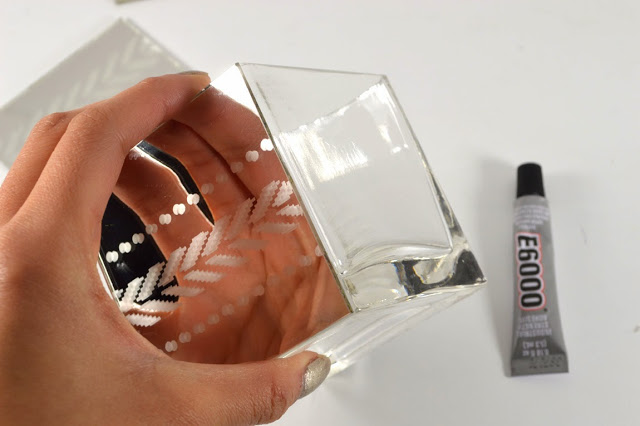 5) I glued one mirror to one side of the glass holder. In order to prevent any mirrors from slipping off, I decided to glue two mirrors at a time, across from each other. For example, after gluing the mirror above, I glued another mirror to the opposite side. That way, I can lay the glass holder on a flat surface, mirror side down. Both mirrors would be laying horizontally, instead of slipping sideways while drying.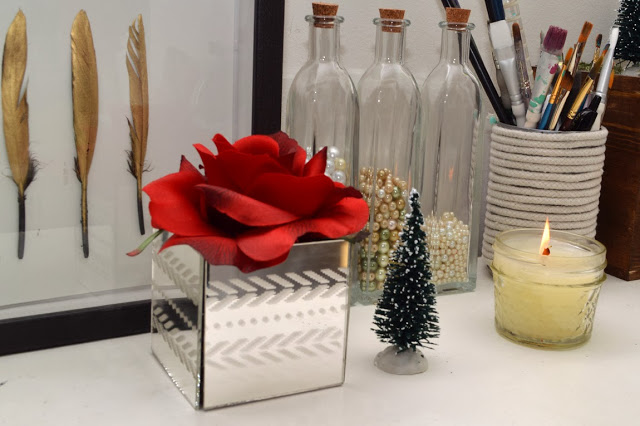 I love incorporating faux flowers into any and all holidays, so I chose a vibrant red rose to go with my mini snowy tree and a vanilla scented candle. I loved it next to my dissplay of pearls and gold feathers!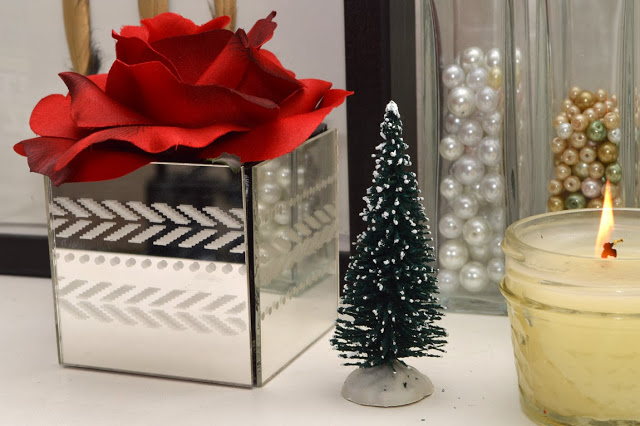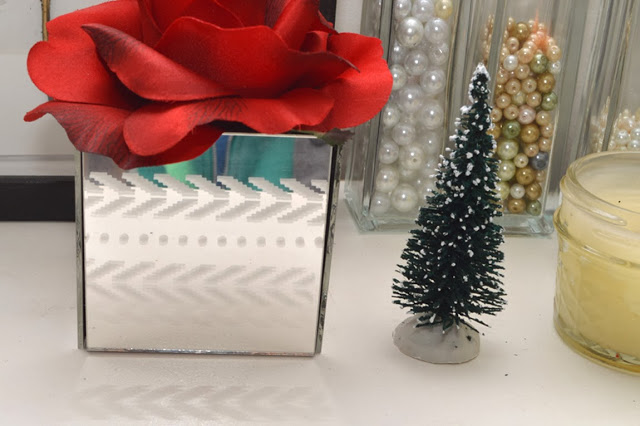 Aside from faux flowers, you can also add little ornaments, pine cones, or even place a candle inside of it. I also thought of dipping feathers into gold glitter and displaying them in the holder for a "snow queen" kind of vibe.
xx K
FTC Disclaimer:
The Martha Stewart Crafts supplies used were sent by Plaid Crafts/The Blueprint Social, as part of a holiday campaign. All thoughts and opinions are my own. This is a sponsored post. Thank you, Martha Stewart Crafts, Plaid Crafts and The Blueprint Social.