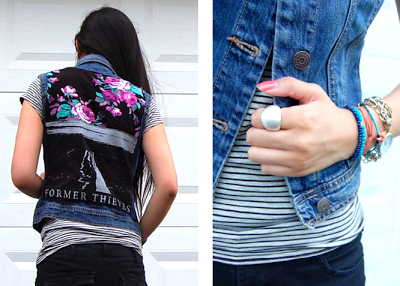 Supplies: 
Denim jacket

Printed fabric or shirt (preferably jersey or cotton) 

Band shirt/graphic tee

Sewing pins
and…
Coordinating sewing thread

Sewing machine or needle (if you're going to hand sew)

Fabric scissors
It helps to choose a shirt that has a graphic that can be focused on the bottom or top. I bought this shirt from a band called Former Thieves a while back (No Sleep Records, anyone?)… I was going to make it into a tank top (you can see above that I started to) but decided to use it for this vest instead. You can really use any type of shirt that has a graphic on it…bands, schools, sports teams, whatever you'd like. 
1) Cut the sleeves off of the jacket, if you haven't already.
2) Cut the portion of the graphic that you want to use, so that it fits on the back of the vest. I decided to use the half that had the "Former Thieves" text, and chose to place it on the bottom half of the vest. 
3) Cut the printed fabric, enough to fill in the rest of the space left on the back.
4) Pin the fabric to the denim, all around the edges.
5) Sew the fabric on each of the four sides.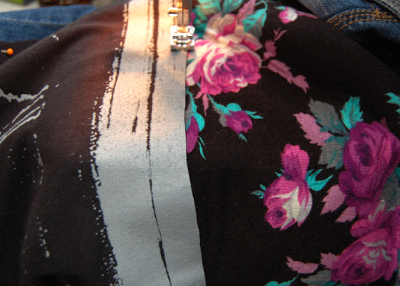 6) Sew down the middle, where the two fabrics meet.
7) Tie off any loose threads.
I'm loving this denim vest because it's perfect layering all year round…over everything from summer dresses to hoodies. I also like that it's something a little different than the usual denim vest.

If you're in the NY/NJ area, don't forget about this Thursday, June 14! I'll be teaching a DIY bracelet class at the American Folk Art Museum in Lincoln Square, NYC. Check out the details here 🙂
xx K