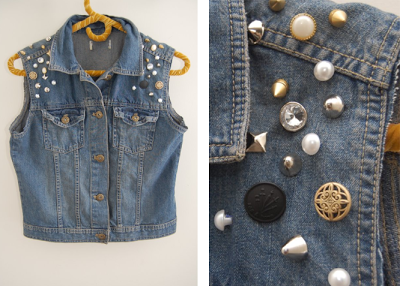 Here's another denim vest project! This time around, I used studs, buttons & spikes to decorate the shoulders. Pretty simple and easy, and perfect for a weekend afternoon. It's also a great way to use up the miscellaneous buttons and odds n' ends in your stash. There isn't really a "cookie cutter" step-by-step for this, but you can see how I made it below!
Supplies:
Denim jacket 

Needle and thread

Studs, spikes, buttons, etc.

Scissors and round nosed jewelry pliers (not shown)
You can order spikes and studs of all types/sizes at studsandspikes.com or crustpunks.com.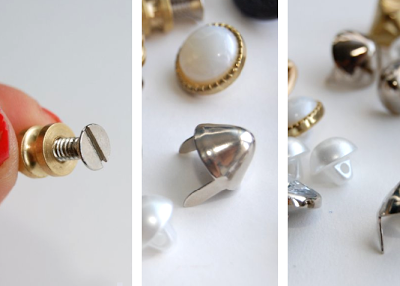 Spikes (left) come with screws that can be inserted through fabric. The spike is then fastened in place, on the screw. Studs (middle) have prongs that are pierced through fabric, then bent with pliers in order to stay put. Buttons (right) like this faux pearl button sometimes come with a loop on the back, also known as a shank. Using some needle and thread, you can attach the button to fabric.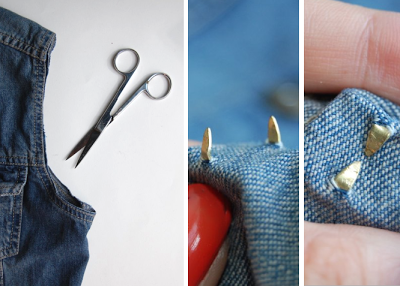 Before starting, cut off the sleeves from the jacket. Now, you're ready to start embellishing! 
I used a mixture of shank buttons, ranging from faux pearl to rhinestones; even an extra Rag & Bone button I had from a jacket (the large dark blue one that you can see in photos below).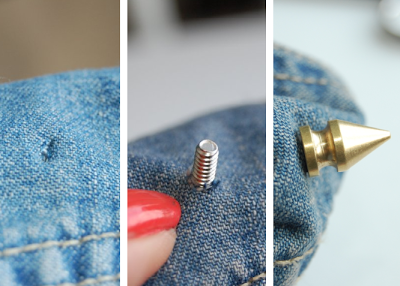 For the spikes, I simply pierced a hole in the fabric with scissors, inserted the screw then screwed on the spike.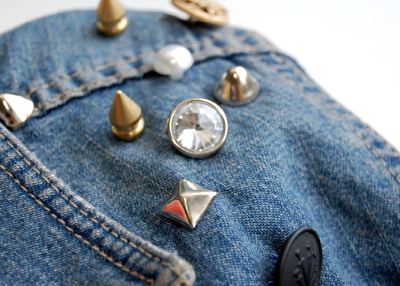 There's really no rhyme or reason to where you should place each embellishment. I decided to mix them up and place them randomly, but you can go about it however way you'd like. Again, it's a good way to use up the random odds n' ends in your supply stash.