3) While the paint is still wet, add some of the next color. Let dry completely.
5) Let that side dry, and unwrap the suede from the cardboard.
6) Apply some glue on the inside of the bracelet.
7) Press one end of the suede into the glue, firmly holding it down until it stays in place. Begin wrapping the suede around the bangle.
8) It might take a little trial and error to figure out how tightly you'd like to wrap the suede around the bracelet. I wrapped mine fairly close together, but not close enough so that the rhinestone is completely hidden.
9) While you're working around the bangle (and determine how you are going to wrap the suede), add some glue to the inside of the bangle every now and then to keep the suede in place.
Keep wrapping until the entire bracelet is covered.
10) Add a little glue, firmly press down and then cut away the excess cord.
11) Let the glue dry.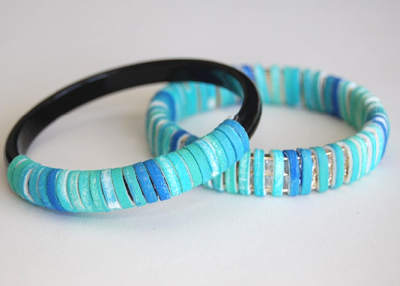 I started off with 8 feet of suede lacing, and used about 6 feet for the bracelet, so I had roughly 28 inches left. I used that to wrap a portion of a skinny black bangle I had laying around. Similar method, but I wrapped the suede closer together. Love it.