Stuck in a rut? Here are some crafty ideas to get those wheels turning:
BUY: American Retro Leyla Leather Jacket, $1,259 (Image: Nasty Gal)
DIY: All you need is white acrylic paint, a thin paintbrush, and your imagination. This is a rad way to spice up a plain jane black leather jacket. Here's a tip: Keep a small tub of water nearby, along with paper towels and cotton swabs. If you make a mistake, you can easily wipe the paint away with a damp paper towel or cotton swab. You can also use a brightly colored gel pen to draw out the images beforehand.
BUY: Urban Renewal Remade Baja Patch Jean, $89 (Image: Urban Outfitters)
DIY: Replace the flannel in the Plaid Patchwork Jeans tutorial with striped vintage fabric. SO easy.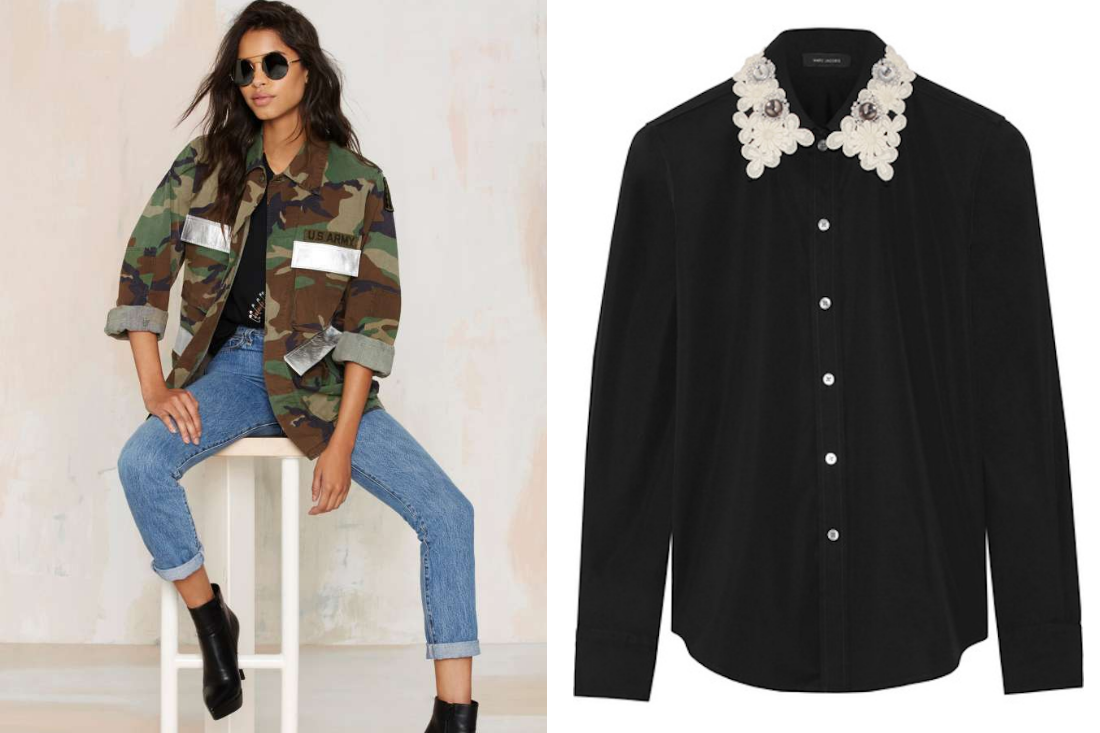 BUY: After Party Vintage Troop Nasty Army Jacket, $68 (Nasty Gal)
DIY: Spray paint faux leather metallic silver. Use fabric glue or simple hand stitching to attach rectangles to the pocket flaps of a camo jacket. Done and done.
BUY: Marc Jacobs Embellished Cotton-Poplin Shirt, $1,100 (Image Credit: Net-a-Porter)
DIY: Round up a batch of feminine patches, appliques, and other small fabric embellishments. Rhinestones work, too. Add to the collar of a button up with hand stitching.
Personally, I'm especially adoring the camo jacket details. I can never a resist a quirky spin on some good ol' camo.
Hope you're feeling geared up for your next project! Don't forget to check out past "DIY Inspiration" posts. What are you making this week?
xx K