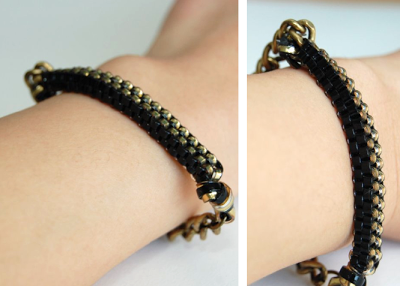 Lanyard (or plastic lacing, or gimp, or boondoggle, or whatever you'd like to call it!) has definitely been making a comeback. For most of us, it's a blast from the past that had a pretty significant role in our childhood – or at least, it did for me. I've been trying to think up of different ways to use lanyard in more stylish and mature ways, like the
Lanyard Stitched Clutch
and the
Lanyard Double Chain Bracelet
.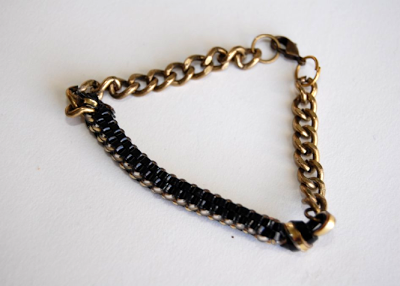 Lanyard bracelets are always fun, but I think the addition of the chain brings in a more sophisticated touch. See how I made it below!
3) When you're done with the box stitch, very tightly tie the lanyard to one end of the chain. I tied it twice. When you're sure that the knot is secure and tight, cut off the excess.
4) Secure the knots with a good deal of nail polish. Lanyard can untie itself from knots pretty easily, so the more nail polish, the better.
5) Attach the lanyard loop to the other end of the chain with a jump ring.
6) Using either pliers or scissors, cut the chain in half so that there is an equal amount of chain on either side of the lanyard.
7) Attach a jump ring on one end, and a clasp on the other.