I've always been a sucker for projects that save scraps and remnants from the trash. I adore the idea that something can be made from nothing, fueled by the leftovers of a completely separate creation. It just goes to show that inspiration can cultivate anywhere if you let it. It's imagination at its very best.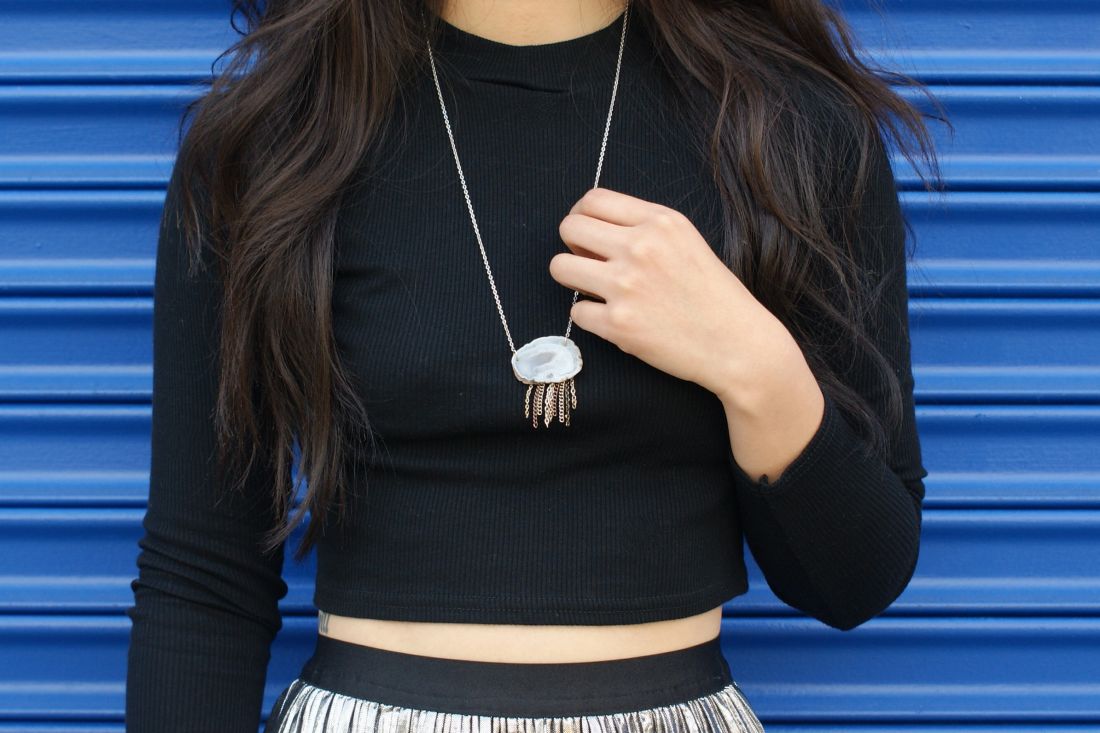 This stone and chain fringe necklace is a prime example. I made this piece entirely out of scraps in my supply stash. I knew there was a reason I was holding onto all those awkward strands of chain!  And now? You have a pretty good reason, too. 
Supplies:
Agate stone bead connector (two holes)
Jewelry, bead, or extra-strength craft glue
3-in-1 jewelry pliers
Chain (24 inches or more)
Jewelry clasp
10mm Jump rings (4)
Chain scraps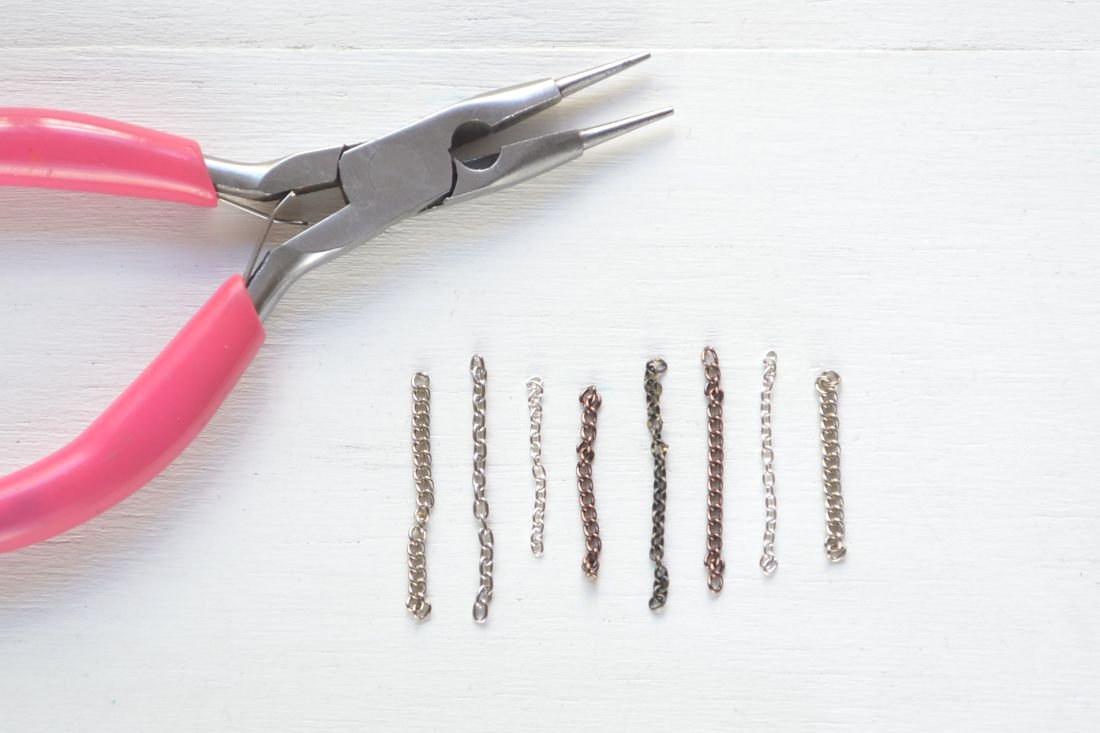 1. Using the cutter portion of the pliers, trim the chain scraps into short strands measuring 1-1.5 inches each. The strands don't have to be perfectly even.
If your agate pendant is larger than 1.5 inches wide, you can cut the scraps into longer pieces. The main goal is to create a chain fringe that is proportional to the stone's size.
2. Add a line of glue across the stone pendant.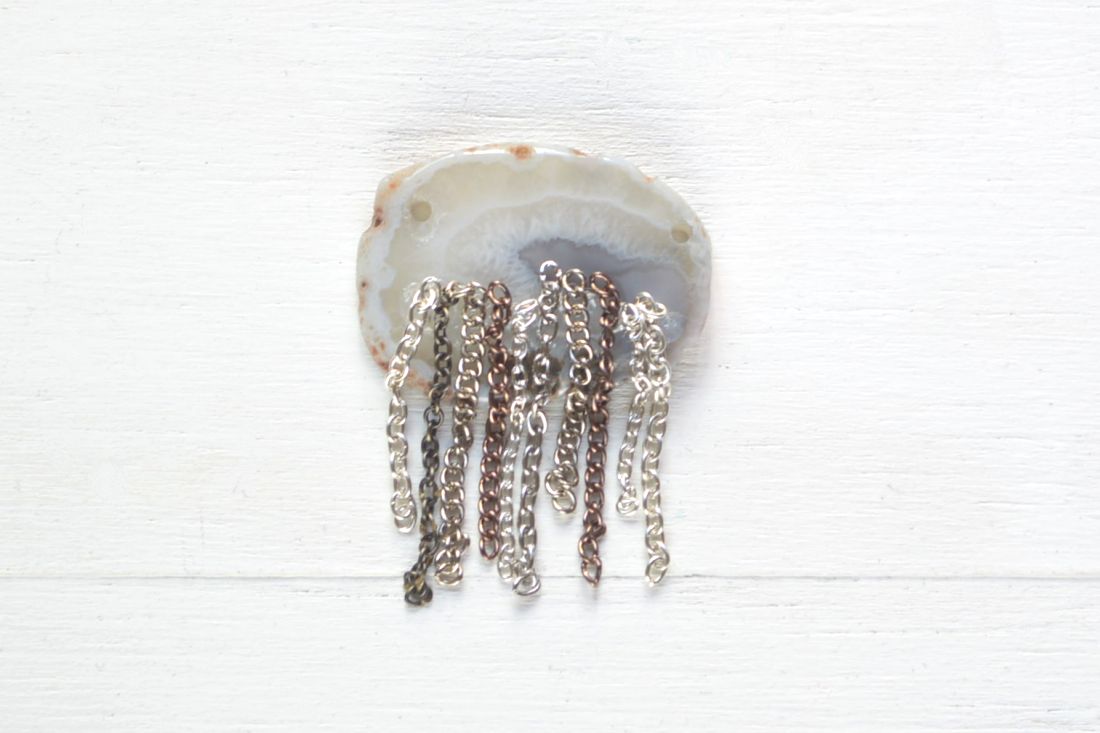 3. Add the chain scraps. Leave to dry.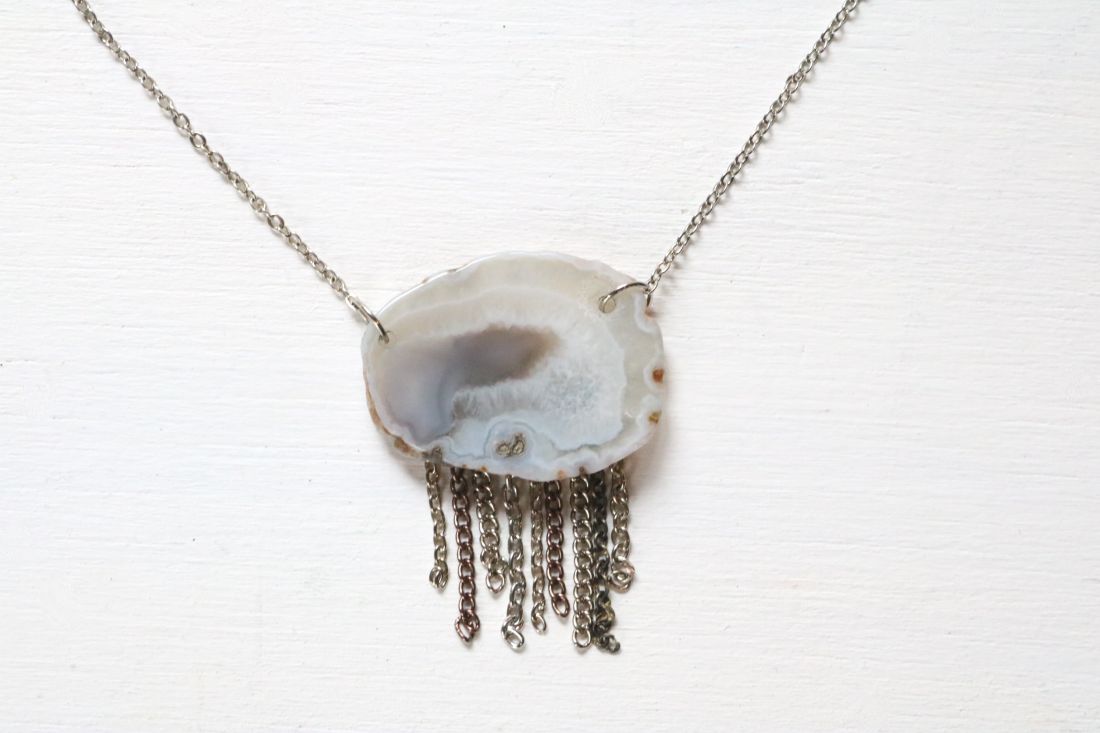 4. Using the jump rings, attach chain to each side of the pendant.
Attach a jewelry clasp and jump rings if the chain isn't long enough to slip around your neck.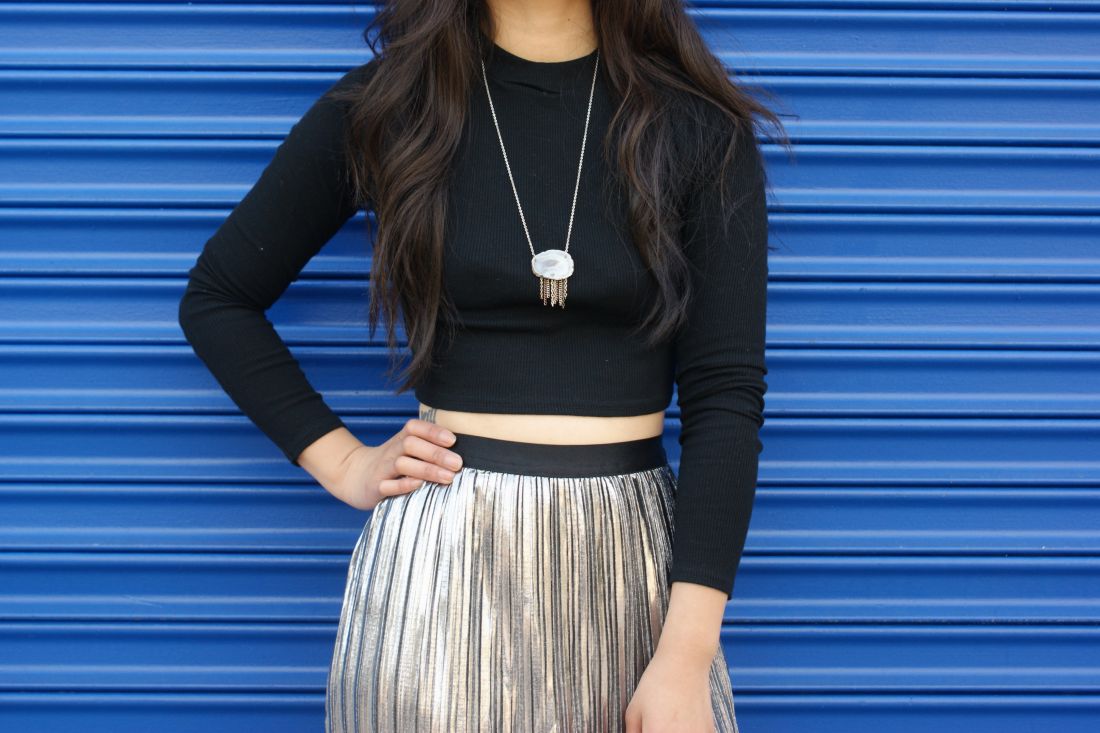 SO easy.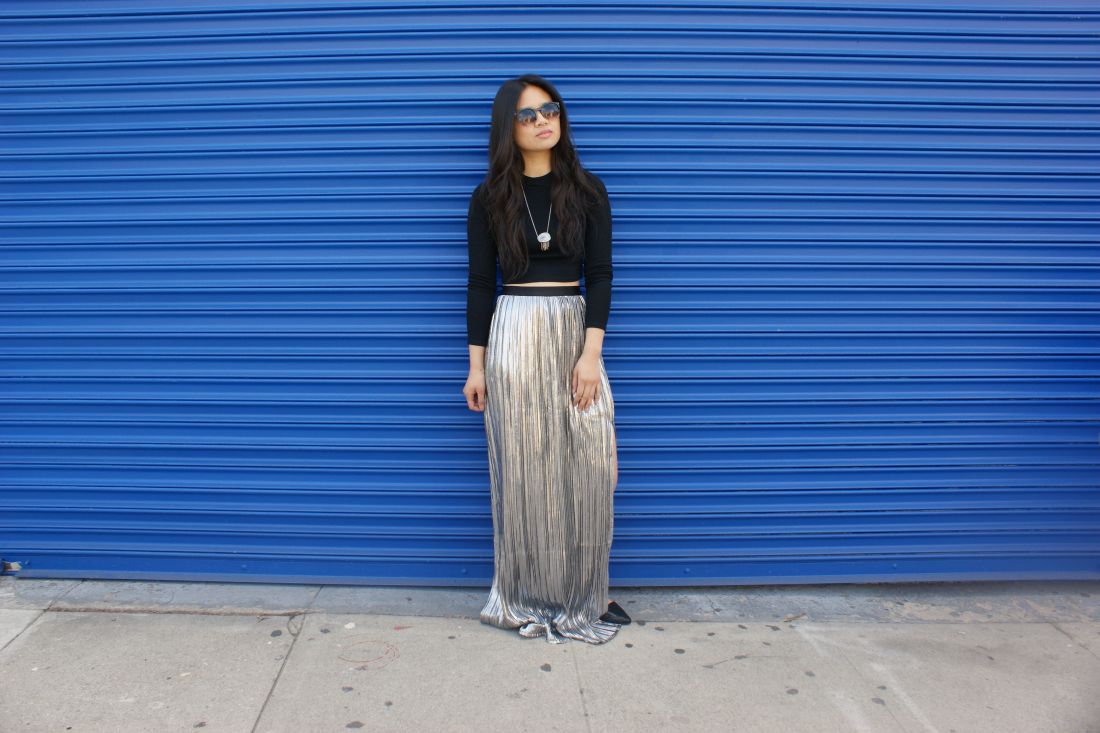 Here, I styled the stone fringe necklace with BooHoo's Lucy Ribbed High Neck Long Sleeve Crop Top in Black, Elle Metallic Pleated Split Maxi Skirt in Silver (obsessed with this thing!), and Amy Smoke Lens Black Half Frame Glasses. Day-to-night festival outfit, anyone?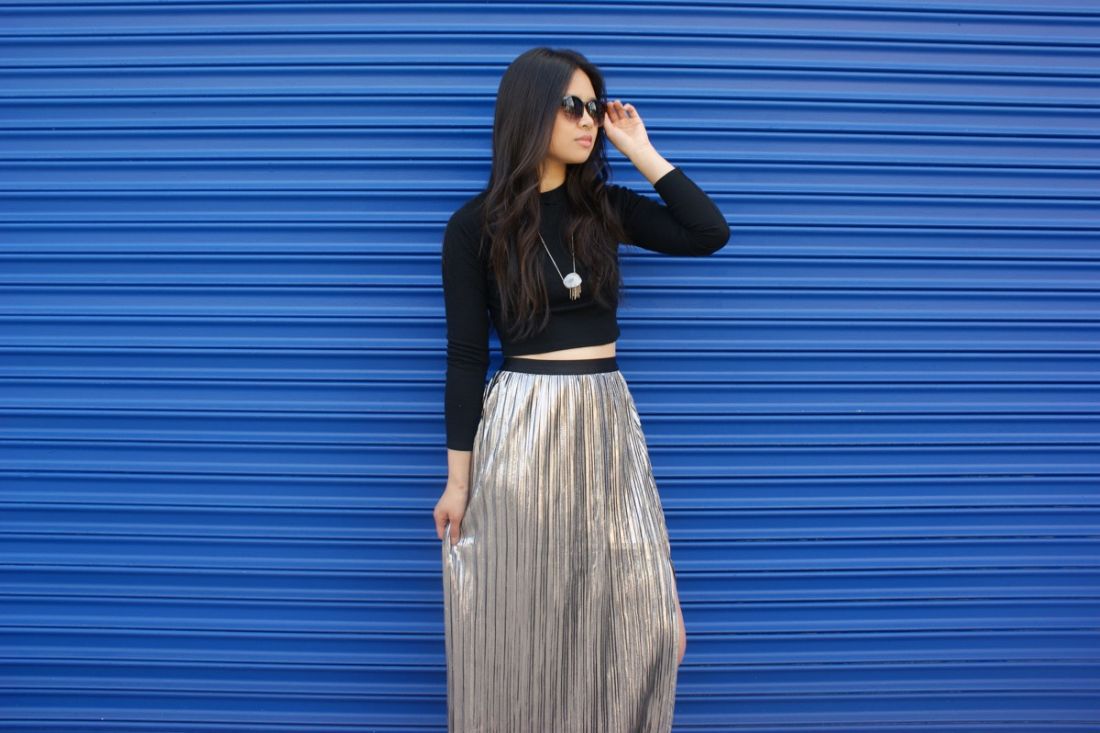 The chain details of the necklace pulls everything together so well.
If I ever get married, I'm totally wearing this silver pleated maxi. Future husband, you have been warned.
What color stone would you use for your chain fringe necklace? Let me know in the comments, below. Have fun saving those scraps! 
xx K 

Tutorial Images: Kirsten Nunez
Lifestyle Images: Albert Martinez
FTC Disclaimer: The entire BooHoo outfit (skirt, top, and sunglasses) was provided by BooHoo for review and consideration. All thoughts and opinions are my own; I only collaborate with and feature companies that I truly support. Thank you, BooHoo!