If you've been following s&p for a while, you know denim vests (and jackets) are some of my favorite projects to work on.  
They're such versatile garments… perfect for those lukewarm summer months, spring and autumn days, and layering in the winter. Most of my past denim vest/jacket tutorials involve fabric directly on top of the denim, so I thought: why not switch it around a bit? In this particular DIY, the cut out portion creates the look of fabric behind the denim, instead of on top. Even the most novice of seamstresses could do this! Check it out, right this way: 
Supplies:
Denim Vest

Fabric Scissors

Large Fabric Remnant 

(Your choice! I used plaid flannel from Jo-Ann's)

Thread, Sewing Pins, Sewing Machine
1) Cut out a large rectangle from the back panel. Doesn't have to perfect!
2) Cut a rectangle from the fabric, adding an extra 1 inch (2.54 cm) all around. Pin in place.
3) Sew on all 4 sides. Here's a tip to quickly fray the raw edges: throw it in the wash!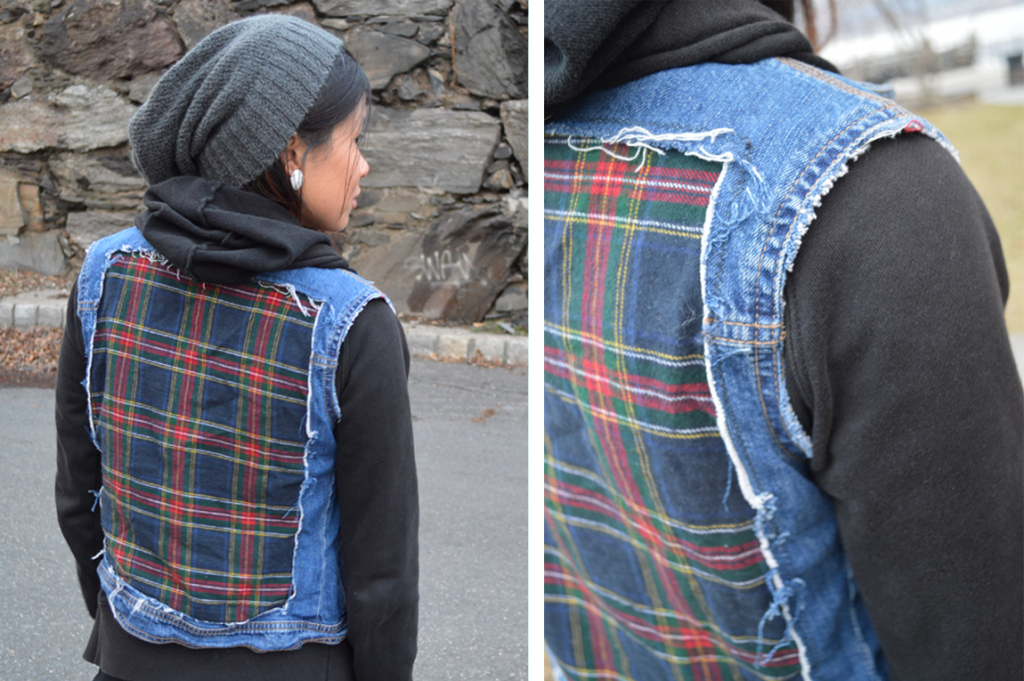 I personally like the roughed up look the edges and fabric, but you an always trim away any flyaways and/or iron out certain sections.
xx K