If you follow me on social media, you know all about my "cynical optimism" (as I like to call it). My sense of sarcasm involves things like anti-Valentine's Day projects and shirts that say "FOODS BEFORE DUDES". Basically, it's easy to think that I boycott all things wedding and love.
In reality, I'm the total opposite. I adore weddings when they're personalized and unique; none of that typical, cookie cutter stuff for me. And I'm all for love and happiness… when it applies to oneself before a significant other. (Self-love, ladies. Chase your dreams before a person. That's more of what my sassiness stands for!)
Beyond that, personalized DIY weddings make me swoon. There's something so exhilarating about tying together a specific theme and color palette. Plus, there is SO much to make for one wedding, which makes my hearts kip a beat. Last year's Hembroff wedding was the perfect example.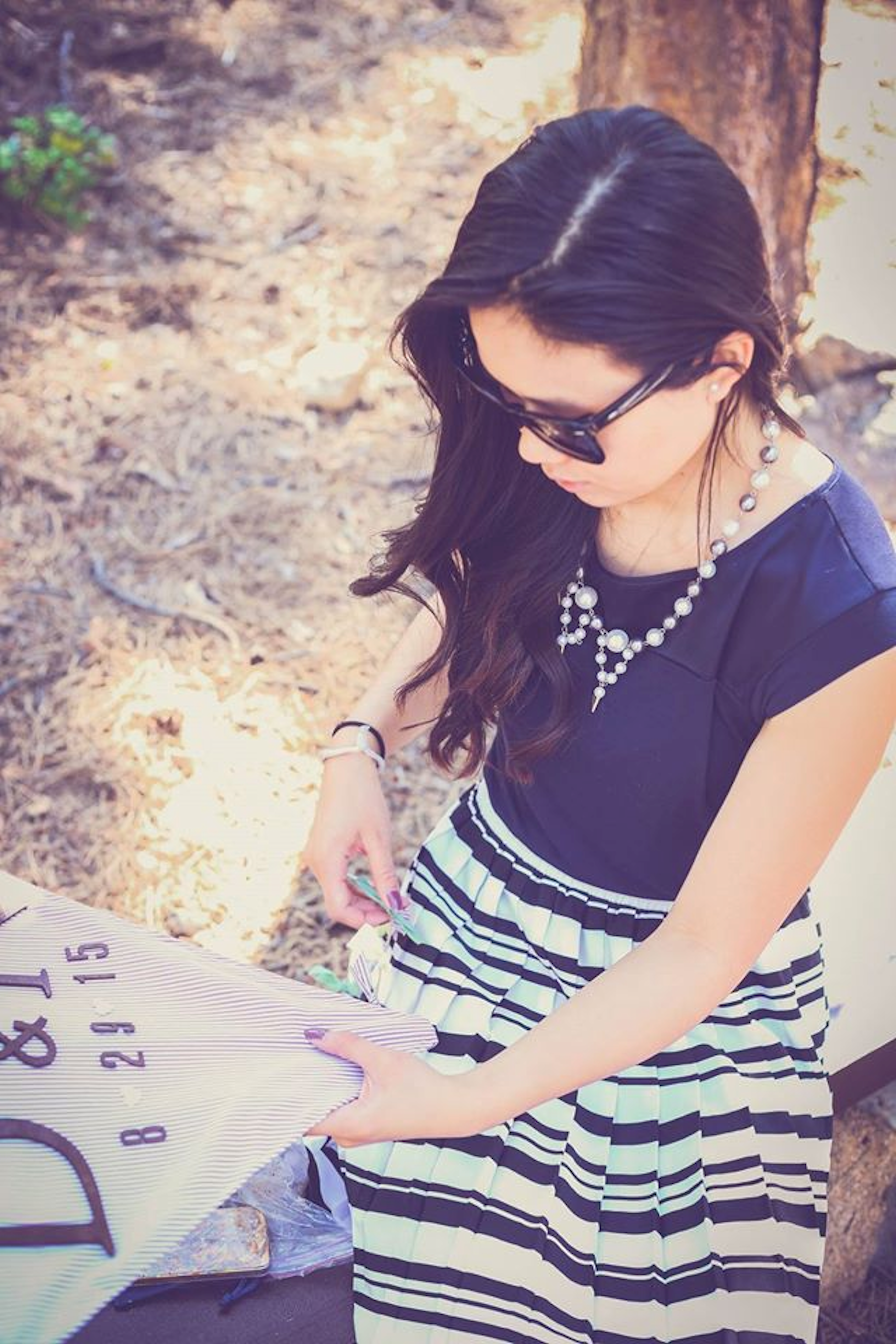 In the spirit of DIY weddings, Borrowed & Blue came to me for some DIY wedding decor advice. Borrowed & Blue is an online planning resource that knows a thing or two about San Francisco weddings.
We all know that weddings can cost a pretty penny. And if you're looking to cut costs (who isn't?), DIY is an excellent way to do that. It all comes down to knowing where to start and how to approach this (beautiful) monster of a project.
I sat down with Borrowed & Blue to talk about some ways to make that happen. Keep reading to check out our Q&A! 
When it comes to wedding planning and just life in general, what are the reasons you support DIY projects?

DIY lets you create a tangible object that is unique to you… and only you. I've always said that DIY is one of the best forms of self-expression. There's so much more personality in something when it's something you made. And when you're planning a wedding – one of the most exciting days of your life – it only make sense to make that day all about what

you

like.

Plus, creating something is way cooler than walking into a store and purchasing something that has been replicated over and over again. And even if we all made the same exact project, each one would still be slightly different… simply because we are all different people. It's a pretty amazing concept. 
What are the hardest things to DIY? In other words, what should couples stay away from doing themselves in order to avoid tons of added wedding stress? If it's something that requires special equipment or really elaborate skills, it's usually a better idea to outsource and hire someone else. For example, building a custom bar made of reclaimed wood would be rad. But if you know zero things about working with wood, then it may be better to turn to someone else. That way, you can focus on the more feasible projects and actual planning.
What's your favorite DIY project that you've worked on?Can you give us a quick summary of how to do it?

 

One of my absolute favorite projects is this

Embellished Flower Bag

. I love it because it uses unconventional materials: plastic kid's barrettes from the thrift store. And thanks to the gold spray paint and clear marquis rhinestones, one would never know. 

PS: This would make a charming (and useful!) Maid of Honor or bridesmaid gift! 
For SF weddings, what are some great ways for couples to incorporate the local scene into their DIY wedding decor? The scenery in SF is something special. It's equal parts city, beach, and mountains. It'd be awesome to hold photo shoots or actual weddings or receptions in the great outdoors of the Bay.

I'd also recommend the local food scene involved. The Bay area is home to SO many excellent coffee roasters and bakeries. Incorporating local produce into the menu would also be just as great. 

Of course, we can't forget about the florists who know all about local plant life. I highly recommend the lovely Lorena Cortez of Home Sweet Flowers. She's a gem!  

What's your dream DIY project—something you haven't tackled yet, but definitely want to at some point soon? If anyone wants a gloriously enormous chandelier made of flea market objects, let a lady know. I am 120% totally down.

 

What are some tricks of the trade when it comes to DIY? Some good general tips to keep in mind? Always buy more material than you think you need. Remember, you can always take some away, but it's impossible to add it back. This is especially true for things like cord or fabric. If you're left with some remnants, you can always save it for future projects. If the supplies are packaged, you can always return it to the store. There's nothing more frustrating than needing more of a specific material, only to find out that the store has sold out. It all saves time. Trust me, I learned this the hard way while writing my DIY book!

Another tip is to read the entire tutorial before starting. This will give you a solid understanding of the process and how the steps connect to each other. If you're creating something on your own and don't have a tutorial, jot the steps down. This will ensure that you don't miss any essentials along the way.

For the DIY projects that require thrifting (it seems like there's tons of them!) what are some first-rate antique and consignment shops in SF that you can recommend?

I highly recommend

Scrap

, a creative reuse center at 801 Toland Street. This place is a mecca for odds and ends. I'm talking about everything from old street signs to fabric remnants to paper for days. There's never not something outrageously unique and quirky there. 

  

Where are some of the best resources to find DIY ideas? Pinterest is always a great place to start. Craft publications at your local bookstore are also excellent resources. A couple quick Instagram searches can also yield inspirational results. 

 

What if you're just not the "crafty" kind of person? Is there any hope for couples out there without a lot of artistic talent? Of course there is. The key is to start early and small. Don't be too hard on yourself and don't be afraid to ask for help. Get your friends involved and ask questions – lots of them! Use Google to your advantage; you can find videos and how-to's on so many techniques and methods. 

 

Any other advice you'd give to couples who choose to DIY their wedding decor? As I said above, start early. This will give you the freedom to be picky and choose exactly what you want and love. You'll also have more time to compare prices and choose what works in your budget. Otherwise, you'll be more inclined to panic-buy/make. It's a fool-proof recipe for the ultimate headache.
It also helps to have establish a specific theme. Pick your color palette and design elements before anything else. Double and triple check that you agree on this theme before diving into crafting. You'll be much more likely to head in the same direction this way. It'll also make it easy to pick out supplies and materials.
Now that you've got DIY down, head over to Borrowed & Blue to find one of the best San Francisco wedding venues. After all, you'll need a place to decorate with your handcrafted decor and host the locally inspired wedding of your dreams.
xx K