I'm always on the lookout for awesome smoothie recipes and inspiration. I mean, as someone who went to college and grad school for Nutrition & Dietetics, I've learned all about the ways fruits and veggies can help your body on the molecular level. Don't worry, though—I won't bore you with the crazy scientific details. I'm all about proving that healthy eating can be creative and fun.
These days, thanks to the advances of the health food industry, this is easy to do. Take Amazing Grass Green Superfood in Holiday Cookie, for example. The brand's multiple holiday flavors can seriously transform your perception of festive treats; there are Chocolate Peppermint and Pumpkin Spice blends, too!
Amazing Grass was nice enough to send over some samples to experiment with. Inspired by their Holiday Cookie Dough Smoothie Recipe, I decided to make my own version of the beverage. The Amazing Grass recipe calls for pear, which I'm allergic to. Luckily, the green powder plays well with all kinds of ingredients, so you can tweak either recipe to your liking and dietary needs.
Holiday Cookie Green Smoothie
Prep Time: 5 minutes
Cook Time: 0 minutes
Yields: 1 serving
Ingredients:
3/4 cup coconut milk
1/4 cup chopped kale
1 banana
1/4 teaspoon vanilla extract (optional)
1/2 cup ice
Directions:
Blend and enjoy!
As someone who has a fierce sweet tooth, this will basically save me this holiday season. And while I'm a huge advocate for everything (including treats) in moderation, this is a rad way to satisfy those cravings. It's full of wheat grass, spirulina, and and chlorella—just to name a few.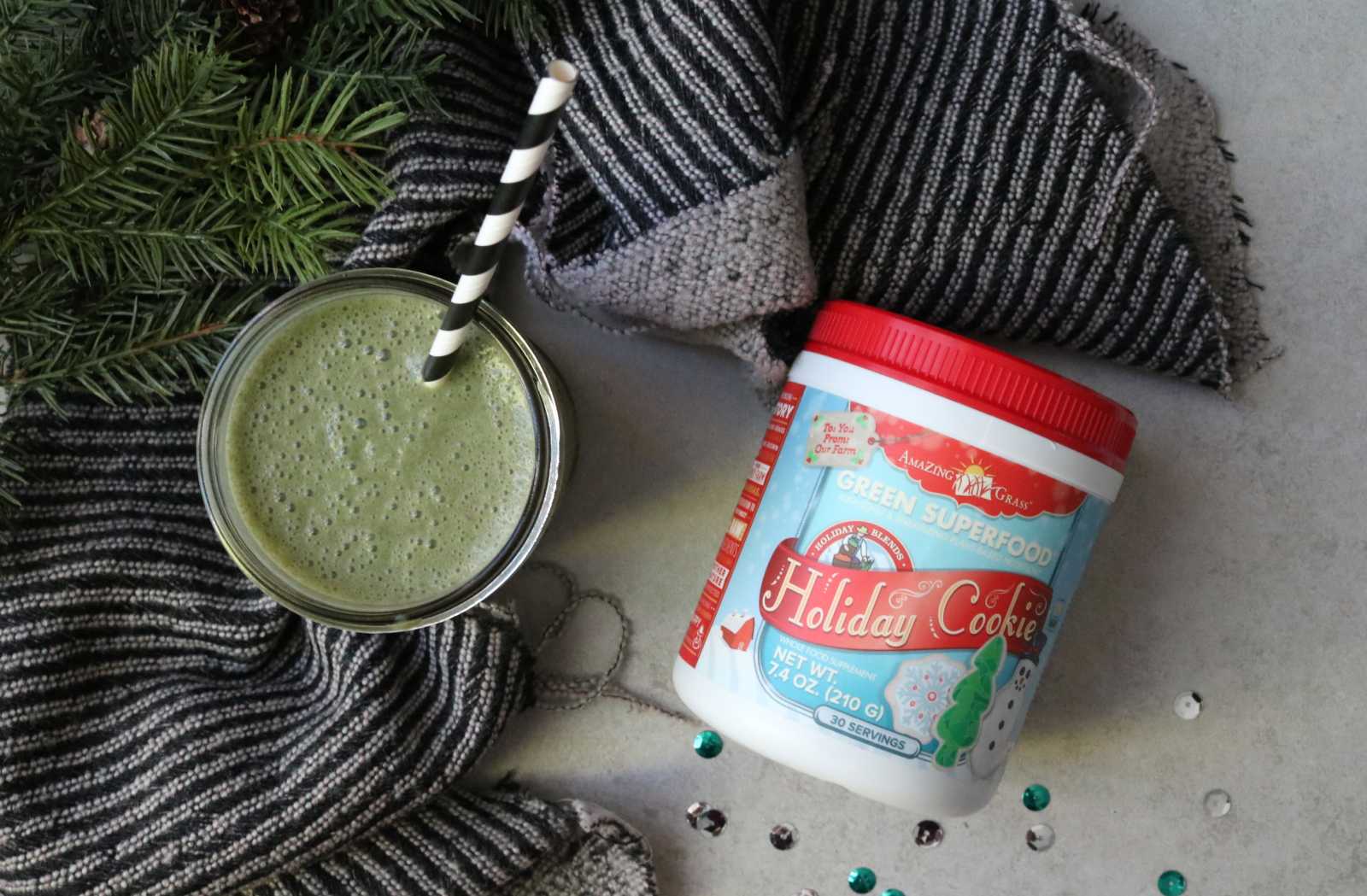 Stay tuned for another nutritious treat using one of the Amazing Grass holiday blends! Can't wait to share.
xx K
FTC Disclaimer: Amazing Grass Green Superfood was provided by Amazing Grass and RKPR Public Relations. All thoughts and opinions are my own; I only collaborate with and feature companies that I truly support. Thank you, Amazing Grass!