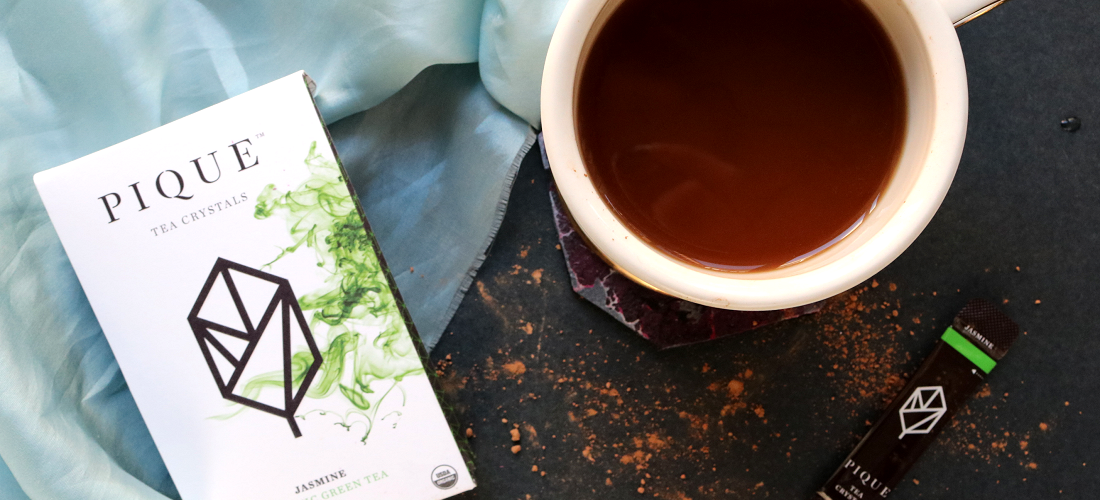 Equal parts rich and floral, this hot chocolate concoction is anything but ordinary. 
Jasmine Hot Chocolate
Prep Time: N/A
Cook Time: 10 minutes 
Ingredients: 
Pique Organic Jasmine Green Tea Crystals
Coconut, soy, or rice milk 
Cocoa powder
Directions:
1. Heat the milk over medium heat. You can also use water, but I prefer my hot chocolate with milk. It's a heck of a lot richer.
2. Add the tea. I used Pique's Jasmine Green Tea Crystals, which dissolved right into the milk. Easy peasy.
3. Add cocoa powder according to taste (and the size of your mug).
4. Drink up and savor the sweet & chocolately floral awesomeness.
I'm a sucker for unique chocolate flavors. I mean, I'm a sucker for chocolate in general. But once you bring in an unconventional flavor, I'm all in.
This beverage features both green tea tastiness and sweet (but light) jasmine notes. Talk about the perfect winter-to-spring concoction. And since I'm a lady who's always on the move, I'm adoring the convenient tea packets.
To check out Pique's entire range of organic tea crystals, head to Pique Tea.  Visit them on Facebook, Twitter, and Instagram!
xx K
FTC Disclaimer: Pique Organic Jasmine Green Tea Crystals were provided by Pique for review and consideration. All thoughts and opinions are my own; I only collaborate with and feature companies that I truly support. Thank you, Pique!