As a long-time (admittedly) geeky crafter, I've somehow never made a duct tape dress. The opportunity just never seemed to come up. And if you're familiar with the "nitty gritty"crafting world, you know how duct tape dresses are one of the popular projects that many people attempt. It's right up there with vinyl record bowls, candy wrapper wallets and t-shirt quilts.
When eHow asked me to create a duct tape dress tutorial just in time prom, I was excited/nervous/interested, all at the same time. I mean, have you ever seen the duct tape dresses
and tuxedos that high school students have made for prom? Duck Tape (as in, the brand) gives scholarships to some of the best creations each year. The 2014 winners made some amazing outfits; the detachable skirt on Kechantra's dress is mindblowing! After making this one, I have a serious new respect for all of these students. As for Kechantra, the girl's got some major talent.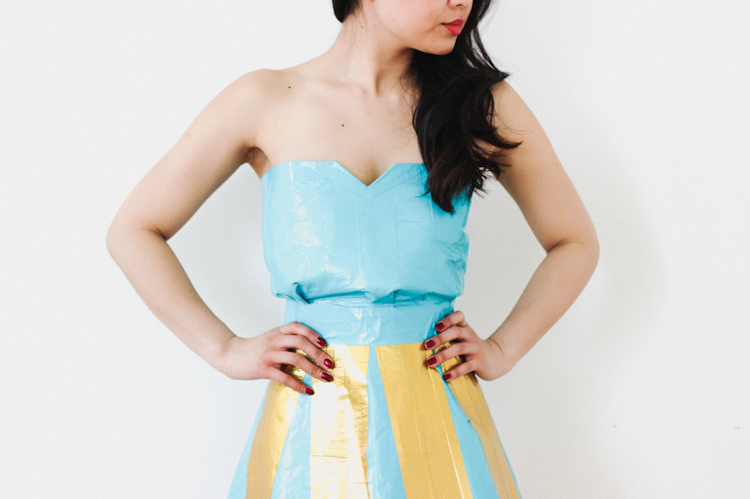 Needless to say, duct tape is no joke. Working with it is extremely different than working with conventional fabrics. It was definitely a task – I started over three times! — but an enormous learning experience. It was proof that it doesn't matter how many years you've been doing something; there's always room to learn.
To check out my take on it, head on over to eHow Crafts for my
duct tape dress tutorial
. I created a sweetheart neckline and a scalloped edge for a feminine touch. While my own Senior prom was almost 10 years ago, I couldn't help but wonder what kind of dress I would make at 17. Better late than never, though. Hope you love this quirky craft.