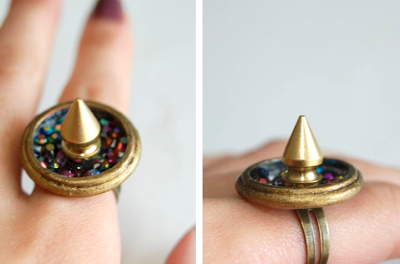 By now, most of you already know that I love anything that mixes edgy with feminine. So it's no surprise that I couldn't help but make a ring inspired by a Tarina Tarantino piece,
which can be found here
. Priced at $176, it's the perfect combination of spikes and crystals. I'm loving this combination…so of course the DIY wheels in my head automatically started turning when I saw it. While my version is no where as fancy as Tarina Tarantino's, it's still a fun ring that's super easy (and inexpensive) to make.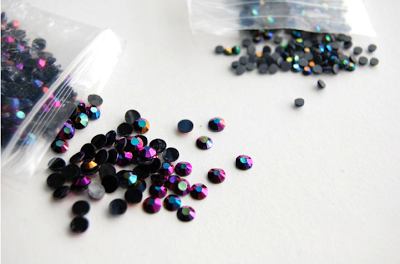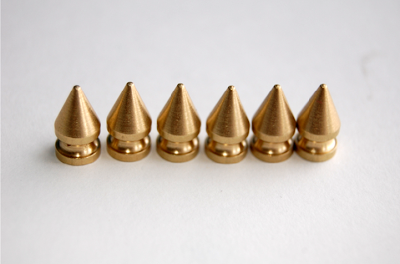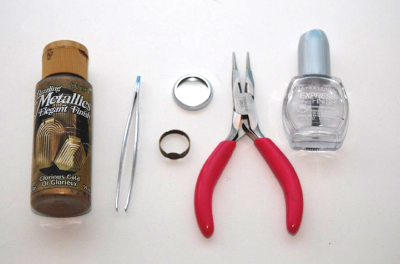 Supplies:
– Flat back acrylic rhinestones, your choice of color
(I used 4mm & 3mm AB Jet Black rhinestones, both from Etsy)
– Screw on spike
– Metallic acrylic paint
– Paintbrush (not shown)
– Tweezers
– Pin back button
– Ring blank
– Jewelry pliers
– Clear nail polish
– E6000/super glue (not shown)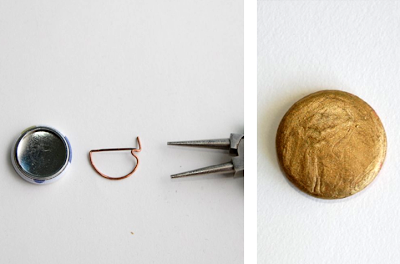 1) Remove the pin from the button, and paint. Let dry.
2) Add a thin layer of nail polish into the hollow side of the button, section by section. slowly add your bigger rhinestones (in my case, 4mm). Tweezers might help for this!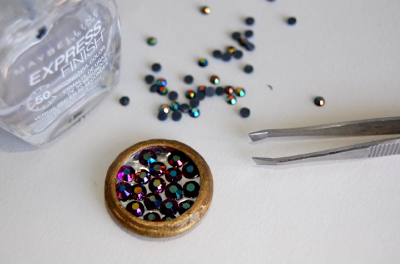 3) Add the smaller rhinestones (which were 3mm for me) into the spaces in between the bigger rhinestones. You might want to add some clear nail polish every now and again to help the small rhinestones adhere.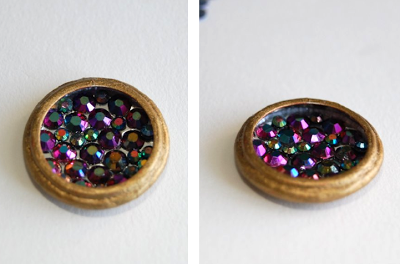 4) Continue until the entire pin is filled.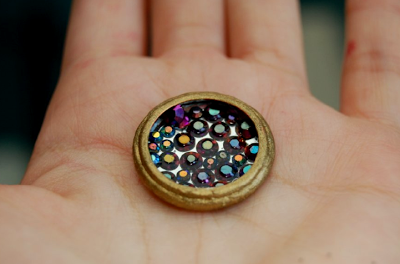 5) Add a layer of clear nail polish for further security, if you'd like. Let dry at least overnight.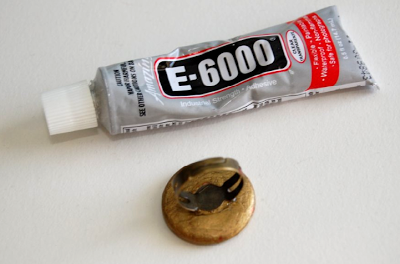 6) Glue the ring blank on the back of the button. Let dry.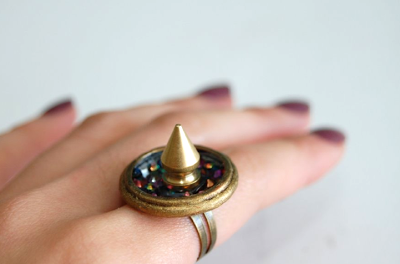 7) Glue the spike directly on to the rhinestones and let dry.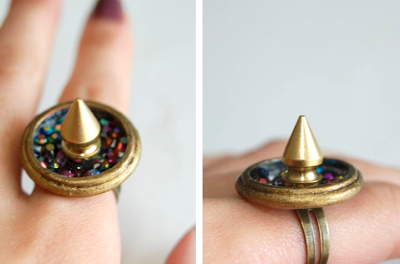 Off the top of my head, I'm pretty sure this cost me less than $10. It's also a good way to use up clear nail polish and pin back buttons!
Just a side note, if you have any questions about any projects, your best bet is to directly e-mail me at kirsten.studsandpearls@gmail.com instead of leaving a comment. I can't reply to your actual comment (just because of the way Blogger works), so you won't be notified when I do respond to your question.
I have a DIY in the Winter issue of
Glitter Magazine
, which can be found at Barnes & Noble. I believe it hit news stands on November 2nd. I haven't had a chance to see it quite yet, so if you get a hold of it, definitely let me know! Be sure to check it out when you get the chance 🙂
xo!