Some crafty inspiration for the weekend ahead… 
BUY: Shibori Hand Dyed Bandanna, $40 (Image: Free People)
DIY: Ever since I took an indigo shibori class at Workshop SF, I've been obsessed with the technique. You could easily make this Free People accessory with an at-home indigo dye kit and a plain ol' white bandanna. It will only set you back $10, too (with tons of dye leftover for additional pieces)!
BUY: Thomas Fuchs Marble Ice Bucket, $650 (Image: Barneys New York)
DIY: Marble contact paper, plastic bucket, and a skull flat back cabochon of some sort. You can probably find flat back skulls on Etsy or get your hands on a small Styrofoam skull. Simply cut it down the middle to create a flat back. Another option is to make one with clay and a skull mold. Definitely bookmarking this for October when the skulls start popping up at the craft store.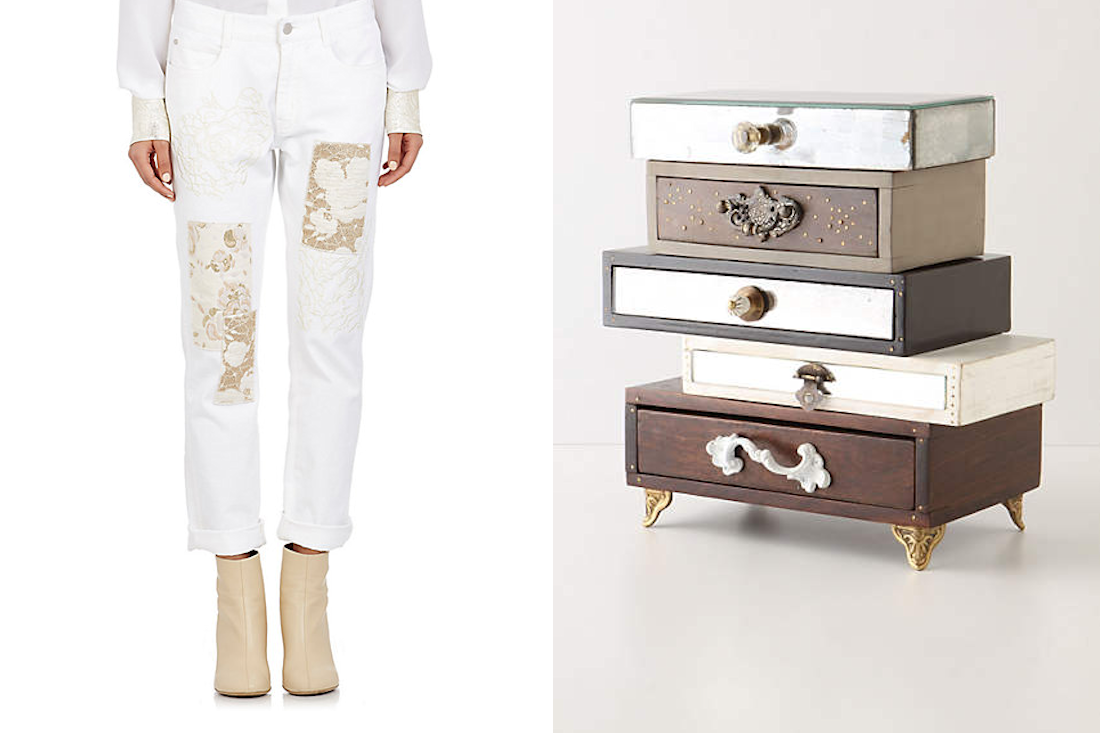 BUY: Stella McCartney Floral-Embellished Jeans, $845 (Image: Barneys New York)
DIY: Take a pair of jeans and cut out a few rectangles. Hand-stitch lace to each opening. Done!
BUY: Topsy-Turvy Jewelry Box, $298 (Image: Anthropologie)
DIY: Using super strong craft glue, such as E6000, stack and adhere small vintage rectangle boxes together. Don't be afraid to mix and match different styles and metal finishes for a similar vibe as this one.
The indigo shibori bandanna and skull marble ice bucket (or trash can?) are definitely on my to-do list. What about you?
For more quick DIY inspiration, check out past "DIY Inspiration" posts!
xx K