I am so stoked to share this recipe. It's a little ridiculous how excited I am. Granted, the name of this recipe is anything but little. Luckily, the concept of bread pudding is as simple it gets. It's hard to mess it up, honestly. And there are so many ways you can go with this; cue all the reasons why I love the process of creating treats like this.
Ingredients:
For the Bread Pudding…
1 Loaf of stale bread (I used Challah)
5-6 eggs
1 Cup brown sugar
Milk (I used soy. Whole, skim, almond, heavy cream, and evaporated milk also work)
Shot of whiskey
Dark chocolate chunks
1 Teaspoon vanilla
Pinch of cinnamon
1 teaspoon salt
Unsalted butter (for the pan)
For the Whiskey Coffee Glaze…
2 tablespoons unsalted butter
1/4 cup whiskey
1/4 cup coffee
1/4 Cup brown sugar
How-To:
1) Pre-heat your oven to 350 degrees F. Slice the bread into equal sized cubes.
2) In a separate bowl, beat 5-6 eggs.
3) Mix in 1 cup of sugar. I used brown sugar, but you can also use granulated white sugar.
4) Add the milk, so that the eggs to milk ratio is 1:1 (equal). I used soy milk as a preference, but keep in mind that this will impact the richness of the finished product. Adding in some heavy cream would have definitely made this more rich. You can't really mess up this part, so don't worry if the milk isn't precisely equal to the eggs.
5) Add a shot of whiskey. I  recommend beating the egg/sugar/milk mixture really well before adding this (you can see in the second photo above that I still had to fully beat the mixture, which I did with a whisk after the photo was taken. Clearly, I was a bit too excited to get to this step). Mix well.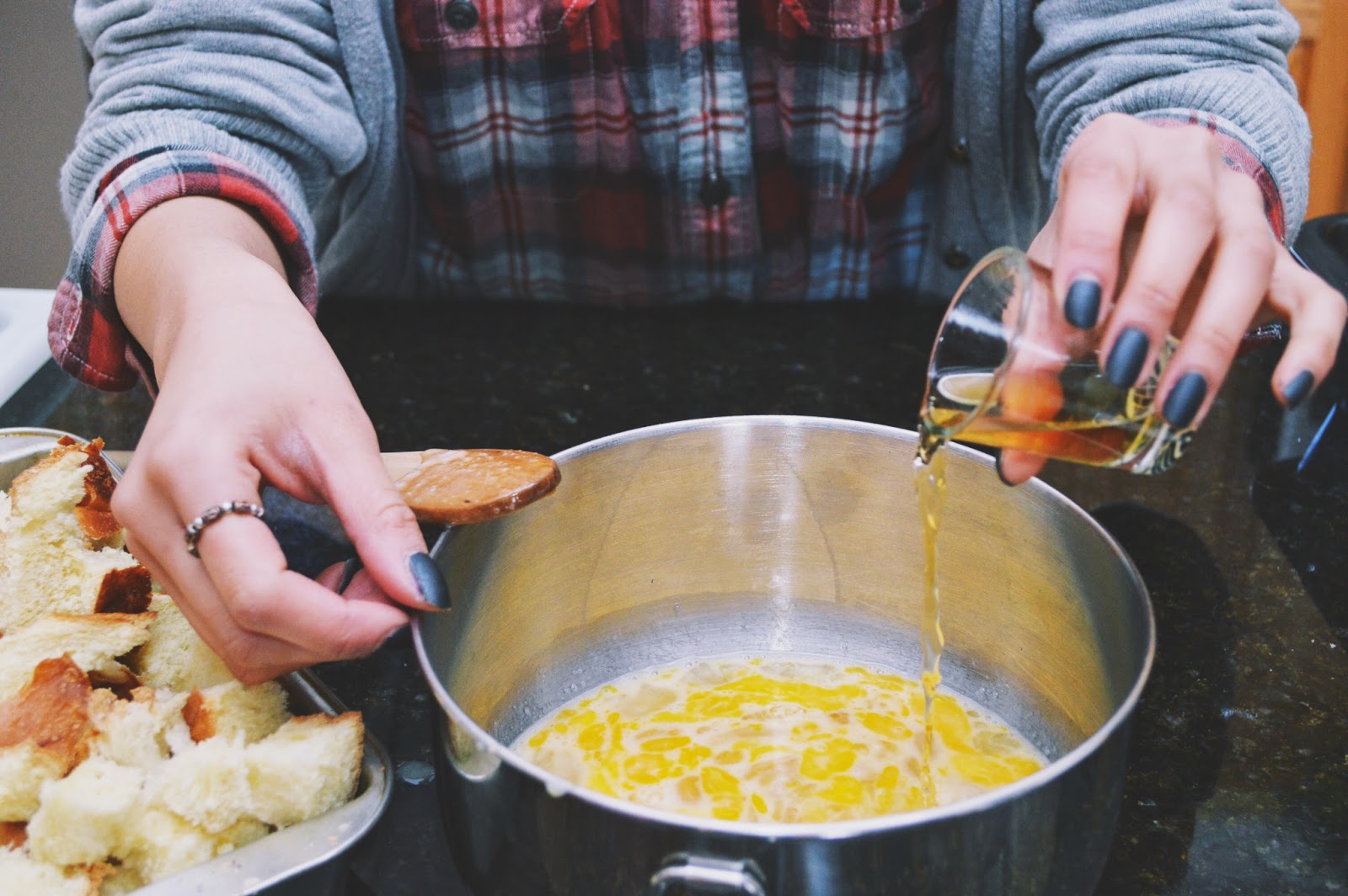 6) Add the vanilla, salt and cinnamon. Mix well.
7) Pour the mixture onto the pile of bread cubes and let sit for at least 30 minutes. With a wooden spoon, toss the cubes around a bit to evenly spread the mixture.
8) Add in those dark chocolate chunks. You can use regular chocolate, or even almonds, shredded coconut, dried cranberries (my personal fave) and/or scoops of Nutella. Go crazy, I dare you.
9) Butter your pan and sprinkle some sugar along the bottom. I used a metal baking pan.
10) Add in the bread/chocolate/amazing mixture, pouring any leftover liquid over the entire thing. Bake for about 30 minutes, until a knife comes out clean. There shouldn't be any liquid leftover when you dig in.
11) While that's baking, make the coffee glaze. Melt the butter over medium heat, and add in the whiskey, coffee, and sugar. Whisk together and let cool.
12) When the bread pudding is good to go, pour the glaze over it.
13) Indulge.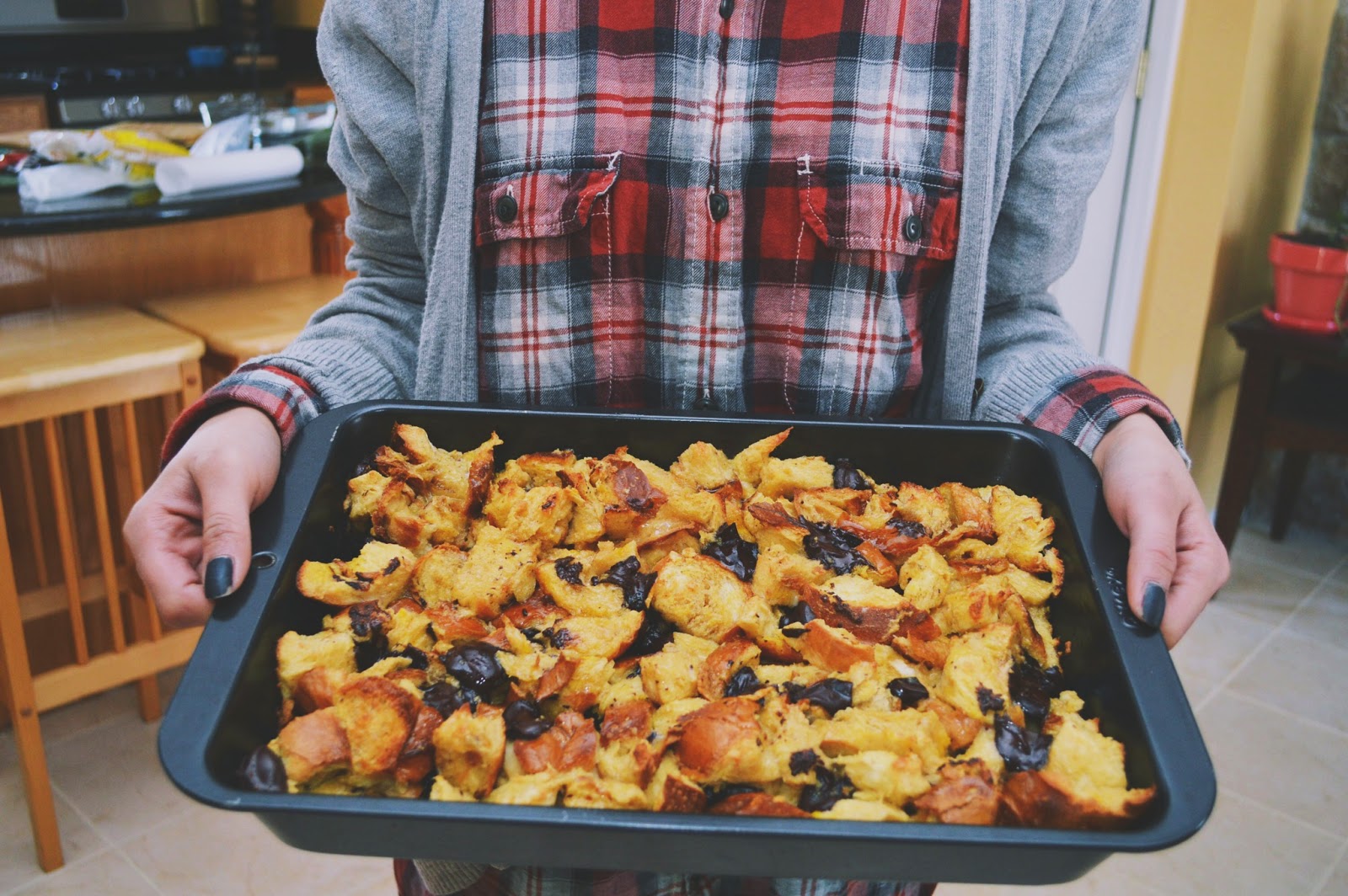 xx K