The painted rhinestone jewelry by
Tom Binns
have caused quite the stir – I'm sure you've seen the painted rhinestone necklaces on other DIY fashion blogs. When I saw his jewelry on Net-A-Porter, I knew I that my leftover rhinestone trim from
M&J trimming
would be perfect for some earring versions!
Jenni at I Spy DIY
also did a mini roundup on some of these awesome necklaces.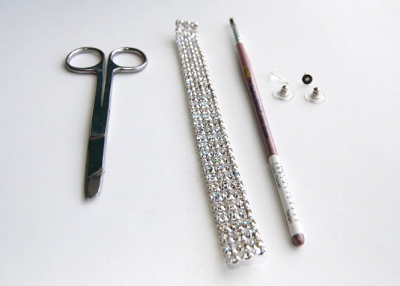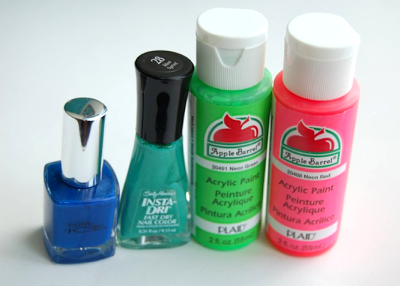 Supplies:
– Rhinestone trim
– Scissors
– Thin paintbrush
– Super glue (not shown)
– Earring posts and backings
– Acrylic paint and/or nailpolish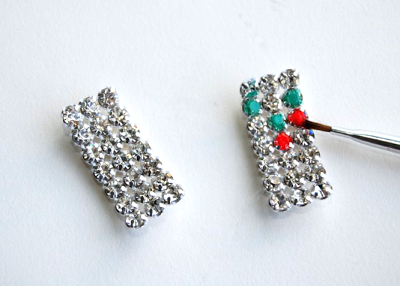 1) Cut the trim to 1.5 inch pieces – or longer/shorter if you'd like. Paint away! I alternated between nail polish and paint.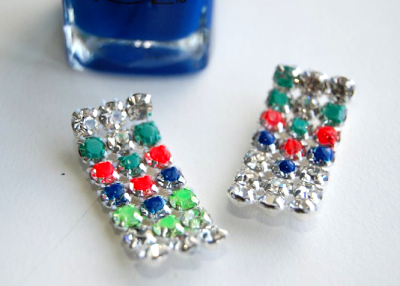 2) I decided on a chevron pattern – but you can really go in any direction with this.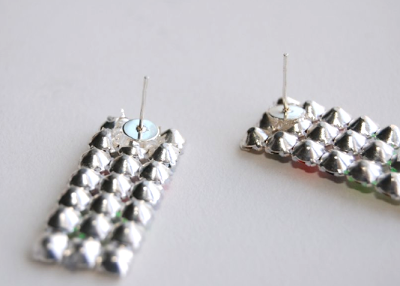 3) Glue on the earring posts and let dry. So easy.
I've been a bit MIA because 1) I just wrapped up my first year of graduate school and 2) I've been working on some REALLY awesome projects with a clothing brand and a website. I can't say much just yet, but I just finished one of these collaborations, so that's one thing to check off the list 🙂
Tomorrow, I'll be at
Ready Made Magazine
's RM100 party at The Wooly in the Financial District of Manhattan. I know Jenni from I Spy DIY will be there, as well. It should be a good time – stay tuned to hear all about it!
xo, 
kirsten