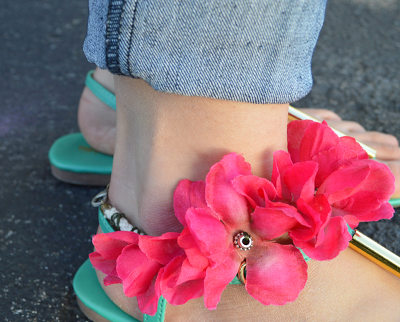 With spring in full swing and summer just around the corner, music festival season is well on its way. So, I thought I'd plan a few whimsical projects! I've always loved festival fashion and DIY's, simply because of how innovative and fun things can get.
1) Insert the head pin through the bead cap and trim.
2) Using the pliers, create a loop.
3) Cut a strand of rope measuring to fit your ankle, plus about 1 inch (2.54 cm). Apply a bit of glue into the bead cap and insert the rope. Let dry for a bit.
Cut a long strand of embroidery thread and thread through the sewing needle.
4) Tightly tie the end around the rope, near the bead cap.
5) Begin wrapping the thread around the rope.
6) For the flowers, take apart the petals and discard the plastic stem parts.
7) Insert the thread through the center of one layer of the flower.
8) Add a bead.
9) Insert the thread back through the flower, and through the rope.
10) Continue until the entire length of rope is covered.
11) When you've reached enough so that the anklet can fit around your ankle, trim the rope and repeat Step 1-3 for the other end.
12) When I was finished, I went back and did another round of thread and petals to fill in any spaces that I thought looked a bit empty.
13) Add jump rings and a jewelry clasp to both ends.